Editor's Note: This story is a follow up to "Parent trap," a story about SLO County charter schools that ran Aug. 11, 2016.
California has long been known as a melting pot, full of an eclectic mix of ethnicities, cultures, and people from different backgrounds. Therefore, the state's public schools should reflect that diversity.
But at least one California civil rights organization has raised concerns about a lack of diversity in the state's charter schools. SLO County's own charter schools aren't immune, with data showing that the racial and socioeconomic makeup of their students can vastly differ from that of the school districts they reside in.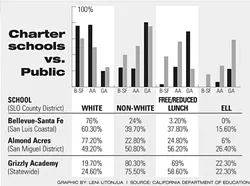 CHARTER SCHOOLS VS. PUBLIC:
Enrollment data obtained by New Times from the California Department of Education showed that all three charter schools located within SLO County, which are partially funded with public tax dollars, are fairly homogenous.
At least two of the county's charter schools, Bellevue-Santa Fe Charter School in SLO and Almond Acres Charter Academy in San Miguel, had a larger percentage of white students than their respective school districts. At Bellevue-Santa Fe, a kindergarten-through-sixth grade elementary charter school, white students made up about 76 percent of the total student population during the 2014-2015 school year, while the district it draws students from (San Luis Coastal Unified School District) had a white student enrollment of 60 percent for the same school year. In the San Miguel Union School District, white students made up less than 50 percent of the district's student body during the 2014-2015 school year, while at Almond Acres, a kindergarten-through-eighth grade school, white student enrollment was at more than 77 percent.
A 2010 report by UCLA's Civil Rights Project raised concerns over the lack of diversity in charter schools in California and other Western states. The report, "Choice Without Equity," found there were high concentrations of white students enrolled in charter schools in Western states like California and Colorado.
"It would be very damaging to invest public money in schools that finance white flight from regular public schools and take with the departing white students state and federal funding badly needed for the students left behind in even more segregated regular public schools," the report stated.
But representatives from the schools don't see it that way, insisting that that their schools have little say over who attends.
"We reach out to the entire community, extending an invitation to all to enroll. Who gets in is determined by a random public lottery," Brian Getz, Bellevue-Sante Fe's principal, wrote in an email response to questions from New Times. "We have no control over the demographics of those who are enrolled, but the law does require a preference to be given to those students residing in the former attendance area of our school prior to its conversion."
But it isn't a racial diversity that area charters like Bellevue-Santa Fe and Almond Acres lack. The state data's shows that both have low numbers of English language learners (ELL) and students eligible for free or reduced-cost meals as well.
English language learners are children who have trouble speaking, reading, or writing in English because it is not their first language. They accounted for an estimated 22 percent of California students during the 2014-2015 school year. They made up nearly 26 percent of the San Miguel school district's students in the same year, but at Almond Acres, they accounted for just 6 percent of the school's enrollment. San Luis Coastal's ELL enrollment was more than 15 percent, but Bellevue-Santa Fe had none, according to the state's data.
Free and reduced-cost meal qualification is often used as a rough snapshot of low-income students. In the San Luis Coastal district, nearly 38 percent of students qualified for a free or reduced-cost meal during the 2014-2015 school year. At Bellevue-Santa Fe, that number was only slightly more than 3 percent. At Almond Acres, nearly 25 percent of the students qualified for free or reduced-cost meals, while the number was 56 percent for the San Miguel district.
Bob Bourgault, executive director for Almond Acres, said that while the school gives priority to children living in the San Miguel district, charter school enrollment isn't restricted to the boundaries of their respective district. While families from Paso Robles founded the school, Bourgault said that Almond Acres students come from a broad area in North County. This year, the school's enrollment grew by 40 students, and Borgualt said he believed that about 25 percent of the new students were more reflective of the area's demographics.
"It would be really nice if our demographics are the same [as North County]," Bourgault said. "And as we grow we continue to reflect that."
While Bellevue-Santa Fe and Almond Acres have more white students—and fewer students who are English language learners or get free or reduced-cost lunch—the county's third charter school bucks that trend, with a makeup that is nearly the polar opposite.
The Grizzly Academy is a "quasi-military" style residential charter high school located at Camp San Luis Obsipo. The academy is operated through a joint partnership between the California National Guard and the SLO County Office of Education. For the 2014-2015 school year, the academy's enrollment was 80 percent non-white, nearly 70 percent of Grizzly Academy students qualified for free or reduced-cost lunch, and 22 percent of the academy's students were classified as English language learners that year.
The 2010 UCLA report, however, also raised alarm about the concentration of large groups of minority students in charter schools.
"Decades of social science studies find important benefits associated with attending diverse schools, and, conversely, related educational harms in schools where poor and minority students are concentrated," the report stated.
Grizzly Academy Principal Paul Piette said those demographics were influenced by the fact that the academy focused on at-risk students and draws in students from across California, not just one single district or county.
"Our school is a very diverse school. We get kids from rural areas, as well as the city ... ." Piette said. "It's a much broader perspective than just San Luis Obispo County."
In the six years since the report came out, the number of charter schools in California increased to nearly 2,000 across the state. But the report's concerns remain.
"During the civil rights era, it was held to be illegal to create new school districts that intensified segregation," the report states. "Regardless of whether it would also be held to be illegal to create new separate segregated entities now, it is certainly shoddy educational and civil rights policy."
Staff Writer Chris McGuinness can be reached at cmcguinness@newtimesslo.com, or on Twitter at @CWMcGuinness.