If brevity truly is the soul of wit, then the SLO Little Theatre is about to unleash a heavy dose of clever upon local audiences.
"We are a culture of ADD in a way, so I think this is perfect for us," said SLO Little Theatre Production Manager Katie Mack-Montenegro of the theater's First Annual Short Play Festival. Eleven plays in two hours, spanning topics and figures as diverse as Wonder Woman, workaholics, cancer, and the candy-wrapper world of publishing, will undoubtedly fulfill people's instinct for instant gratification. The true challenge may be convincing people that producing nearly a dozen short plays requires months of work.
In fact, according to Executive Director Wendy-Marie Foerster, the concept of the short play festival originally emerged as a solution to minimize season production costs. Short plays, 10 minutes or less, call for simple sets and costumes, items that can be quickly removed during the transition into the next play. Or, better yet, function as the set for the next production as well, as is the case for Who Is Ruth? and The Greatest Story Ever Edited—both of which require an office setting. And going beyond the bottom line, Foerster and Mack-Montenegro—both playwrights—wanted the opportunity to support their artistic kin while presenting audiences with numerous theatrical genres.
The Little Theatre began accepting submissions for original plays at the end of spring, hoping to receive at least 50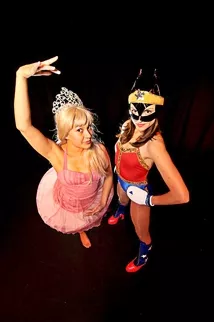 PHOTO BY JONATHAN ROBERTS OF BLUEPHOTO
ONCE UPON A TIME : Tanya Gallardo as Sleeping Beauty and Heather McLeod as Wonder Woman in Elena Naskova's A Toxic Fairytale.
submissions before the June 15 deadline. They received 173 entries, many from far-flung corners of the country, and promptly recruited additional judges. From there, the contestants were whittled down to 40, then 20, and, finally, the 10 that would be performed during the festival's two-weekend run. Foerster also decided to incorporate Arroyo Grande High School's annual New Play Festival into the mix, producing the three winning plays from last year's competition on alternating evenings.
A measure of risk attends any new venture, especially in a city with a finite pool of potential audience members, but Foerster already has reason to believe that this particular gamble will be a success.
"Everybody's really excited about this," she said. "It's not doing another play that's been done 100 times. It's more collaborative in the sense that you have to go outside the theater group that we have already established."
She was so determined to distance the festival from the Little Theatre's regular season that Foerster decided to invite a big-city director to assume the reigns of control. The flaw in this particular plan, she realized, was that the quality of their local directors is so consistently high that importing a director from Los Angeles or San Francisco wouldn't necessarily represent an improvement. So, she focused her attention farther still from San Luis Obispo and found a German director—Cornelia Drese—willing to travel to San Luis Obispo to direct the Short Play Festival. With a re;sume; that includes roles in Cats, Evita, Les Mise;rables, and The Threepenny Opera in addition to several years as a resident Director for Andrew Lloyd Weber's Phantom of the Opera and Mama Mia, Drese has more than enough experience to bring the original tales to life. But with a mere month in the United States, and just two and a half weeks to rehearse, the question was whether she would have enough time with the actors. So Foerster asked Adrian Balbontin, whom she knew from his participation in reader's theater the year prior, to lighten the load for Drese.
The decision proved fortuitous. Instead of one frantically busy director preparing more than a dozen actors for more than a dozen individual plays, there are now two. And on any given rehearsal night the pair alternate space, as the voices and stories from the stage mingle with those of a back-room rehearsal space until time runs out and the actors are replaced by a fresh cast and a new story. And if Drese and Balbontin are busy, the actors also have more than their share of work preparing for the fast approaching festival. Besides having day jobs and spending nearly every evening and weekend in rehearsal, the majority of the actors were cast in no fewer than three different plays. Heather McLeod who teaches for the theater's Academy of Creative Theatre will be playing five very distinctive characters during the festival, among them a muse, Wonder Woman, and a bitter workaholic.
PHOTO BY JONATHAN ROBERTS OF BLUEPHOTO
IS THERE ANY OTHER KIND? : XXXXX XXXXXXXXX as Champ and XXXXXX XXXXXXX as Darryl in Steve Jay's Shared Disorders.
"I love new work, things that you don't have any pre-conceived notions about," she said. "The 10-minute play is nice because you can really dive into it. But it's more work for me, finding background. It's almost like doing Shakespeare where you take every word and analyze it."
As the actors focus on the challenge of transitioning from one play to another, the audience can't afford to be complacent or passive. Working within what Balbontin calls the "stripped down" structure of the short play, neither the performers nor the audience can rely upon elaborate sets or costumes to construct the fictional world. They have to catch on fast.
"It's like when you read a book and it takes you a little while to understand the way the author writes," explained Balbontin. "But here you have to establish 11 times in one different night the new world that we're entering."
Whether the plays will be as polished as their directors would like them to be in time for opening night will be left for the audiences to determine. But there's no question that it is possible to tell a profound narrative within 10 minutes. For example, in that brief time Matthew Hanson's Who Is Ruth? tells the story of a failed marriage, a workaholic, regret, sacrifice, and betrayal. For audiences seeking a quick laugh, the three monks in Carry Pepper's The Answer—Old Zen Monk, Tapioca Monk, and Knee Bend Monk, as they might informally be titled—are undeniably comic figures as they lead a supplicant on a merry chase in pursuit of the all-encompassing meaning of life (42 according to The Hitchhiker's Guide to the Galaxy, but inconclusive in this particular play).
For Drese, at least, it is the element of uncertainty that breathes life into theater.
"Theater is different from a movie where you go to a studio one time and it's always perfect," she said. "Here mistakes happen and people have to react. Live theater is life. You see people with all their mistakes. Not everything is ideal. I think it's much more life."
INFOBOX: Two weekends only!
The First Annual SLO Little Theatre Short Play Festival runs Oct. 17 to Oct. 26 with shows on Fridays at 8 p.m., Saturdays at 2 and 8 p.m. and Sundays at 2 p.m. Tickets cost $15 and can be reserved by visiting www.slolittletheatre.org or calling 786-2440. In conjunction with the festival, the theatre is offering three master classes for actors and playwrights. Cornelia Drese is leading a workshop on audition techniques on Oct. 18 from 10 a.m. to 12:30 p.m. $40. She will also lead a musical theater workshop Oct. 25 from 10 a.m. to noon. $30. Ken Hodkinson will lead a master class for playwrights on Oct. 19 from 7 to 10 p.m. $50.
---
Arts Editor Ashley Schwellenbach's calculations produced the number 49. Belittle her math skills at aschwellenbach@newtimesslo.com.