I'd like to share a revelation that I've had during my time here," said Agent Smith in The Matrix. "It came to me when I tried to classify your species, and I realized that you're not actually mammals. Every mammal on this planet instinctively develops a natural equilibrium with the surrounding environment, but you humans do not. You move to an area, and you multiply and multiply until every natural resource is consumed and the only way you can survive is to spread to another area. There is another organism on this planet that follows the same pattern. Do you know what it is? A virus. Human beings are a disease, a cancer of this planet. You're a plague and we are the cure."
There are more than 7 billion of us expecting the Earth to support us, and estimates range we'll be between 8.3 and 10.9 billion by 2050. Can the planet even support that many?
PHOTO COURTESY OF CAPTAIN NASTY
DO THE HIPPIE SHAKE: Kick-ass funk act Captain Nasty headlines the 25th Annual Earth Day Fair & Music Festival on April 19 at El Chorro Regional Park.
Meanwhile, I've been watching my lawn turn brown, slowly dying before my eyes. My vehicles are all dirty. I've become even more diligent about following my kid around turning the lights, TV, videogame system, or whatever off in his wake. I freak out when I see someone put recyclables in the trash can. I feel guilty not riding my bike when I could. Yeah, I've got the ecological blues, baby.
This is in part exacerbated by global climate change and our drought, but it also happens as Earth Day approaches and I'm reminded of how little progress we've collectively made in saving our environment, our planet, our life system. It seems weird that we need to set aside one day a year to remind us that we're killing the very habitat we need to survive.
Sometimes, when I look to the future I imagine that Mad Maxian endgame. I think about the bleak world depicted in Cormac McCarthy's The Road. Maybe Gaia's revenge will come for us all and a new intelligence, one more in tune with its environment like dolphins and whales, will assume responsibility for the planet and bring it back in harmony, repairing it from its sixth great extinction—the first one ever caused by a species.
You know what? Good riddance to us! If we kill our habitat and ourselves in the process, we got just what we deserved. Of course, maybe it's not too late. Maybe if we all work collectively to shrink our footprint, to work within nature's limits, to share the planet with our fellow species instead of demanding dominion over all, maybe, just maybe we can survive in spite of ourselves.
I think that's what Earth Day is all about, and I think every day should be Earth Day, which this year falls on Wednesday, April 22, though the public is invited to celebrate the 25th annual Earth Day Fair & Music Festival on Sunday, April 19, at El Chorro Regional Park from 10 a.m. to 5 p.m.
It's a great family event with info booths, vendors, public speakers, and lots of great music.
"For-profit and nonprofit organizations, schools, and government agencies will come out to share their environmental message, cause, or products," organizers said.
This year's entertainers include opening act Maheyla and The Ritual taking the stage around 11 a.m. to deliver roots rock and reggae. Next up is SLO County's favorite reggae band, Resination, around noon. Blues and rock guitar great Guy Budd and The Gypsy Souls play about 1:30 p.m., followed by Brazilian percussion act Samba Loca at 3 p.m., and awesome nine-piece funk act Captain Nasty will close out the festival starting around 3:30 p.m.
"Do your part, and support clean air!" organizers encouraged. "Ride your bike or catch a free ride on the Double Decker Bus from the SLO Downtown Transit Center at Osos and Palm. The bus will pick up guests every hour on the hour from 10 a.m. to 4 p.m. The last bus will return to the Transit Center at 4:30 p.m. Driving? Carpool and park for free at Cuesta College. Shuttle buses will take visitors to and from the park or visitors can walk in and out across Highway 1. Limited disabled parking is available inside the park; permits are required."
Now some potential bad news. Sandra Marshall, who published the environmental paper Information Press and in the last election cycle tried to mount a campaign to take Lois Capps' seat in Congress, is stepping down as Program Coordinator of Earth Day.
"When I informed the current director, she decided to retire as well," Marshall explained. "So we're turning this into a retirement party as well as a 25th anniversary celebration of Earth Day SLO. I will be willing to mentor anyone that would like to take Earth Day on; otherwise, the Earth Day Alliance Inc. will work in some other meaningful capacity or quietly close its doors. When I told my friends that I was retiring, they immediately thought it meant I was going to run for Congress. Hmm, I'm gonna keep 'em wondering."
Did you hear that, folks? No, not the part about Marshall running for Congress, which she should. She'd be a great advocate for the socially conscious. I mean the other part. Unless others step in, this Sunday's Earth Day celebration may be the last for SLO County, at least into the foreseeable future. If you want to get involved, the Earth Day Alliance is still in need of volunteers. "Be the change; get involved," organizers said. To learn more, visit the www.earthdayslo.org, call 544-8529, or email earthdayslo@gmail.com.
Micky, Rosie, and sunny Cayucas!
Setting aside all my Earth Day doom and gloom, I've got to say SLO Brew has a great lineup of fun shows this week.
PHOTO COURTESY OF ROSIE FLORES
ROSIE THE RIVETER: You'll be riveted to rockabilly queen Rosie Flores' guitar playing when she appears on April 19 at SLO Brew.
On Friday, April 17, Micky & The Motorcars perform (7 p.m.; 21-and-older; $10 presale or $13 at the door). The Austin-based alt-country and rock act has been delivering great music since 2002, and they're currently touring in support of their seventh album, Heart from Above. Though several members have come and gone over the years, the band still features brothers and founding members Micky Braun (lead vocals and guitar) and Gary Braun (guitar, mandolin, harmonica, and vocals), who are now "invigorated and supercharged by a transfusion of new blood from fresh recruits Dustin Schaefer (lead guitar), Joe Fladger (bass), and Bobby Paugh (drums)," according to press materials. "Micky and Gary, by their own admission, haven't been this fired up about playing together since they first rode south from the Whitecloud Mountains of Idaho to stake their claim to the Texas and wider Americana music scenes." Joe Koenig & The Homewreckers open.
On Sunday, April 19, guitar master Rosie Flores (7 p.m.; all ages; $12 presale or $14 at the door) takes the stage. The Austin-based rockabilly, honky-tonk, jazz, and Western swing artist is a national treasure. In 2006, the Austin City Council announced Aug. 31 would henceforth be known as Rosie Flores Day! Do you have a day named after you? Yeah, me neither! Earth has a day. Rosie has a day. Where's Average Joe day? Maybe when we can play the guitar like Rosie … maybe.
Finally, on Tuesday, April 21, Cayucas returns (8 p.m.; all ages; $10). The sunny, perky, cascading sounds of Santa Monica-based Cayucas are irresistible. They just feel beachy and sun washed. They're the pastel shirts and madras shorts of pop and roll. Check out their videos online and see Morro Rock, watch them shoot hoops at the Madonna Inn pink basketball court, but just forgive them for misspelling Cayucos. They really love the town: "The place still holds on tight to its propensity for dreamy, lazy, bonfire-lit nights worth getting moony-eyed about," the band said. Santa Barbara indie-pop act The Blues & Greys open.
Poly Roya … er, Open House!
Remember Poly Royal? Well, you can't call it that anymore (Thanks, rioters!), but you can call it Cal Poly Open House, and it's happening this weekend, which means Cal Poly's finest will be on display, including their many musical groups.
See the Cal Poly Open House Concert with three Cal Poly music ensembles featuring more than 100 of the university's finest student musicians at 8 p.m. on Friday, April 17, in Harman Hall at the Performing Arts Center. Tickets are $12 and $14 for the public and $9 and $12 for senior citizens and students (756-4849).
Cal Poly Music Department will offer an Open House Recital on Saturday, April 18, at 2:10 p.m. in the Davidson Music Center (Building 45), Room 218, on campus. The recital is free and open to the public.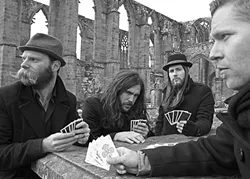 PHOTO COURTESY OF THE SILENT COMEDY
AMERICANA HEROES: San Diego's The Silent Comedy brings their rock, blues, and Americana sounds to a free in-store concert at Boo Boo Records on April 16.
Then Cal Poly will host the All-State Festival Concert, featuring some of the state's best high school musicians, at 2:30 p.m. on Sunday, April 19, in the Performing Arts Center's Harman Hall. Tickets are $12 and $14 for the public and $9 and $12 for senior citizens and students (756-4849).
More music …
San Diego's The Silent Comedy plays a free in-store at Boo Boo Records this Thursday, April 16, at 5:30 p.m. Led by brothers Jeremiah and Joshua Zimmerman, their band "is stripping down their bombastic live rock show to fit the more intimate setting of a record store," they emailed. "In addition to the performance, the band will be selling and signing copies of [their five-year-old and now available on vinyl debut album] Common Faults." They'll also perform music from their new album, Enemies Multiply. I watched a video online and was wowed by their bluesy, Americana, roots rock sound played by hipsters that was by turns spooky, moody, and soulful.
The Seattle Times describes a cappella group The Bobs as "a musical equivalent of a Gary Larsen drawing," as they use only their voices and body percussion to create music. See them Saturday, April 18, at 8 p.m. in the Spanos Theatre and be prepared to be amazed by these talented "musicians." Remember, this is a group that earned a Grammy nomination for their arrangement of The Beatles' "Helter Skelter." Student and adult tickets are $30.40 to $38 (756-4849) or order online at www.calpolyarts.org.
PHOTO COURTESY OF THE BOBS
THEY'RE THEIR OWN INSTRUMENTS: All The Bobs need are the voices and body percussion to make amazing music, as they will on April 18 when they play Cal Poly's Spanos Theatre.
Jon E. Garrett wrote to tell me he works with "an indie fuck and soul band called Soul Track Mind," but I think he meant indie "funk" and soul. You can find out for yourself when the Central Texas band plays Tuesday, April 21, at Frog and Peach (21-and-older; 10 p.m.; free). According to Jim Moore of Huffinton Post, "They come out of a gritty melting pot that includes seasonings from Booker T and the MGs, Otis Redding, Billy Preston, the later works of Ray Charles, and more contemporary influences like the Black Keys and John Legend."
There are also two big May events you should mark your calendars (and buy your early bird discounted tickets) for: The 17th Annual Parkfield Bluegrass Festival returns to Parkfield on Thursday, May 7, through Sunday, May 10, featuring Joe Craven and the Sometimers, Bluegrass, Etc., Snap Jackson & The Knock On Wood Players, and many more. Visit parkfieldbluegrass.org for tickets and info.
The second annual Mercedes-Benz SLO Jazz Festival happens on Saturday, May 16, in the SLO Mission Plaza. I'll keep you updated as it continues to develop, but I can tell you they've secured Joshua Redman as their headliner! Other performers include Alfredo Rodriguez and his Cuban piano trio, the John Santos Latin Jazz Sextet, Lavay Smith and Her Red Hot Skillet Lickers, and Charged Particles featuring Grammy Award-winning sax player Paul McCandless. Check slojazzfest.org for more info.
Keep up with Glen Starkey via twitter at twitter.com/glenstarkey, friend him at facebook.com/glenstarkey or myspace.com/glenstarkey, or contact him at gstarkey@newtimesslo.com.