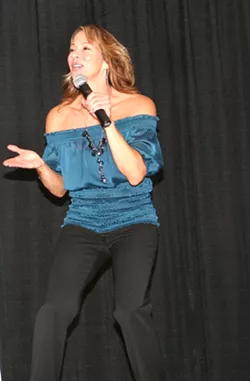 PHOTO BY JENI BLUE
STAR POWER : Comedianne/producer Lizette Mizelle will light up the room for a good cause.
Take a date and laugh hysterically at "The Big Laugh" comedy showcase on Valentine's Day at the Atascadero Lake Pavilion. The comedians are all touring headliners, including Lizette Mizelle, Tapan Trivedi, Kirk Zipfel, Justin Worsham, and Darren Carter "the party starter." They've appeared on the Tonight Show
, Showtime
, The Late Late Show
, and Comedy Central
. Desserts and libations will be served and there'll be live music.
"In essence I've turned the Atascadero Pavilion into a Hollywood- style showcase comedy club. These are all headliner comedians and they all deserve to close the show, so that's what makes this truly unique. I have had the opportunity to work with most of these guys and they come out to work because they know how much it means to a little community," said comedienne Lizette Mizelle, who's hosting the event. "I tried to think, 'What would Oprah do?' I knew she had a show called 'The Big Give,' and I thought 'The Big Laugh' would be appropriate. Generally at each show we do some type of raffle or drawing to help a local charitable organization."
Mizelle says she gave birth to "The Big Laugh" out of her frustration of trying to do comedy tours as a single mother and because there is a lack of good comedy venues locally. She first began at Players Restaurant in Atascadero and every show she put on was sold out for a year. Then on Valentines 2009 she had the first show at the Atascadero Lake Pavilion and it sold out with more than 400 tickets purchased.
"It was a little surreal to see all these people show up from just word of mouth and a stack of four-by-six flyers. I also utilized my three energetic kids to promote the show by having them give out flyers; they call themselves the street team, but I'm sure they're ready to get rid of that job," said Mizelle. "I'm grateful that the community has embraced my passion for comedy and continues to support this show. I am desperately seeking sponsorship to help bring this to an even bigger level! As the comedians' credits increase, so does the budget. The costs are huge when putting on an event of this caliber and I have been utilizing close friends for financial support."
This will be the fifth "The Big Laugh" event that Mizelle has produced. The comedians will be covering many different topics but Mizelle says it's part of their job to specifically make fun of the Valentine's holiday for this event.
Comedian Marc Yaffee, who appeared in the last "The Big Laugh" in November and had his Showtime special Going Native premier on New Year's Eve, says he was impressed with the show at the pavilion and its lineup. "It's like a great Hollywood style showcase club meets hometown appeal," said Yaffee.
The doors will open at 7 p.m. for the 8 p.m. show. Tickets cost $25 in advance and $30 at the door. Group discounts are available. Donations will be accepted to sponsor "hometown heroes"— local soldiers from the 224th Sustainment Brigade who are being deployed for a year at the end of March. "The Big Laugh" is discounting each hometown hero's ticket by $5. It costs $20 to sponsor a hometown hero. For more information on the event or to donate, contact Lizette Mizelle at 712-0400 or Shelley Reeger at 712-2998. Tickets can be purchased online at thebiglaugh.net.
Fast Facts
Feb. 10 at the Atascadero Lake Pavilion, Templeton High junior Kayla Clark and Cal Poly senior Michael Symmes will report on climate change from first-hand information they received in Copenhagen conferences. Following their report, Dr. Ray Weymann will give a non-technical summary of climate science. This event is free. The doors will open at 6:30 p.m. and the program starts at 7 p.m. in the Sarah Grondstrom room. Seating is limited …
Census takers are needed for temporary jobs in Santa Barbara and San Luis Obispo counties. A 2010 census job offers good pay, flexible hours, paid training, and the chance to work independently. For more information call 1-866-861-2010 or go to www.2010censusjobs.gov …
Intern Dylan Baumann wrote Strokes&Plugs this week. Send your business and nonprofit information to strokes@newtimesslo.com.