The Central Coast isn't known as a fashion mecca by any standard, but for designer Kate White, fresh out of fashion school in New York in 2006, San Luis Obispo was where she wanted to be.
"In school I just felt drawn to California," White said. "I would joke and say I'd lived here in a former lifetime."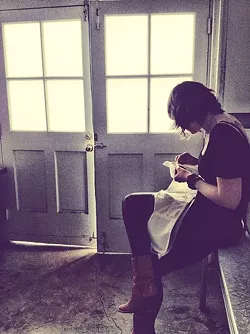 PHOTO COURTESY OF KATE WHITE
HANDMADE : Each item of clothing for Scissor Clothing is designed, patterned, and sewn by SLO-based designer Kate White.
While the fashion scene is alive and well in Los Angeles, White wasn't especially fond of Southern California so she decided to go another route. When her now-husband got a job working with wine in Paso Robles, she jumped on board the SLO life, starting out working at Central Coast Surfboards. She stayed there as a buyer, graphic designer, and manager for about five years, but she never forgot her design roots.
"It was cool seeing things from the retail side and seeing what you want to make versus what sells," White said. "I think design-wise, you have a vision, but it might not always be what the market wants."
In 2008, while still working at Central Coast Surfboards, White launched Scissor Clothing, her own boutique line of classic, casual comfort clothes for women and custom-made button-down shirts for men. White designs, cuts the patterns, and sews each piece. She sells her wares at local craft fairs, online at Etsy, and via social media. But they will also be available to look at, touch, and wear during Art After Dark at Appendage and Bough in SLO on Sept. 2.
"I'd been making clothes for other people for years and deciding to do my own thing just kind of happened," White said. "I'm a comfort fiend and I wanted something that people could wear all day, something that you could lounge around in and be comfortable and then run around and also something that's easy to doll up."
PHOTO COURTESY OF KATE WHITE
BACK TO BASICS : Kate White is all about filling her collection with those comfy yet stylish go-to essential pieces.
Within the Scissor Clothing line are items like black leggings with a well-placed lacy panel, a cozy gray T-shirt with an oversized pocket, or a men's button-down shirt with a crazy print just on the shoulders and pocket. White describes her line as comfort clothes.
"I keep going to the basics of black, gray, white, denims," she said. "Just easy silhouettes, nothing really trendy. The pieces I hold on to are really simple so I've found that's the direction I want to go. I always say black dress. White T-shirt. Gray tank top. They go with everything; you can never go wrong."
While White started making custom men's button-down shirts to fill out the collections, they've become a staple. Each shirt is tailored to the client, from fabric to fit.
"There's not really a market for menswear in San Luis Obispo," White said. "There's not really a great place to go and get staple items. You're usually shopping at a surf shop or online. There's nothing in this area that really gives you uniqueness for guys. The button-downs are a chance for guys to come in and get something that's completely one of a kind and tailored to them. It's a timeless item."
WEAR 'EM OUT : Pick up some stylish threads from Scissor Clothing at Art After Dark at Appendage and Bough in SLO on Sept. 2 from 6 to 9 p.m. Locally based Blueberry Jewelry will also be there to add some sparkle to your new outfit. Prices for Scissor Clothing range from roughly $35 (women's tops) to around $150 (men's custom button-down shirts). Check out Kate White's designs at scissorclothing.com.
Right now, each item from Scissor Clothing is made in extremely limited amounts. While, say, White's classic T-shirts will always be on offer, the fabric your first shirt comes in might never be available again since she rarely buys fabric in bulk. In the future, White hopes to expand the line so it's available in stores, while still staying true to the warm, cozy feel of Scissor Clothing.
"There's always going to be hiccups, but having an idea and seeing it finally come together and on the rack is probably my favorite part," White said.
Ryah Cooley fully supports the leggings-are-pants movement at rcooley@newtimesslo.com.