Jake had been clean for just a couple of weeks, and he was struggling.
Facing a possible 15-year sentence in state prison on a joint suspension for burglary and possession of heroin, it was his "last shot." He'd spent weeks between sober living facilities and jail while waiting to be admitted to a treatment program at the San Luis Obispo County Drug and Alcohol Services.
Once he was enrolled in adult drug court, he bounced back and forth between sobriety and relapse while attempting to keep up with the strict regimen and almost impossible expectations of his treatment. He was required to attend group counseling in SLO three days a week, pass all drug tests, and maintain 32 hours of employment per week—as a felon with no driver's license.
He rekindled a friendship with a childhood friend, Kim (not her real name) who had gone through her own problems with drug addiction but had five months of sobriety under her belt. The friendship soon turned into something more as Kim selflessly worked to help Jake through his treatment.
"She worked two jobs but would give me every penny she had," Jake told New Times. "She would drive me to group, wait for me to get out, get me to work, buy me cigarettes. She taught me how to be happy again without artificial elation."
This went on for nearly a year, with Jake finally finding long-term success in treatment and holding down a full-time job. But, as even the most intense relationships often do, theirs began to fizzle out, around the time his girlfriend—who had always been more or less responsible in her drug use—began verbally toying with the idea of buying some weed. At first, Jake said he could be around it without any problems, but when she began to show up at home drunk, it all fell apart.
Though they stayed in touch, they saw less and less of each other in the months that passed. One day he ran into her in town. He said she looked great, but she asked if he could locate some of the potent opioid Dilaudid. He thought at the time that she wasn't likely to do it herself, but was rather looking to sell it to make a quick few bucks. He shook off the inquiry, and she left. Throughout the day, Jake continued to receive calls and text messages from her again asking about the drug.
The last text came in at 2 a.m. It was an apology.
He was at work the next day when he got a call from a friend informing him his ex-girlfriend was found dead from a lethal injection of Dilaudid.
"She was someone I walked through my first year of sobriety with side by side," Jake said. "I'm never going to get over it, but I've processed it enough to accept it and realize that I don't want to be the next person to die."
In just two years, Jake told New Times, seven of his friends have died in their struggles against opiate addiction.
Just 'like what they have in L.A.'
Jeff is a 24-year-old street kid originally from Simi Valley who, since arriving in San Luis Obispo in April, has pretty much spent his days hanging out in Mission Plaza, bumming cigarettes and quarters outside of convenience stores. At night, he finds a space to sleep either down by the creek or at a nearby park.
He told New Times on one sunny afternoon on Marsh Street in downtown SLO that heroin isn't just making the rounds in the resident or transient homeless populations. Everybody knows where to get it, he said—adding that a tenth of a gram, "enough to be good" for a few hours, goes for $15.
"Yeah, it's definitely around here. And I've heard a few people have died recently," Jeff said. "You can see people nodded out in the park, people ripping each other off."
He said that he left Los Angeles for the Central Coast last year when he got in trouble with the law and too many of his friends were dealing heroin and other hard drugs.
Though he said he doesn't fool around with the stuff himself, Jeff said he could easily take a reporter to a nearby location where someone could get his hands on "mud" for the sake of the story—in exchange for a pack of smokes. He sounded like he was telling the truth, but the offer was declined. The guy got some cigarettes anyway.
Mark, a longtime resident homeless man who lives under a bridge in the downtown San Luis Obispo area, told New Times that his ex-girlfriend, who was also homeless and known to get high during the day by the creek near the Chinese Garden, recently died of an accidental heroin overdose.
"It's a terrible thing, man. I'll miss her," Mark said. "It's getting bad around here for sure."
To look to prosecution stats for reliable numbers of exactly how many heroin cases have gone through local courts would be tedious, mainly because the statute prohibiting possession of a controlled substance doesn't differentiate between the different substances out there.
But through information provided by different county agencies and city police departments across the county, a picture emerges that shows a growing problem. Anecdotally, while Grover Beach had as few as 11 heroin possession arrests so far in 2013 and seven in 2012, larger cities like Paso Robles saw 51 arrests for possession in 2013, up from 2012's 47 arrests, and more than double 2011's 24 arrests.
"It's not just a shift; there's been a monumental shift of the drug of choice," Atascadero Police Department Cmdr. Joe Allan told New Times, recounting that his department has made 35 arrests so far this year for heroin possession of varying amounts. In 2012, there were 31. Not all of those arrests necessarily resulted in conviction.
According to the Drug Enforcement Agency spokesperson for the Central California region, Sarah Pullen, SLO County is experiencing a trend in line with what anti-narcotics agents are seeing across the country.
Until recently, pills containing the opioid oxycondone, such as the popular brand OxyContin—or Oxys—reigned as a top recreational choice for their ability to deliver a powerful morphine high when crushed and smoked, snorted, or injected. For a decade, the drug had been prescribed left and right for legitimate reasons and forgotten in medicine cabinets across the country.
Jim Heins, spokesman for Purdue Pharma L.P., the New York-based pharmaceutical manufacturer of OxyContin, told New Times that the company recognized its product's potential for abuse and has worked since 2001 to reformulate its popular brand of oxycondone to include a polymer that renders the pill plastic-like. Users can't open it, and it turns into a waxy lump if it's melted. He said the new drug went before the Federal Drug Administration as early as 2005, and five years later was approved on the condition the company would study how well the deterrent worked.
When the reformulated OxyContin hit the market in August 2010, reports of abuse did go down. But in the years since the new tamper-proof version completely replaced the old crushable tablets, public health officials nationwide started noting more admissions to detox and treatment programs—court-mandated and voluntary—for heroin addiction. But the numbers don't reflect any change in overall opiate abuse, including prescription drugs, suggesting heroin is becoming an alternative that's less hassle to procure and much cheaper, though not necessarily the primary drug of choice.
A New England Journal of Medicine quarterly survey of 2,566 patients in treatment for opioid addiction between July 2009 and March 2012 reported that the selection of OxyContin as a primary drug of abuse decreased from 36 percent of respondents before the release of the abuse-deterrent formula to 13 percent. Though the demand for illicit Oxys remains—24 percent of the respondents found ways to crack the tamper-proof properties and continue to abuse the drug—66 percent reported switching to another opiate, with "heroin" as the most common selection.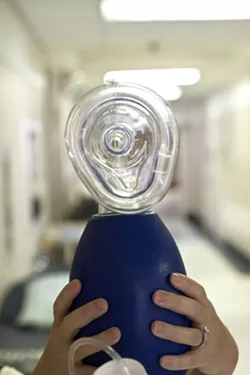 PHOTO BY STEVE E. MILLER
BREATHE: During an overdose, heroin will block receptors in the brain responsible for causing a person's body to keep breathing when they are unconscious. A hand-held respirator is used to force a patient to breathe long enough for Narcan to be administered.
"It's the whole squeezing-the-balloon effect," Purdue's Heins said. "One drug becomes less attractive, they'll go elsewhere. They'll turn to another."
From a law enforcement perspective, this means a market for heroin has opened up, and wherever there's a market, there are dealers. Shop has been opened up on the Central Coast, same as anywhere else.
"Obviously, people are still looking for that fix. That's when we see the resurgence of black tar heroin," a Sheriff's Department detective assigned to the department's drug and gang task force told New Times on condition of anonymity because of his undercover work.
He said that most of the black tar heroin he's seeing on the street is likely from Afghanistan, but it mostly comes to California via Mexico. Inevitably, the refined drug is distributed on the street with help from regional street gangs.
"Wherever there's a market for a drug, you can know gangs are going to get involved," the detective said. "I'm not seeing a real fondness of the refined heroin out there. Black tar just comes from the poppy plant, and it's pretty much pure."
"We know what gangs trade in. They trade in drugs, they trade in weapons, and they trade in fear," Atascadero's Cmdr. Allan said. "If the drug of choice is heroin, they're going to be in on it."
Despite the recent string of local arrests for possession and sales that have taken a significant quantity of heroin off the streets, the detective said there's not an official campaign against it, any more than there is against any other illicit drug. The department currently only has five detectives on the task force handling high-level narcotics investigations involving all drugs, he said.
Paso Robles Police Chief Robert Burton told New Times that opiate addiction is epidemic across the nation, not just Paso Robles. Those it impacts most are increasingly younger addicts and their families.
Three days after New Times interviewed Burton, his department's Special Enforcement Team served search warrants at a number of locations across the city, and a 21-year-old female resident was arrested on suspicion of possessing just less than a gram of heroin, a small amount indicative of personal use, which brings the department's total amount of seized heroin since the April creation of its Special Enforcement Team to roughly 90 grams.
"To think that 18- to 25-year-olds are using it can come as a real shocker," County Sheriff Ian Parkinson told New Times. "We're very concerned and putting a lot of effort into it."
Bringing back the dead
Just as New Times was wrapping up this story on Oct. 24, two deputy probation officers running compliance checks responded to a call of an intoxicated person in the bathroom of Downtown Brew in Paso Robles. They found him lying face down, not breathing, with a used syringe in his hand. They immediately began working to get him breathing before emergency medical services made it to the scene and injected him with a dose of Naloxone.
The officers—and those responsible for reporting the man quickly—saved his life. He later reportedly told the officers at Twin Cities Community Hospital that he had injected a dose of heroin into his neck before he went unconscious.
According to data from the city, emergency services has so far responded to 10 heroin-related overdoses in Paso Robles in 2013.
But help doesn't always make it in time. In May 2012, a 22-year-old man died of his dose in the parking lot of the Atascadero In-N-Out Burger.
Dr. Scott Bisheff is an emergency room technician at Sierra Vista Regional Medical Center in SLO and Twin Cities Community Hospital in Templeton. On a recent busy afternoon in the Sierra Vista E.R., Bisheff explained that despite the recent news, it's still rare to see a heroin overdose in the E.R. compared to those involving other prescription drugs and alcohol. He was only able to recall three life-threatening emergencies from heroin in his 11 years. Far more common are moderate-to-serious invasive skin infections due to frequent injection.
Bisheff explained that when an overdose determined to be heroin-related comes in, the patient is unconscious and not breathing. The morphine blocks receptors in the brain, he said, which causes the body to stop its automatic inhaling and exhaling. Doctors will immediately clear any obstructions in the airways and begin breathing for the victim with a hand-held respirator. A shot of Naloxone, commonly known as Narcan, works as an antidote to the effects the morphine has on the brain.
"Then they're up and running in just seconds," Bisheff said. "Unfortunately, it revives the pain receptors, too. They'll look at you in all this pain and say, 'What are you doing to me?' All you can do is say, 'Well buddy, you weren't breathing.'
"If they're alive when they get here, we can save them," he added.
Records provided by the SLO County Department of Public Health do reflect that there are more local deaths specifically from heroin overdoses these days, but prescription drug abuse continues to kill residents in far greater numbers. In 2003, for example, SLO County officials saw just one death from heroin toxicity. The numbers fluctuate between none and seven per year up to 2011, a year when four people died from heroin.
Compare that to deaths from abuse of oxycondone, methadone, or fentanyl. In 2011, records show that 30 people died in SLO County from overdoses of prescription or illicit opioid abuse, not including heroin. But the record isn't the most reliable, County Health epidemiologist Anne McDow said, because many deaths are listed only as "multiple prescription drug accident" or "accidental OD of drugs, injected self."
McDow's office didn't yet have data for 2012 or 2013, but Sheriff's Detective Jeff Nichols did. As one of three coroner's investigators for the SLO County Sheriff-Coroners Office, Nichols' job is to determine what substance led to death in the event of an overdose. According to Nichols, he saw five heroin-related fatalities come into the autopsy room in 2012. So far in 2013, there have been eight.
Nichols has performed more than 1,000 autopsies over the last six years, and he says from his experience that while the number of heroin-related deaths in SLO County is up, one reason past numbers are lower may be the result of how difficult the drug is to trace in the body if an autopsy isn't performed right away. In the autopsy room of the Coroner's Office's new facility on Aerovista Drive in San Luis Obispo, Nichols explained to New Times that heroin is metabolized into morphine in the body and, because "track marks" alone don't point exclusively to heroin, it's critical to perform an autopsy investigation quickly.
He said in order to do so, coroner's investigators will test the vitreous humor. That's the clear, gel-like fluid that fills the space between the lens and retina of the eyeball.
"If we get a case where we suspect heroin is involved, we'll have investigators test the vitreous. It costs more money, but it's essential to the case," Nichols said. "And it can be a pretty painful thing, but we have to get the answers to the families."
Nichols also added that while heroin is rightly getting focus as an alarming trend, prescription drug abuse in its many forms is still far more dangerous, and it results in anywhere from 20 to 40 deaths each year in SLO County.
Kicking
Even after waking up in an emergency room following a nearly fatal overdose, Jake had no interest in kicking his full-blown heroin habit.
His road to the gurney wasn't traveled overnight. Jake grew up in a stable living situation with a caring foster family in Paso Robles. His behavioral problems surfaced earlier and louder than did any from his foster brothers and sisters, and he moved to Los Angeles when he was 18 to study music production. While there, he began getting into the local hip-hop scene, making good connections in the industry. Though he was no stranger to the typical pot and booze, Jake's taste quickly progressed to cocaine—and increasingly Oxys. Being a guy who knew people, he also began selling to make money and fund his habit. Whatever he didn't move, he would crush up and snort or inject.
PHOTO BY STEVE E. MILLER
REVIVER: Naloxone—commonly known as Narcan—is administered to victims of heroin overdose to counteract the drug's effect on the brain. The patient will come to within seconds, said one emergency technician.
By the time of the reformulation, Jake's opiate addiction had progressed to a point where he was using and selling heroin every day to keep in drugs. Now living in Atascadero, he said he and his then-girlfriend lived this lifestyle while caring for their newborn son. They burned through money and bridges to the point where they increasingly had to hustle to maintain their lifestyle.
When the heroin ran low, Jake said that his friends and he would find a way to get their fix, sometimes even finding and manipulating fentanyl packets—the kind you apply to an area of the body when you're in pain or preparing for surgery. They'd crush up or melt down the opioid inside and chew or inject it. Fentanyl is especially dangerous due to its standard measurement in micrograms as opposed to the standard milligram, making it much easier to overdose on.
"A junkie will hear that their friend just OD'd, and the first thing they think, 'Where did he get his shit from? 'Cuz I want some too,'" Jake said. "That's how sick the disease is."
Jake and his girlfriend were arrested during service of a search warrant by county narcotics officers in 2009. He would later learn that detectives were surveilling his apartment for weeks. He was charged with possession and cruelty to a child.
Following a stint in jail, Jake skipped out from sober living and ended up on a meth and heroin binge with two friends in a trailer in Paso Robles. Facing the a six-month jail sentence, he suffered a suicidal breakdown. Jake said he robbed a local residence and sold some goods for two grams of heroin, which he slammed after cooking both with just enough water to successfully inject the dose.
"Suddenly, I come back to consciousness and I've got tubes in me and I'm on the gurney being slid into the ambulance," he said. "The EMT is slapping me to stay awake, but I'm trying to fall asleep because I want to die, you know? When we get to the hospital, the last EMT tells me I have a guardian angel out there."
But once the doctors left him to himself at Twin Cities—keep in mind he was on felony probation and on the run—he ripped out the IV and fled, bleeding, out of the hospital.
His run was short lived. Police investigators soon picked him up in connection with the recent burglary.
Despite strong opposition from prosecutors, SLO Superior Court Judge Michael Duffy suspended a 15-year sentence for Jake's myriad criminal offenses pending his last-chance effort to complete a rigorous adult drug court treatment program.
Clark Guest is program supervisor for the Drug and Alcohol Services division of the San Luis Obispo County Department of Behavioral Health. When drug offenders like Jake get arrested and inevitably end up in a court-mandated drug program, they spend a lot of time in group therapy with Guest and members of his staff.
Guest told New Times that of his 1,131 clients treated in the 2010-11 calendar, 6.7 percent were admitted for heroin addiction, far below all alcohol, meth, and marijuana admissions. Meth accounted for 29.3 percent. Prescription opiates, however, accounted for 13.9 percent of admissions.
Drug and Alcohol Services data indicates that heroin use almost doubled in the county between 2007 and 2010, but county numbers are still lower than the state average.
"I think it underscores that people have weaknesses—all walks of life, all careers. People with the best upbringing get hammered with addiction," Guest said. "And they all seem to start at the same place."
When they end up requiring detox before treatment, Drug and Alcohol Services offers in- and out-patient detoxification programs, which have recently undergone a number of improvements. Also, the age requirement dropped to 16. And according to the newly released 2013 county report for addressing detoxification needs, the county proposed creating a detoxification team consisting of a nurse practitioner, a psychiatrist technician to administer medications and provide monitoring, and a case manager to provide transportation and to solicit placements into housing. The county expects the team to treat some 150 people in its first year of operation. Ninety percent will be offered case management services afterward.
It can take anywhere from 90 days to six months for the brain to begin functioning normally again so recovery can begin. Failure to successfully detox can be tragic.
"No addict who passes away thinks it's their time, and I hear from some of my clients who are dealing with some horrible loss," Guest said. "Especially in that situation, unless they're coming into treatment, getting social support, it's just going to be a perpetual cycle."
By his own admission and from other accounts, Jake has been completely clean and sober—with the exception of immenso carmelo espressos—for nearly two years. He continues to work full time, maintain his drug court requirements, and has even founded a SLO County-based hip-hop record label, which has signed five artists.
When New Times referenced Jake's story to Guest, the counselor indicated with a proud nod he knew exactly who we were talking about, though he wasn't able to confirm Jake's name.
"He's the real deal," Guest said.
"I lost everything—my son, my family, everything. But I've got it all back and others can too," Jake said. "Two years ago, I would have said that only something like one of my best friends dying could get me to get high. But in the three weeks after [Kim's] death, I had people from drug court around me at any time to support me—and that's because I kept going to treatment."
Contact News Editor Matt Fountain at mfountain@newtimesslo.com.