Artist Jim Dessicino's grandmother, whose parents had immigrated to the U.S. from the Adriatic Coast of Italy, had always told him she didn't speak Italian. So he was understandably confused when he moved into her old house in New Jersey in 2016 and found heaps of old family documents, including letters addressed to his grandmother written in Italian.
Those letters were just the start of the spark of inspiration that led Dessicino to create the exhibit Without Papers, a series of sculptures, paintings, and drawings, currently on display at Cuesta College's Harold J. Miossi Gallery.
Dessicino ended up moving into his grandmother's old house after he abruptly lost his studio in Philadelphia when it was sold to developers. For years, Dessicino fueled his art with politics and, in a way, by following his family history; the work has come full circle.
"I wanted to do a show about the contemporary migrant crisis, and I end up in my grandma's home," Dessicino said. "It made this bridge between what was happening in the world and my life."
One of the family members Dessicino learned the most about was his great-grandfather, Antonio Privitera, who started a vineyard off the edge of Mt. Etna in Italy. It still exists today and is run by distant relatives.
Dessicino's piece, Baggage Claim, is inspired by immigrants, specifically African immigrants who work outside the Vatican in Rome. The piece is a beautiful bronze statue of a young man, looking hopeful and hesitant, with his arms full of luggage.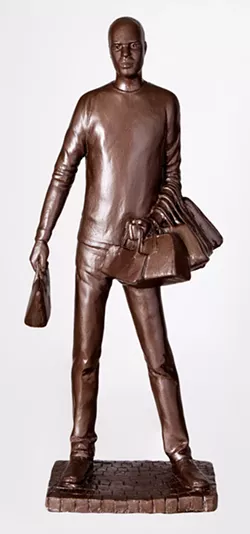 From 2005 to 2010, Dessicino returned to his ancestors' home country several times, living in Italy for temporary stretches here and there. He worked for a time as tour guide at the Vatican in Rome, where he held up a water bottle with one hand so his tour attendees could follow along. But it served another purpose as well.
"There were so many pieces of art I wanted to talk about, I would talk myself hoarse," he said.
That particular memory is immortalized with the classical style statue Guida Abusiva; Self Portrait as a Fountain which shows a nude Dessicino holding a water bottle up in one had as water gurgles out from its top.
Another piece, which the artist dubs "word art," chronicles the changes in the way Dessicino's family name evolved in spelling and pronunciation over the years. The piece is called No Matter How You Spell It, You'll Always be a Dasheen and shows how the artist's family name was originally spelled with a "T" instead of a "D." After the family came through Ellis Island, they became railroad workers in a primarily German town, whose inhabitants changed the pronunciation to "Dasheen," which stuck until Dessicino's dad started bringing back the more old-school pronunciation as a teen.
While Dessicino has spent a lot of time in Italy, speaks the language, and has a strong connection to his cultural heritage, he knows that he isn't exactly one and the same with the young man who started the vineyard back by Mt. Etna.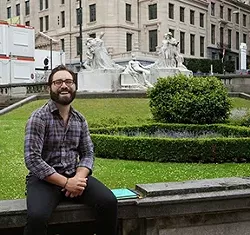 PHOTO COURTESY OF JIM DESSICINO
JUST A NEW JERSEY KID Artist Jim Dessicino lived in Italy several times between 2005 to 2010.
"I'm a kid from New Jersey; I'm the least Italian thing in the world," Dessicino said. "It's a thing I want to identify with."
Dessicino also knows that while he didn't experience the same struggles that his ancestors or more recent immigrants have experienced, it's important to remember that most of us come from somewhere that is not here.
"Don't forget where you came from and don't forget the strength of those coming here today," Dessicino said. "There's something special about the U.S. and people coming to live here together without any cultural identifier. We're all immigrants. We all have something to share with each other."