It's kind of a mystery, really, what transpires in the space between Al Schnupp's artwork and a camera's viewfinder. Something delicate dies. A flame goes out.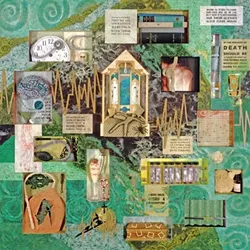 ARTWORK BY AL SCHNUPP
THE IMAGINARY INVALID:
Using a photograph to illustrate the intricacy and care that go into the Cal Poly theater instructor's assemblages does about as much good as drawing a picture on a napkin to express the way his latest play made you feel. It's a crude representation at best. Experienced live, though, Schnupp's theater-centered assemblages are multi-layered, wondrous, alive with metaphor, and demanding of an audience. If ever a gallery show had stage presence, it would be Schnupp's "Understudies and Stage Crossings," currently hanging at ARTS Space Obispo.
"Understudies" is comprised of Schnupp's assemblages and free-standing sculptures, each representative of a play Schnupp has written, adapted, staged, or taught. There's plenty more where these eight came from—the 44-by-44-by-5-inch works lined his Cal Poly office at a previous interview—but eight of them, plus several freestanding sculptures, more than fill the gallery space.
Schnupp creates each piece from a sheet of thin oak plywood. He carves out rectangular alcoves into which he inserts tiny scenes. But it isn't people so much as things that inhabit these places: mute objects that have become entangled in human language, emotion, and folly.
Antique clock hands above a tiny sand dune invoke the sinking sands of time in a work that followed Schnupp's unproduced play Trapdoors and Detours. A rosary of pills in The Imaginary Invalid—after the play by Moliére—calls to mind the religious fervor with which hypochondriacs gulp up their daily doses of perceived salvation.
Schnupp constructed his first assemblage to coincide with the off-Broadway premiere of his play The Site, which centers on "a fickle scientist" (the synopsis reads), who "travels the world to isolated locations where he conducts unusual studies." A fax announces the impending arrival of a stranger to Professor Roth's current work site, preceding a number of technical malfunctions. Suspecting sabotage, Roth and his entourage—his crew, his son, his son's girlfriend, and his crazed-poet wife—prepare for the arrival of a dangerous or vindictive stranger, though nothing could ready them for the person the stranger turns out to be.
Thinking he might display the piece in the lobby at the play's New York premiere, Schnupp put together a Site assemblage, which quickly grew too large to schlep to the East Coast. (He took a picture of it instead, which surely didn't do it justice.) But he was on to something awesome: Here was the template and inspiration for a whole new body of work.
The alcove concept was perfect for The Site. Bugs, frogs, and people are pinned down and labeled individually inside the niches, as if they were the fickle scientist's compartmentalized specimens. A ladder descends into a narrow space, reminiscent of an archaeological dig. Out-of-context quotes, which would become a Schnupp staple, scatter the landscape: "Bullets are fine for making buttonholes; then they should be employed as periods."

LANGUAGE, EMOTION, FOLLY: Al Schnupp's "Understudies and Stage Crossings" hangs at ARTS Space Obispo, located at 570 Higuera St., suite 165, in the SLO Creamery, through May 14. The space is open 10 a.m. to 4 p.m. Monday through Friday and 10 a.m. to 2 p.m. on Saturdays. A reception will be held during Art After Dark on Friday, May 6, from 6 to 9 p.m.
While enough to arouse curiosity about the play, the piece can also be enjoyed simply as a work of art.
"You don't need to know the play, by any means, to take a journey through the artwork," Schnupp said, eyeing the freshly installed art show at ARTS Space Obispo. "That's the fun—trying to find the metaphor."
He referenced his Oedipus piece by way of example. A staff, something the title character might have used after casting out his eyes, slices the piece diagonally. Near the bottom of the staff, easily overlooked, is an embedded eyeball. Objects from Oedipus' past are unreachable behind glass and rusted padlocks. A slide puzzle reveals the inquiry, in slightly jumbled form, "Who is this whose fate the gods declare."
Ionesco's nonsensical, darkly silly The Bald Soprano—transplanted from London to the "haze-filled bubble" of present-day America—was Schnupp's playground when he directed the show at Cal Poly in 2008. The Bald Soprano reads as a commentary on modern-day detachment and the futility of communication beyond the superficial. This led the director to design a set with isolated little cubicles for each character to retreat to—each one decorated according to the obsession Schnupp had given them (clothes, guns, TVs, etc.). The cubicles translate seamlessly into alcoves in Schnupp's assemblage. A jumble of cords spews from the mouth of a face at the center of the work, plugging into the faces of the cast or wriggling arbitrarily throughout various objects and bizarrely revealing statements. ("We live in the same room. We sleep in the same bed. It is perhaps there that we have met.")
The works make a bold statement, but viewed digitally, they threaten to fade into triteness. Even the ARTS Obispo committee, reviewing the images in the proposal Schnupp sent, wasn't interested in the assemblages at first. Members were won over only after having the very analog experience of sharing space with them.
What transpires in the space between Schnupp's work and the human eye is another story.
Arts Editor Anna Weltner digs alcoves into paper into which she drops letters. Contact her at aweltner@newtimesslo.com.