It's a warm and sunny Saturday, May 7, and I'm at Penny's All American Café in Pismo Beach, where I've just met the first two people to register for the seventh annual Pancake Eating Contest.
"I'm just up to see Melanie," Chris, a tall blond Pepperdine student said, "and we saw the sign and thought it was a fun thing to do."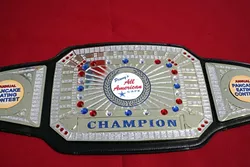 PHOTO BY GLEN STARKEY
THE BIG BELT! : Sorry, champ. You can't take the belt with you. It remains with your photo on the wall of Penny's All American Café.
His fellow competitor Melanie, a Cal Poly student, is a petite little gal, but Chris thinks she'll beat him.
"She can put down some pancakes," he grinned while admitting he's an amateur. "I've never done something like this before. I think my strategy will be no butter or syrup but a lot of water."
"Me too," Melanie adds. "If I eat a lot of sugar or butter I might go into a sugar fit."
One competitor they don't have to worry about is Effie: "I'm just here for the free lunch."
Penny, a bubbly lady buzzing around greeting the growing crowd, runs the café and the contest, which she says her son Ryan came up with: "It's just a fun thing for the community, and we raise money for charity. We've donated to Hospice, ALS, the Food Bank about three times, and this year AmpSurf. We've already collected more than $800 from sales of my jalapeño strawberry jam. It's a fun event and everyone loves to come watch. The winner gets $100 cash, and a photo with the winner's belt that hangs on the café wall for a year."
Anthem rock pumps out of the P.A. system as more and more people gather and the number of competitors grows. I see a slender Asian kid signing up and I whisper to Penny, "He looks like a ringer."
"I know," she replies. "Remember that hot dog eating guy?"
PHOTO BY GLEN STARKEY
READY? GO! : The dozen or so contestants rip into plates of pancakes, except for Effie (standing), who makes a show of taking her sweet time because she's just here for a free lunch.
Takeru Kobayashi ate 50 hotdogs in 12 minutes at the 2001 Nathan's Coney Island Hot Dog Eating Contest. Take that, Cool Hand Luke! I don't pretend to understand competitive eating. It seems weird and gluttonous and decidedly crass considering how many people are food-insecure, but AmpSurf is a good cause.
Dana Cummings, AmpSurf's executive director, gets up to thank the audience for their support and talks about what his organization does: providing disabled folks, including wounded veterans, an opportunity to learn to surf and prove there's no affliction they can't overcome.
One of Penny's servers comes out to sing an a cappella rendition of the national anthem, and then the emcee begins introducing the competitors one by one, offering their weights as if they were prize fighters … well, until he gets to Effie, weighing in at "none of your damn business!"
The dozen competitors sit along a long table, a stack of plate-size pancakes set before them along with butter, syrup, and glasses and pitchers of water. The countdown begins, and they're off! While Effie delicately uses a knife and fork and unhurriedly enjoys her flapjacks, the others dive in, most rolling their pancakes into tubes and shoveling them into their faces.
Four minutes has never seemed so long. As pancakes disappear into mouths, more suddenly appear on the plates before them. The crowd of about 75 people cheers them on while a TV cameraman buzzes around the table capturing the action.
PHOTO BY GLEN STARKEY
THE CHAMP!: Daniel "Doughboy" Arndt put away 7 3/4 plate-size pancakes in four minutes to win the seventh annual Pancake Eating Contest at Penny's All American Café to benefit AmpSurf.
It looks like Daniel "Doughboy" Arndt, weighing in at 260 and with a technique that involved rolling the pancake, dipping it in a pitcher of water, and then inhaling it, is going to come out on top.
But wait! The competitors must keep the pancakes down for four minutes more. The slender Asian kid holds his stomach and looks sick. Arndt seems like he's got it down no problem. Effie's still eating because … free lunch. Then one of the competitors gets up. Oh man, he's going to ralph, no doubt, but then he appears to be choking! A guy gets up and tries the Heimlich Maneuver but it's not working.
"Dial 9-11!" someone calls out. This fun event just got deadly serious, but about a minute later the distressed competitor coughs up some red-tinged pancakes and regains his composure. Whew!
Arndt poses for some photos with the winner's belt, and the police arrive, and I still don't understand competitive eating.
Glen Starkey is a New Times staff writer who isn't hungry anymore. Contact him at gstarkey@newtimesslo.com.