Cynthia Gonzales said she did everything right.
When she and her business partner decided to start a medical marijuana delivery business in Arroyo Grande, they wanted to make sure everything was done by the book, including seeking a license to operate under commercial marijuana regulations passed by the City Council in June of 2016. One year later, their business, Elite Care Enterprises, got its permit and became the first and only cannabis delivery operation in the city.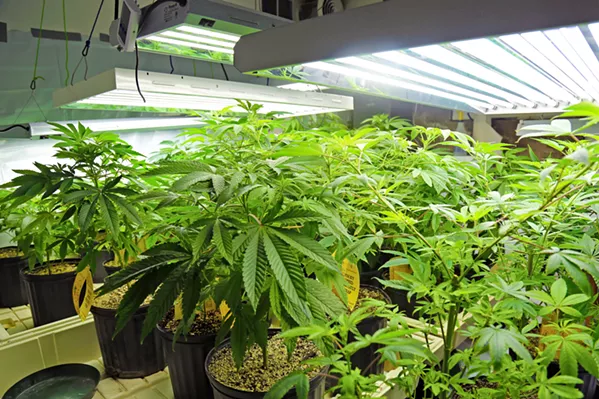 File Photo By Dylan Honea-Baumann
OUT OF SERVICE A conflict between state and local regulations means that the only medical cannabis delivery service permitted by Arroyo Grande, Elite Care Enterprises, can no longer operate in the city.
Just shy of one year after they began operating, Gonzalez now says she has to inform her customers, some of whom are terminally ill, that Elite Care will no longer be able to serve them.
"We are done," she said. "We can't even go out to our patients now."
On June 5, Elite Care received a letter from the state's Bureau of Cannabis Control (BCC) notifying the company that its temporary state license to operate was revoked. The letter stated that the license had been pulled after the city of Arroyo Grande notified the bureau that Elite Care wasn't authorized to operate in the city.
City documents show that the shutdown of Arroyo Grande's lone medical cannabis delivery service occurred at the center of a complex and sometimes confusing nexus of local and state commercial cannabis regulations, leaving Elite Care unable to operate legally and causing the city of Arroyo Grande to nix its own cannabis delivery permit process altogether.
In December of 2017, the bureau rolled out emergency regulations to cover a number of commercial cannabis activities, including requiring non-storefront retailers like Elite Care to have a physical premises they can conduct business from. According to emails between the city and the bureau, Elite Care applied for a temporary license from the state, using an address on Grand Avenue. However, Arroyo Grande's cannabis regulations ban all commercial cannabis activities except deliveries within the city.
"Under the city's ordinance, no commercial cannabis activities other than delivery into the city have ever been allowed," Arroyo Grande Community Development Director Teresa McClish said in an email to New Times. "At no time was Elite Care authorized by the city to operate a physical commercial cannabis premises within the city limits."
Gonzalez said that her company had been paying rent on the Grand Avenue property for about eights months but was unable to use it.
"It was literally just going to be a repository for the medicine," she said. "It was very inconspicuous. It wouldn't be open to the public, and there wasn't even signage."
Still, after months of back-and-forth, the city sent a letter to the bureau on May 25 stating that, based on the circumstances, Elite Care did not have authorization to operate in the city. Because the state's current cannabis regulations favor local control and require local authorization and licensure to obtain a state license, the bureau revoked Elite Care's license.
According to the city staff's report, the city and state regulations are currently irreconcilable, and provide "no compromise" other than the "lengthy and resource intensive process" of amending Arroyo Grande permitting regulations. Instead, city staff recommended that the City Council modify the city's regulations to rely on the state's commercial delivery licenses while maintaining the ban on all other commercial cannabis activity. This would essentially scrap the city's delivery permitting process and allow any delivery service with a state license to deliver within the city.
"Staff believes the city's licensing process is duplicative and no longer necessary," the staff report states.
At a June 12 meeting, the council voted to do just that. The changes will not go into effect for at least another two to three months. If Elite Care meets the criteria under the new regulations, it could seek to get its state license back.
The city's current regulations allow deliveries from outside Arroyo Grande, but only if those businesses have received a delivery license from the city. As of June 11, Elite Care had been the only delivery service to get that license from the city.
"They are hurting patients who are literally dying," Gonzalez said. Δ
Staff Writer Chris McGuinness can be reached at cmcguinness@newtimesslo.com.