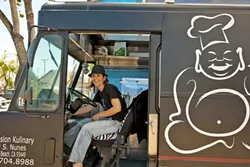 PHOTO BY STEVE E. MILLER
ALWAYS ON THE GO : Lori Nunes first became interested in working with food while working as a photographer.
TRACK IT DOWN: You can find KunFusion truck's current location by calling 704-8988, looking on Facebook or Twitter, or visiting kunfusiontruck.com.
I 've discovered that many Central Coast locals aren't familiar with the latest dining trend: mobile food trucks. There are virtual fleets of them in major cities like Portland, San Francisco, and Los Angeles, and they have devoted followers. Unlike the cheap taco trucks of yesteryear, these new gourmet food trucks are owned and operated by inspired chefs cooking up exotic cuisine of the quality previously only found in good restaurants. Inside those large, delivery-style vans they can get creative. They're equipped with a professional kitchen that has everything from ovens and deep-fat fryers to refrigerators and sinks specifically for hand-washing.
I was on Facebook when I discovered a new one was opening its broad side windows to the public for the first time in Arroyo Grande from noon to 2 p.m. It happened to be 12:15, so I put my PC to sleep, jumped in my Prius, and headed off in search of KunFusion.
A writer at About.com noted that about 150 food trucks regularly take to San Francisco's streets, peddling a range of cuisine, from Asian and Latino fusion to dessert treats like key lime cupcakes. Among the very interesting food trucks are Chairman Bao, a Chinese bun specialist; Hapa SF, offering authentic Filipino food; and Kung Fu Tacos, a Pan-Asian-Mexican fusion taco truck. On Gayot.com, which provides international restaurant reviews by food industry experts, there's a new listing ahead of French food: food trucks.
The trend is huge in cities like Portland, where trucks group up in a parking lot, providing the hungry with an international array of choices. When I learned of it last year, I asked followers on Twitter why no Central Coast chef had taken on this novel approach to dining. That's why I was thrilled to finally be able to announce that the gourmet kitchen on wheels has come to our little hamlet by the sea.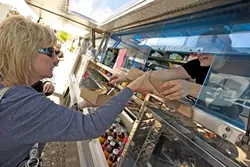 I was so excited that we finally had a food truck running, I rushed up to the window and said that to KunFusion owner and chef Lori Nunes. I held back that I was a cuisine columnist, waiting to see whether or not the food was worth writing about. I asked about the "Portuguese filhoses" ($3), deep-fried sugar donuts, and she told me her grandparents were from the Azores. My grandparents were, too, and those rustic treats took me back to my grandmother's kitchen where I gorged on them. I found her version quite different, but still very good with the ginger-laced sugar coating. No surprise—like all recipes cooks bring over from the "old country," they differ at every home.
I ordered the Samurai arepa ($7), which is like a sandwich on a split arepa made with white cornmeal, no flour. It was overflowing with tender beef brisket that had been braised in a sweet and spicy mixture for 12 hours. The beef is topped with Nunes' Asian slaw, a yummy crunchy medley of three cabbages, sliced onion, and shredded carrot tossed in Asian dressing. I enjoyed the samurai, but would have preferred a little less meat and more of the delicious slaw. I didn't like the arepa—it's dense and chewy—but friends said they loved it. Next time, I'd order the Samurai atop a side salad. With all the arepa orders, Nunes offers a choice of two sides: sweet potato fries or a veg-out salad to create a lunch bento-box style ($2 more).
Everything is housemade: Hand-cut, crispy sweet potato fries come with wasabi-arugula aioli and ginger five-spice ketchup ($4); and great balls of fire are deep-fried arepa balls stuffed with jalapeno, cheddar cheese, and topped with spicy aioli ($4). During my second visit in Pismo Beach, I enjoyed the crunchy Katsu chicken salad ($7): panko-breaded chicken breast nuggets served on a bed of mixed greens with shredded carrots, red pepper strips, and ginger-sesame dressing. My favorite was the ahi poke salad ($8), with fresh, marinated ahi tuna chunks on a bed of mixed greens with Mandarin orange segments and sweet Asian vinaigrette.
During a follow-up interview, Nunes insisted: "Don't call it a taco truck," referring to her attention-grabbing black truck with a giant Buddha donning a toque. A tiny woman with a big attitude, Nunes is playful but passionate, and her food was impressive. Whenever Nunes described a dish, she'd grin and add: "With my secret ingredients."
Check out her website at kunfusiontruck.com to find out where she's currently parked, preparing her Asian fusion cuisine, Portuguese filhos, or breakfast arepa with two scrambled eggs topped with housemade kimchi ($5). The website also has her favorite Confucius quotations: "Choose a job you love, and you will never have to work a day in your life." A favorite of mine, too, it totally describes this motivated young entrepreneur. Nunes was formerly a chain drug store manager, a real estate agent in Las Vegas, and a photographer. Fortuitously, she was hired for food photography by chef Leonard Gentieu of the PapaGallo cruise ship in Morro Bay, and she became smitten with Gentieu's craft.
"Leonard became my mentor. He inspired me to move back to my hometown of Fresno to start culinary school," Nunes remembered. "I wanted to learn classic cooking: the mother sauces, knife skills, and the proper way of cooking."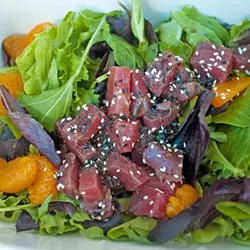 Interestingly, she dreamed up the name "KunFusion" while attending school: "I love all things Asian, and I told everyone that if I ever had an Asian fusion restaurant, I would name it that. They all laughed when they heard it."
While it sounded like a joke to others, the idea wasn't just a passing thought. Nunes found an old catering truck circa 1985 and restored it, adding new equipment to bring it up to code. She admits that this business is hard work and creates long hours. Her daily production cooking and clean-up is done in an Arroyo Grande restaurant kitchen that she rents. But she's passionate about it and says she doesn't want to be a flash in the pan.
"I enjoy the opportunity to interact with customers. It's not just 'Give me your money; here's the food,'" she explained. "I'm cooking everything up fresh to order, and good food takes time."
Contact New Times Cuisine columnist at khardesty@newtimesslo.com.