A big pile of red, carrot dirt was dumped into the yard. Dad said it was their Christmas present.
A young (and future artist) Irene Hardwicke Olivieri and her siblings weren't exactly impressed with their bounty. But their dad, a farmer in South Texas, didn't believe in buying toys, so they ended up playing with that dirt a lot, from planting seeds in it to building tunnels with it.
IMAGE COURTESY OF CUESTA COLLEGE
WILD MAN: A tattoo on a half-man half-animal implores the viewer to "Let us hold dear the lives of all species," in artist Irene Hardwicke Olivieri's painting, 'Call from Paradise.'
"It turned out to be the best present ever," said Olivieri, who spent the rest of her childhood drawing when she wasn't playing with dirt.
So years and years later, it's only fitting that Olivieri's art focuses on humankind's connection and intertwining with nature. Her series of fantastical oil paintings, Trancing Out, is currently on display at Cuesta College's Harold J. Miossi Gallery. Olivieri's work utilizes bold colors, powerful images of women, and often text (some so tiny they're barely legible) espousing a pro-environmental stance. One of her pieces, Call from Paradise, shows a tattoo on the chest of a half-man half-animal that implores the viewer to "Let us hold dear the lives of all species." In another painting, Supper for the Spotted Skunk, a goddess-like character breastfeeds a skunk while rolling green mountains loom in the background.
"For me it's always been a way of being closer to wild animals," Olivieri said of her splicing of humans and creatures in her art.
Her paintings have a decidedly wild feel, from her time spent daydreaming (and painting her bedroom walls with exotic creatures) about the Amazon jungle, which she actually ended up living near while she was an exchange student in high school in Brazil. She went expecting to be gone for three months and ended up staying a year. When she came back, she traveled almost exclusively by land to see as much as she could.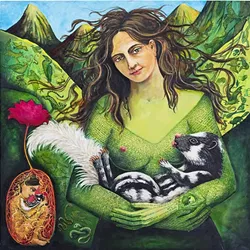 IMAGE COURTESY OF CUESTA COLLEGE
NURTURE: A goddess-like character nurses a skunk in Arizona-based artist Irene Hardwicke Olivieri's piece 'Supper for the Spotted Skunk.'
Even in her choice of media, often oil paints on old pieces of wood, Olivieri consciously chooses to be grounded.
"It's a reaction to being alive for me," Olivieri said of creating. "It's as natural as walking or eating."
These days home for Olivieri is Arizona, right by Saguaro National Park in Tucson. After previously living off the grid in the high desert of Oregon, Olivieri has enjoyed getting to see new-to-her creatures like roadrunners, vultures, jackrabbits, coyotes, and foxes. She even puts out a camera at night from time to time to see what her animal neighbors are up to.
"I love seeing what's out there while I'm asleep," Olivieri said.
Other times, Olivieri uses her paintings to manifest an encounter. When she was longing to see a mountain lion, that's what she focused on painting, until one popped up in real life.
Ultimately, Olivieri hopes that her paintings spark a bit of fire and passion in all who happen to glimpse them.
"If someone can look at my painting or work and be inspired to write a poem or make a painting, that's really exciting," Olivieri said. "Or if anyone might be more inspired to take care of our animals and our world."
Ryah Cooley is itching to get outside and explore at rcooley@newtimesslo.com.