PHOTO BY STEVE E. MILLER
THAT'LL BE $37,500 : For three months of work as a contracted lobbyist, Susan McCabe will have probably made $37,500 before her contract is suspended. After that, she'll make $650 per hour; her assistant will make another $325 per hour.
To comprehend how the new Morro Bay and Cayucos sewage treatment plant is being designed, you need to know what happened on May 12.
On that day, speaking to a 10-person panel comprising the Morro Bay City Council and Cayucos Sanitary District Board of Directors—otherwise known as the Joint Powers Authority, or JPA—Project Manager Dennis Delzeit explained why they should suspend, but not really suspend, a $12,500-per-month lobbying contract. He advised JPA members to keep their lobbyist just a little longer so she could help draft a contract needed for the next stage of the project. Afterward, this lobbyist would be kept on retainer, billing her usual rate of $650 per hour—$325 per hour for her assistant—just when her services are needed.
And on an 8-2 vote, the JPA members did it, allowing their project manager to suspend a contract and transition an already controversial lobbyist to an unfettered land-use consultant with an hourly bill.
In effect, they let a consultant hire a consultant to help hire another consultant in order to bandage the work of past consultants.
In doing so, project officials for the Morro Bay/Cayucos treatment plant shifted from referring to Susan McCabe, the aforementioned lobbyist, from hired guide through state regulators to an as-needed consultant. By the time her contract expires, McCabe will have pulled in $37,500 (not counting travel and other expenses, estimated at about $800 so far) for three months of her services. In that time, she's produced precisely six pages for the public record and made one public appearance. That was the May 12 meeting.
"Here she is," Morro Bay Mayor Bill Yates said, introducing McCabe. "She's a real human."
To put things in perspective, at McCabe's going rate, you would have made about $55 for what you've read so far.
"Yeah, McCabe has to peddle the fiction that applicants are doomed without her skillful service," said one employee with the Coastal Commission.
The display left at least two JPA members dumbfounded.
"I think this is unfortunate that we were presented [with] this as a suspension of a contract, and it's very clearly not a suspension of a contract," said Morro Bay Councilman Noah Smukler, who voted against the proposal alongside Cayucos Director Mike Foster.
Yates even joked with Delzeit.
"I'm going with some faith here," Yates said laughingly before voting to keep McCabe on without a contract. "Don't screw this up."
Translation: Don't screw us.
But McCabe's reputation in Morro Bay and Cayucos was already shaky. Residents blasted project officials on Feb. 10 for considering hiring her in the first place. Despite requests, she made no public appearances until May 12, when her work with the district was supposed to have been put on hold.
She was hired to provide Morro Bay and Cayucos access to the California Coastal Commission, the monolithic state agency with authority over coastal projects ranging from residential fences to community-wide infrastructure projects.
Cayucos Sanitary District Counsel Tim Carmel explained at the Feb. 10 meeting that a lobbyist can pitch community projects to commissioners and staffers by providing meals and outings.
"It's a necessary evil," he said.
It was later recorded in the meeting minutes this way: "Carmel explained that lobbyists could get you in the door of the Coastal Commission and get your side heard. The lobbyist generally has a prior working relationship with the Coastal Commission and staff and can get our position on the project across to them to balance the scales against the appeals. They're [sic] rates are high due to the nature of their work i.e. late hours, dinners etc."
Half of that statement is dead on: McCabe, a former coastal commissioner, is one of the top dogs among Coastal Commission lobbyists.
However, a contract McCabe had with San Diego was canceled after e-mails surfaced in which she boasted that she had been "spoon feeding" one coastal commissioner information for that city's project, according to the L.A. Times. The port allowed her contract to expire without renewal, and the port chairman later wrote an apology to the Coastal Commission.
Local officials said they were unaware of this fact when they hired her. (Though a Google search of "Susan McCabe lobbyist" turned up a myriad of Times articles detailing her exile from San Diego.)
Through Delzeit, McCabe later issued a statement, saying, "During the course of the negotiations [with the Coastal Commission] I made remarks in internal e-mails to the Port [of San Diego] staff that I regret. I have addressed this matter privately with those involved, have learned from the experience, and have put the matter behind me. Since that time, I have successfully represented a number of clients on matters before the Coastal Commission."
Commissioners and staff are generally easily accessible. In fact, they would rather hear from people building a project than the people who are paid to sell it.
"I would much rather hear from the local electeds—from the property owners themselves—than the consultants," said Commissioner Mark Stone, a Santa Cruz County supervisor who's served on the Coastal Commission for two years and returned a phone call from a reporter in about 10 minutes. "Because they're the ones who are going to tell me what's going on, on the ground … in a way that I can understand."
Several local and state officials said they see lobbyists and consultants spend a lot of time and money convincing local politicians they need lobbyists and consultants. One commissioner said they would rather hear directly from municipalities, but that they wouldn't hold it against them for hiring McCabe.
One local official, when asked about a lobbyist's role, responded, "I don't even know what they do."
McCabe declined to comment on this story and said all requests had to go through Delzeit.
But McCabe is far from the only consultant shepherding the Morro Bay and Cayucos wastewater project.
As of this printing, Morro Bay and Cayucos have hired at least seven separate consultants to plan, design, review, and advocate for a new sewage treatment plant that's currently about 15 percent complete in its design and is facing a bucket list of Coastal Commission requirements before it can be built.
It's been five years since the two communities contracted the first consultant to begin planning for a plant upgrade project. Morro Bay and Cayucos have, as it stands, a project proposal that could be in need of a complete overhaul.
Consultant fees have so far cost about $1 million in what could ultimately be a $34.3-million project—unless it gets more expensive.
Most recently, the JPA voted to spend no more than $350,000 for an environmental analysis of other potential sites where the treatment plant can be built. It's nothing new; residents, a few local politicians, and the Coastal Commission itself have warned that the Morro Bay/Cayucos design won't fly with regulators unless it's shown to be the best one available. However, the original plan and environmental review documents produced by past consultants are in danger of becoming obsolete.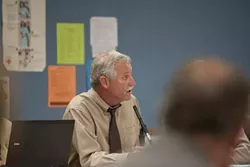 PHOTO BY STEVE E. MILLER
LINK TO THE PAST : Project Manager Dennis Delzeit and his partner, the Wallace Group, are working to manage the Morro Bay/Cayucos sewer project.
"You hire a consultant, and they have no responsibility for the outcome," said one local official intimate with the project.
The consultant gig can be a cut-and-run game in which the consultant submits a proposal, then skedaddles before that proposal is put to the test.
"This means they can do anything they want, charge anything they want, and if it doesn't work out, then you have to pay more," said Gail McPherson, a wastewater division manager from Riverside—now acting director for Citizens for Clean Water.
Problems from the beginning
In early 2003, the Central Coast Regional Water Quality Control Board informed Morro Bay and Cayucos that the communities—which share a wastewater treatment plant in Morro Bay, just off the Pacific coast—would have to upgrade the plant to a higher treatment standard or face penalties.
With a March 2014 deadline, the two communities started scrambling to beef up the treatment plant, first banding together under a Joint Powers Authority that joined the Morro Bay City Council and Cayucos Sanitary District Board of Directors at the hip, tacking on a backup team of planners, engineers, and lawyers.
With a final price tag of $218,996, Carollo Engineers was officially awarded a contract to develop a Facility Master Plan in April 2006 (the same company had developed a time schedule for the project in November 2004). The company produced what was essentially a blueprint for the best way to meet the water board's requirements, plans to upgrade the treatment facility, and preliminary designs.
The problem was, Carollo set the course for a treatment plan "upgrade," essentially telling Morro Bay and Cayucos they could spruce up the old plant, keep it on the same site, and make out fairly cheaply, as compared to the cost of building a new facility.
"All along, this was always conceptualized as a remodel of the existing plant," said Foster, the JPA member from Cayucos.
The real problem is the treatment plant sits in a 100-year flood zone. While that might not have been an issue when the plant was first built, environmental standards have tightened since then.
Almost from the beginning, the design was in trouble. It soon became clear an upgrade wasn't possible, but Morro Bay and Cayucos would need to build a new treatment plant, though the site they had selected would likely never stand Coastal Commission scrutiny, particularly because it placed only one alternative site on the table.
The notion that Morro Bay and Cayucos could simply upgrade the existing plant was soon squashed as residents, a few local officials, and eventually the Coastal Commission put in writing that alternative sites had to be identified and analyzed.
Yet the design trudged along.
For $375,000 the JPA hired Environmental Science Associates (ESA) to perform the environmental review, continuing on the assumption that the project would be a relatively routine plant upgrade. ESA came back with an Environmental Impact Report that identified one alternative site in the Chorro Valley, two if you count the "no project" alternative. Coastal Commission staff forwarded its comments on the proposed environmental document, pointing out that a hefty alternative site analysis would be crucial if the project would move forward.
By this point, critics were virtually screaming for more review of alternative sites. In fact, Morro Bay planning commissioners tried to halt the project to allow for other sites to be reviewed.
That analysis never went forward.
On Jan. 11 this year, the City Council voted 4-1 to go against its commission's recommendation for further analysis and certified a coastal development permit for the project.
The project they had, based on the Carollo plan, was to be designed by Montgomery Watson Harza (MWH), which was awarded a $2.7 million contract in February 2010. A seven-member panel selected MWH to complete—basically fine tune—the design based on the Carollo plan.
By late January of this year, 11 appeals were filed with the Coastal Commission, including two appeals from Commissioners Stone and Mary Shallenberger. Based on staff recommendations, and a preliminary hearing, commissioners decided the appeals have validity, leaving Morro Bay and Cayucos a list of concerns to address before a formal appeal hearing, which has yet to be scheduled.
"In summary, the approved project appears to be inconsistent with numerous policies of the city's [Local Coastal Plan], including policies related to coastal hazards, public access and recreation, public works, and visual and archaeological resources," according to the commission's staff report on the appeals.
Of course, these problems were nothing Morro Bay and Cayucos officials hadn't heard before.
"None of this would have been required if the city had followed the two letters from the Coastal Commission that told them what they had to do," said Barry Branin of Citizens for a More Affordable Wastewater Treatment Plant in Morro Bay.
It all raises the question: How did this troubled project get this far when so many people were being paid to give their best advice?
Back and forth and back again
On May 12, when asked if she had ever before worked on a sewer project, McCabe said she couldn't recall doing so.
It was the type of comment that sucks the air out of a roomful of lungs. Audience members' mouths hung agape. After all, some residents had already bashed JPA members simply for hiring a lobbyist at all.
"You guys obviously don't know anything," one resident said.
PHOTO BY STEVE E. MILLER
BUREAUCRAT BRADY BUNCH : The Morro Bay City Council and Cayucos Sanitary District Board of Directors comprise the Joint Powers Authority tasked with making decisions regarding the wastewater treatment plant upgrade.
But she's familiar with the area. In 2004, McCabe was a SLO County lobbyist advocating for SLO County while its Local Coastal Plan update was before the Coastal Commission. At the time, the so-called Tri-W project in Los Osos was in the hands of MWH, alongside another San Luis Obispo County favorite, the Wallace Group.
If some of the names and companies working on Morro Bay's and Cayucos' project seem familiar, it's because they are. In the Los Osos project, members of the Wallace Group and Carollo—specifically Lou Carella, who worked briefly for MWH—sat on the panel that recently selected MWH as one of the top three firms to design and build the most recent incarnation of the Los Osos sewer project.
In fact, Delzeit's contract with Morro Bay is a joint venture with him as the project manager along with the Wallace Group. On paper, Delzeit and the Wallace Group are virtually synonymous. Every page of his contract pitch for the project management gig is labeled "R. Dennis Delzeit & Wallace Group."
Delzeit was also part of a seven-member review committee that selected MWH to design the Morro Bay/Cayucos project.
Morro Bay Capital Projects Manager Dylan Wade, who worked for MWH until April 2007, also sat on the selection committee. (Wade, however, recused himself from the final stage of the selection process, he said in a previous interview.)
"It seems pretty clear that we just keep on reverting to the same firms," said one local official.
Indeed, some of the same MWH people who designed the Los Osos project are part of the MWH team in Morro Bay and Cayucos.
And the price tag is rising.
To date, the project has been expected to land within its $34.3 million total budget. Asked about the status now, Delzeit guessed that the budget is on track, but might need to dip into contingency funds.
Costs so far have been paid through a reserve fund of ratepayer money held by the treatment plant operators. As the project moves forward, the plan is to pay for the construction (about $27 million) using a State Revolving Fund loan, which will be repaid through increased user rates.
For now, the Morro Bay/Cayucos project is stuck in limbo, which is probably the safest it will be for a while. As the Coastal Commission appeal is ongoing, the JPA has suspended MWH's work, which is about 15 percent complete with a running bill of $371,407.
Most recently, the JPA on May 12 agreed to let Delzeit and McCabe work with the Santa Barbara engineering firm Dudek to settle on a scope of work and payment schedule to complete the long-awaited alternatives analysis and address other Coastal Commission concerns. McCabe will remain in a pseudo-consultant role, but Yates stressed that she's not supposed to draw large bills.
"Staff has made the case that during the scoping, they may need her expertise, and if they do they can call on her," he told New Times. "… So I think they're going to be very cautious if they do that, and that falls right into [Delzeit's] monthly reports. We are watching what's going on."
The next step is the Coastal Commission itself, which will decide whether the ragtag group of consultants has done its collective work and give the proposed treatment plant a pass or fail.
But if it's a fail—if commissioners decide there's another place to build a sewage treatment plant outside of a 100-year flood zone on the coast—then the current design and all the work that led to it is, to put it lightly, obsolete, if not completely screwed.
If coastal commissioners pick another site, Mayor Yates said, "then the design work that's gone on at the present location would be in vain and we would start over."
"That would involve doing a facilities master plan on a different site," Delzeit said. "It would involve doing an environmental document with likely an Environmental Impact Report on another site. So yes, it would involve redoing these studies, and it would involve a lot of additional consultant expense, and, of course, the time necessary to go though these documents."
If that's the case, it will also be well beyond the life of Delzeit's current contract. When Delzeit was hired, he wasn't hired to handle an appeal to the Coastal Commission. He said there was no knowing at the time what would be the basis of such an appeal, so it was essentially left out of his contract. At his going rate, he figures he'll have maxed out his $250,000 fee by July 2012, at which time the JPA can either extend his contract or let it lapse and go another route.
No matter what happens, the work that's been done is done. No one can go back to Carollo, for example, and have the company redo its work. All that's left, if the project is in need of a redesign, is to hire someone else.
"The Carollo contract, they've completed all their contract requirements," Delzeit said. "So they're out of the picture."
Meanwhile, the project is getting its first break. The water board has granted a time extension until the Coastal Commission appeal is decided, and JPA meetings will likely be devoted to updates on Delzeit's and McCabe's costs, as well as the status of the alternative sites analysis.
What no one wants, though, is a replay of Los Osos—a project that has skyrocketed in cost over three decades and countless revisions. But as it moves forward—manned by many of the same people and companies for a project that may need to relocate—it seems the Morro Bay/Cayucos project could be facing the same fate.
News Editor Colin Rigley can be reached at crigley@newtimesslo.com.