When it comes to food, Brigit Binns is the real deal. She isn't afraid to make little noises of joy while she eats, and she's a lifelong devotee of "the crispy bits" that cling to the bottom of her frying pan. At a recent winery luncheon—where she talked about her latest book, Eating Up the West Coast—she noticed something disturbing. While she spoke, people were being polite, giving her their full attention. And they weren't digging into the beautiful fried zucchini blossom that had just been served in front of them!
"It's going to get soggy," she exclaimed to the table. "Eat them like they do in Italy, nice and hot!" With relief, we popped the beautiful, nutty flowers into our mouths. Now she was the only one who hadn't eaten her zucchini blossom, and you could tell it physically pained her. She made her speech short and sweet.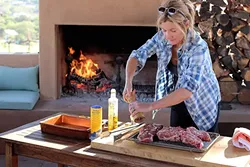 PHOTO COURTESY OF BRIGIT BINNS
CULINARY ALCHEMIST: Prolific cookbook author Brigit Binns hosts decadent, fun, and delectable cooking classes at her Paso Robles-based Refugio Kitchen. An upcoming Patio Daddy-O class, slated for Sept. 13, is aimed at helping home cooks craft a rum-flavored tiki oasis in their own kitchen.
This is Binns, in a nutshell. She's utterly authentic, and she has her priorities straight: Eat first; talk later. Not that she doesn't love gabbing—and writing—about the best things she's ever eaten. She's authored and co-authored about 30 cookbooks, many for Williams-Sonoma (her latest was a collaboration with Sunset magazine). She's uniquely qualified to do what she does.
Since starting her blog The Road Foodie seven years ago, she's traveled from coast to coast with her dog Stella every few years, discovering the best local eats along the way. This is how she works: recording snippets of thought on her phone, connecting with strangers as much as possible, eating while taking notes, and sleuthing her way through Yelp reviews and local tips.
When I caught up with Binns over the phone, she was simultaneously chatting and gorging herself on a giant bag of plums from her neighbor's tree. Weird—that's exactly what I pictured she'd be doing.
And although I knew my story would focus on her cool new cooking classes, I just had to ask about her insatiable wanderlust first.
"On the road, I feel very free," Binns said. "Traveling on the road has been a constant in my life, so that's why Sunset approached me to write [Eating Up the West Coast]. When they asked, it had been two years since my last cross-country drive, so I was having withdrawals."
Even when Binns was living in Europe for a decade, she always preferred getting behind the wheel to hopping on a train or plane. It's just part of what she does—like cooking, hosting, and blinking. I couldn't imagine someone I'd rather have hanging out in my kitchen, prepared with an arsenal of sage advice and jokes.
Luckily for me, and other aspiring home chefs, Binns has opened up her own kitchen to the public for a lineup of in-depth classes that range from "how to cook with coffee" to artisan sausage making. Her next class, Patio Daddy-O, is coming up quick on Sept. 13 and features her friend and television producer/cookbook author Joanne Cianciulli, whose credits include Top Chef, Master Chef, and Restaurant Startup. She's also bringing hot mixologist Josh Yerkey, who will show folks how to make a batch of spiced rum punch, a Trader Vic's Mai Tai, and a "Fire in the Hole" (his own signature).
"When Josh gets his hands on a few bottles of exotic rum, watch out," Binns said of the electric pair.
Recipes will include charred char-siu pork sliders with Chinese mustard as well as grilled pineapple skewers with hot buttered rum. Tiki props will be in abundance.
"I'm lucky to know a lot of people through my cookbooks from around the world, and I love to bring my friends and colleagues into the classes," Binns said.

BINNS KNOWS BEST!: For more information on cooking classes at Refugio or Brigit Binns' cookbooks, visit brigitbinns.com. In tandem with Sunset Savor the Central Coast's upcoming special events, Binns will host an oak-kissed evening under the stars at Refugio on Sept. 26. Dine on pasture-raised local porterhouse over red oak on her Santa Maria-style barbecue accompanied by rustic flatbreads from her wood-oven, all under a 300-year-old oak tree. For tickets, visit

savorthecentralcoast.com/special-events/refugio.
Those friends are food celebrities, winemakers, chefs, restaurateurs, and local farmers. In other words: a good group to learn from.
The classes are held at Refugio, the modern-chic vacation rental and demonstration kitchen she owns with her husband Casey "Paso Wine Man" Biggs in Paso Robles (yes, you can rent the whole damn place!). Gleaming with state-of-the-art equipment, a stocked gourmet pantry, and fun touches (a herd of cattle painted by artist Ken Fuller watches over the space), Binns calls it "a home kitchen on steroids."
Restaurant-level extractor hoods, two dishwashers, a vast range, a wine fridge, and every awesome tool you possibly need come together to create a home cook's playground.
"I'm trying to strike a note between education and fun," Binns said. "I want people to have a major takeaway. When they leave, they should go with a new piece of knowledge—or hopefully many new pieces of knowledge."
"Dry" and "boring" are two words Binns throws out the window. She's not afraid to give people what they want.
"People love anything with cheese and cocktails," Binns said with a laugh. "You are up-close-and-personal with the food and the process, peering into the pot or touching what's going around the table."
Smaller, more hands-on classes are also available. Demonstration classes tend to be a bit larger (about 14 people), but retain that intimate, relaxed quality she holds so dear. This is exactly the kind of environment that cultivates the "eureka" moments Binns lives for.
At a past class, Chef Clark Staub of Los Alamos showcased his farm-centric veggie dishes. The light summer menu featured steak, sea urchin, and a rainbow of vegetables.
"Veggies were his stars. He put the veggies all around the kitchen as if they were still-life," Binns said. "Then, he broke them down into the dishes he was making. I remember one woman said she would never look at a vegetable the same way again. She had found this new, profound respect for veggies."
This is the kind of transformation Binns aims to ignite in her students.
"That's what I go for," she said. "That's what makes it all come home for me."
PHOTO COURTESY
OF BRIGIT BINNS
If you're afraid to put on an apron and roll up your sleeves, don't be. According to Binns, there are only two things you really need to know.
"One, it's not rocket science. No one is going to die if you fail," Binns said. "The second thing: Read the recipe all the way through before you start."
I did admit to Binns that I do not routinely read the recipe all the way through—and, as a result, tend run around like a chicken with my head cut off once my guests arrive. Lucky for me, there's a Binns book for that (The Relaxed Kitchen: How to Entertain with Casual Elegance and Never Lose Your Mind). It would probably do me good to read her entire catalogue, although it would probably take me a solid year.
One thing's for sure: Binns knows best. A year ago, Wine Enthusiast approached her for a "wine country-inspired outdoor party" spread. (Did I mention the author's property also boasts a wood-fire oven and Santa Maria-style barbecue?)
Binns was thrilled. She suggested a squid and chorizo flatbread 'za with shaved Spanish sheep cheese and caramelized leeks with Meyer lemons and capers.
Naturally.
"They said, 'No way. There's no way anyone is going to make a squid and chorizo pizza. That sounds disgusting,'" Binns said. "So I replied, 'How about we change it to calamari and chorizo pizza?"
Well, I'm happy to report that Binns' pork-and-seafood creation proudly landed on the cover of that renowned magazine. I, for one, am not surprised.
It's amazing what alliteration, flavor, and a bit of Binns' ambition can do together.
"It was a beautiful pizza, just gorgeous," Binns said. "I believe in a sparsely topped piece of perfect dough, cooked at a very high temperature. It can be ethereal."
Leave it to her to find the sanctity in yeast, flour, and fire. In the church of Binns, this flawless, crisp dough would make a fine communion. Consider me converted.
Hayley Thomas has been saved by pizza more than once at hthomas@newtimesslo.com.