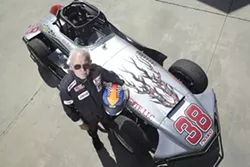 PHOTO BY STEVE E. MILLER
SMOOTH : Ralph Bush knows the way around a track: He's road raced since 1957.
Ralph Bush downshifted from fifth gear near the end of the long straightaway just before the hairpin turn at Sears Point Infineon Raceway two laps from the checkered flag. He found second instead of fourth gear, instantly pulverizing the drive train in his Thunder Roadster. It was an inglorious end to a great season, the next-to-last event in the championship series: Of the 32 races he entered in 2009, Bush finished in the top 10 positions in 30, placed in the top five spots in 18, finished second in one, first in one, and failed to finish only two—including Sears Point.

He was second in points during most of the season among the 40 drivers vying for the national championship, and though he'd slipped a position or two, Bush thought he could gain enough points at Sears Point to take second overall—if not the championship—if he finished well at the season closer at Las Vegas in December. Considering his track experience, that was a reasonable expectation. Bush began racing sports cars on a circuit by the Santa Barbara airport in 1957. He's 75 years old.

"I have a sister who tells me I should be lawn bowling and playing bridge," Bush laughed.

Only driving skill distinguishes competitors in his class. There are virtually no mechanical variables; the cars are identical. Thunder Roadsters, which are all built by the same manufacturer, race as a group at events sanctioned by the National Auto Sport Association throughout the country. Each car weighs 1,320 pounds (excluding driver), is powered by a 140-horsepower Yamaha 1250-cc motor that's sealed to preclude modification, and runs on the same size Hoosier tires. Drivers can tweak suspension settings and spring ratios, but otherwise the cars are as even as even can be. The power output by the little motor may sound small, but in the lightweight, aerodynamic roadster chassis, it's enough to make the cars accelerate like racers that cost $300,000. And Thunder Roadsters are extremely nimble. Bush was turning laps of one minute, 55 seconds at Sears Point, putting him not far off the pace of such heavy metal as Porsche GT3s.

He gained his finesse by coaxing such British iron as a Jaguar XK-120 and a Singer around tracks during the '50s, then a Porsche 356, and later such rides as a Lotus 7 and a Merlin Formula Ford. He's owned and raced some high-powered exotics as well, recently including a Panoz propelled by a 302-cubic-inch Ford V-8. Deft, smooth, precise motions separate accomplished racers from the amateurs, but no one wins without taking risks. Bush sometimes pushes the envelope: On one occasion, he stretched it too far.

"Turn six is a left-hander, and turn seven is off-camber and leads downhill to the straight," Bush said, describing Road Atlanta. "I was going through seven in fourth in the Panoz, and I thought I could get a little more speed down that back straight if I took a later apex. I really stomped it, but went into the tire barriers on the left side and shot across the track at about 120 [miles per hour] and hit the barriers on the right side and went back and forth across the track. I was totally out of control and spewed parts about a quarter of a mile. It did major damage to the car—and my wallet."

He emerged unscathed.

"They took me to the hospital in the dumb ambulance," he said. "'We have to do this for insurance,' they told me. So they laid me out on the table and put the probes all around me, and the nurse is taking my name and address. She said, 'You came all the way out here from California?' I told her yes, and then she asked my age. When I told her, she said, 'You're kidding. Well, I guess it takes all kinds.'" That was in 2007.

Bush taught industrial arts—auto mechanics and cabinet making—and coached football and soccer for 25 years, but got a contractor's license and became a builder doing mainly restorations, though he won many fresh municipal projects, including the water-treatment plant for Pasadena. He restored the Pasadena city hall, which is almost a duplicate of the city hall in San Francisco. "Same architect, same problems," he said. Bush restored several famous houses in Southern California, among them some designed by Frank Lloyd Wright. In 1986, he moved to the Central Coast and brought his crew.

"We purchased commercial properties in the Pismo Beach/Arroyo Grande area and primarily made turn-of-the-century homes into commercial properties," Bush said. "Arroyo Grande really hadn't seen the painted-ladies approach before, and we did that on Bridge Street."

Bush resides in a handsome Victorian-style home just outside downtown old Arroyo Grande.

According to Bush, the venerable Sports Car Club of America, which organizes most of the nonprofessional races in the United States, is graying, with a disproportionate membership of competitors older than 50. He's enthusiastic about the National Auto Sport Association, which he says has attracted many young members eager to learn road-racing techniques. Bush is pleased to show them.

What happened to his Thunder Roadster with the blown drive train? It was shipped to Modesto for a new motor and transaxle. There's always next season.

Contact Editor Ed Connolly at econnolly@newtimesslo.com.