L.A.-based Nocona, a country punk act rooted in the blues with a psychedelic and Mexicali twist, plays Frog and Peach on Saturday, Jan. 19. A side project for Paladino, the band features husband-and-wife team Chris and Adrienne Isom and their friends Annie Rothschild (also from Paladino) and Justin Smith (of Old Californio).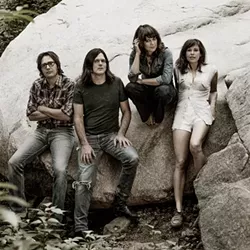 PHOTO COURTESY OF NOCONA
NEW ALT-COUNTRY SHERIFFS : Nocona brings its alt-country sounds to Frog and Peach on Jan. 19.
Listen to their music and imagine an orange and red setting sun, the high desert, or the pounding emerald green surf. With songs penned by Chris last year on a hiatus from Paladino, Nocona was born.
"There were just a lot of things I was working out on my own," Chris said in press materials, "and sometimes you just have to steamroll through this stuff. I thought it would be a fun project. Nocona is an area in Texas where my Mom's family originally lived; it comes from the Comanche word for 'wanderers' or 'travelers.' That's where my cousins first taught me how to play guitar, and I have a lot of special memories and musical inspirations from growing up in Texas."
Chris drew from Americana and country/western sources like Johnny Cash, Buck Owens, Roy Orbison, or the Everly Brothers for inspiration, keeping in mind his love of blues, punk, or garage-based sources like Love, The Sonics, and the 13th Floor Elevators.
"I grew up going to see bands like The Bad Brains and Minor Threat and the constellation of local bands they inspired in NYC at CBGBs, The Pyramid Bar, and ABC No Rio," Chris said, "so I guess there is a level of energy and joy I get from playing fast-paced songs with strange changes that is probably with me forever, and yeah, I do love The Ramones also. I still think the very early Bad Brains shows I saw there were some of the most inspiring and incredible performances I've seen. I've also always loved folk, country, blues, and psychedelic, and I'm not ashamed to admit being really into Slayer and death metal as a kid. I still love some thrash metal, but I'm an old fogy now who is into the early stuff."
Alt-country fans, don't miss this one!
Meet Randall
"Sometimes it is nearly impossible to explain why we adore a musician and his music," said Fred Munroe, who's host to the Música Del Río House Concert series. "We just know it's right to bring them to you via Música Del Río. Other times it is so simple: We're concerned that you may not believe us when we tell you about him. Randall Williams falls into both groups, which becomes really hard to explain.
"Randall is a former opera singer who felt that classical music lacked the inclusiveness of folk music, and that the inevitable division between performer and audience was unbearable to him," Munroe continued. "Two hours after informing his voice teacher that he was leaving the world of classical music, Randall Williams graduated from the Royal Conservatory of Mons, Belgium, at the head of his class.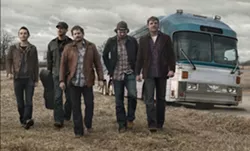 PHOTO COURTESY OF RANDY ROGERS BAND
SH*TKICKERS : Hot country act the Randy Rogers Band returns to SLO Brew on Jan. 19.
"So here is our try at the simple, yet nearly impossible, explanation of Randall Williams and his music. Every song he writes is a story worth telling. Many are from history and many more are from last Tuesday. Some have made us smile. Some have touched the depths of our souls.
"Randall's CD, Praying For Land, was our introduction to his music. It came to us from two different and unrelated mutual friends. However, the words from both were just about the same: 'You have got to hear this right now.' 'You are really going to need to invite Randall to your house.' We had never heard such a remarkable classically trained voice tell us so many moving stories. We ask to hear them again and again. You will too."
Randall Williams plays the next Música Del Río House Concert in Atascadero on Friday, Jan. 18, at 8 p.m. For info and reservations, call 466-6941 or visit musicadelrio.org. Reservations are required. A $15 donation is requested at the door.
Banjo-rama!
If you have a hankering for banjo, you've gotta, gotta, gotta check out Bill Evans' Banjo in America, an entertaining and edifying exploration of the history of this most democratic of instruments, on Sunday, Jan. 20, at 7 p.m. in Spirits of Africa Gallery (672 Higuera St., SLO; $15 at the door).
Bay Area musician Bill Evans is an outstanding banjo player, teacher, writer, and scholar who traces the banjo from its West African roots to the New World, performing musical examples from the 1700s to the present day on a variety of vintage instruments, ranging from an African ekonting to a mid-19th century minstrel banjo, a modern bluegrass banjo, and even an electric banjo.
He explains how the banjo has been at the intersection of African and Anglo-American musical and cultural exchange for more than 250 years.
And if you're a hardcore banjo fanatic, more good news: There's also a workshop at 5 p.m. ($40 … or pay $50 for the workshop and concert)! This will be a practical "hands on and let's play" kind of session with practical and easy-to-understand tips and skills that you can immediately use in your next jam session or band rehearsal.
But that's not all! Our own banjo baby, Erin Inglish, will open the show. Advance reservations are available by calling 748-2998 or e-mailing einglish@gmail.com.
And while we're on the topic of banjos and Erin Inglish. I also need to tell you about her Earth*Bike*Banjo Tour in which Inglish plans to ride her bike 1,000 miles in one month to raise money for her new album. She'll ride from Arcata down to San Diego, playing scheduled gigs in the evenings and visiting schools, local organizations, farms, bike coalitions, and more during the day to talk about sustainability and share music.
PHOTO COURTESY OF SEXY TIME EXPLOSION
MOMMA'S BOYS : Rayna's Roaring '20s Birthday Extravaganza features Sexy Time Explosion (pictured), Berserks, and Meth Leopard on Jan. 19 at Sweet Springs Saloon.
She'll offer a pre-tour rally and video premier at 8 p.m. on Saturday, Jan. 19, at Steynberg Gallery, with special opening act Hayley Thomas. Tickets cost $15. Call 547-0278 for reservations. The event includes a screening of the hilarious music video by Erin Inglish and local photography genius Brittany App called "Mama Like"—a "one-of-a-kind comedic homage to Mother Earth through music and Charlie-Chaplin-esque cinematography."
Great balls of fire!
The Fire*Ball, a Fireball-themed masquerade ball, happens on Thursday, Jan. 17 (10 p.m.; 21-and-older), at SLO Brew, with DJ Willy the Kidd spinning music. Free Fireball swag will be handed out, there will be drink specials, and a break dancing competition with a $300 grand prize. Bust out your moves, poppers!
The Brew goes country on Saturday, Jan. 19, when the Randy Rogers Band returns (7:30 p.m.; 21-and-older; $20 presale or $25 at the door). When the band's last album debuted, it was the most downloaded country album on iTunes! If you like narrative tunes, check these guys out. As Rogers said about his music, "These songs are definitely true, and they're relatable to many different life situations that I've 
either gone through in the past or will go through in the future. I just tried to create believable characters and relatable characters. I hear from fans that
 we really have helped them in real-life situations when they've applied the songs to their everyday life.
 That's what I strive for in the songs that I write." Wade Bowen will open the show.
On Sunday, Jan. 20, head to the Brew to see Tumbleweed Wanderers (7:30 p.m.; all ages; $8 presale or $10 at the door). The Oakland-based soul, folk, and rock act is developing into one of the Bay Area's favorites! "They weave through their shows with smooth transitions, bringing the listener from dark chaotic banjo-rock, through intimate acoustic harmonies, to energetic explosions of soul," according to their bio.
More music …
Harmony trio Chick Tuesday, Jimmy Townsend, Brent Dannells, Kate Wells, Ted Waterhouse, Holly Ann Phillips, and Aaron Porter will perform the music of Bonnie Raitt during a special tribute on Thursday, Jan. 17, at the SLO Down Pub (6:30 p.m.; all ages; pass the hat). "Kokomo," "Love Me Like a Man," "Something to Talk About," "I Can't Make You Love Me," "Nick of Time," and "Love Sneakin' Up on You" are among the songs to be performed.
Kat Devlin, Kevin Fisher, and Albert Sanudo share the bill at Laetitia Winery on Saturday, Jan. 19 (1 p.m.; all ages; pass the hat). You may have heard Devlin's song "Dear Emmi" on The Krush 92.5FM, The Santa Barbara singer-songwriter is influenced by Belle and Sebastian and Neko Case, among others. Fisher's songs have been recorded by Rascal Flatts and Sara Evans and appeared in films such as The Wrong Man, Broke Sky, and Half Empty. Sanudo mixes gospel, Latin, blues, jazz, reggae, and rock.
Take your dull Saturday afternoon and spice it up at D'Anbino's Tasting Room in Paso, because they've just started Weekly Saturday Wine & Music Events every Saturday from 2 to 4:30 p.m. You can sample their award-winning wines and view their record industry memorabilia as you listen to some of the best local musicians of the Central Coast. Call 227-6800 for info. Later that night on Saturday, Jan. 19, keep the party going with blues act The Cinders at 8 p.m. ($10 admission; $5 for Record Club members). Call 227-6800 for reservations.
Central Coast favorite Robby Longley returns to the Painted Sky Concert series for an evening of extraordinary acoustic flamenco guitar on Saturday, Jan. 19, at 8 p.m. His distinctive style weaves intricately orchestrated neo-classical/flamenco fusion of world music. Tickets are $15 and available at the Cambria Music Box Shoppe in the West Village, next door to the West End Bar and Grill. Or call 927-8330 for tickets.
Acoustico brings its acoustic fusion to Linnaea's Cafe on Saturday, Jan 19, from 8 to 10 p.m. Expect originals and creative interpretations of covers from multiple genres from this fun duo.
Rayna Mena Storer knows how to throw a party, people, so Los Osos, prepare to have your lid blown off on Saturday, Jan. 19, at Sweet Springs Saloon, when the Berzerks, Sexy Time Explosion, and Meth Leppard descend on the venerable watering hole for Rayna's Roaring '20s Birthday Extravaganza! She's encouraging attendees to don the finest gangster, flapper, moonshiner outfits and get into the spirit. "This is my seventh themed party, it's always good times!" Rayna gushed. "There'll be prizes for best dressed, food, and awesome drinks. Shandie will be guest bartending with yours truly! Every year I get another year older, which means more time in this world with the people I love! Don't miss this!" The cover is only $6!
Water Tower plays Sculpterra Winery on Sunday, Jan, 20 (1 p.m.; all ages; pass the hat). The five-year-old road-tested bluegrass act has four albums under its belt as well as international touring dates, sharing the stage with the likes of Old Crow Medicine Show, Mumford and Sons, and Wilco. Listen closely and you'll hear punk rock, blues, Cajun, folk, and country in three-part harmonies. Connie Lim, Kevin Fisher, and Lisa Marie Johnston will also play four-song sets.
On Sunday, Jan. 20, the Famous Jazz Artist Series will present a tribute to the composer known as the dean of American musicals, Jerome Kern, at D'Anbino Tasting Room. Bassist Luther Hughes, drummer Darrell Voss, and Cuesta College jazz professor Ron McCarley will perform Kern's songs with a little help from series co-producers Charlie and Sandi Shoemake (piano/vibraphone and vocals). There's a 4 and 7:15 p.m. performance for $15 each, or see both for $20. Reservations are required; call 927-0567.

Keep up with Glen Starkey via twitter at twitter.com/glenstarkey, friend him at facebook.com/glenstarkey or myspace.com/glenstarkey, or contact him at gstarkey@newtimesslo.com.