Hoping to put recent spats and divisions behind them, the SLO County Democratic Party Central Committee elected a new chairperson to try and steer the party to victory in upcoming elections.
Voting members of the committee elected Rosemary Wrenn Canfield as its chairwoman at a July 17 meeting. Canfield, an educator and former teacher at the Bellevue Santa Fe Charter School, won 33-24 against her opponent, Lucia Mar School District educator and union leader Donna Kandel.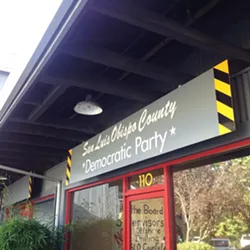 Photo By Chris Mcguinness
NEW LEADERSHIP Rosemary Wrenn Canfield, a local educator and member of the SLO Progressives Club, was elected a chair of the SLO County Democratic Party Central Committee July 17.
"I believe in our mission and I believe in our vision," Canfield told members of the central committee in a short speech prior to the vote.
Speaking with New Times, Canfield said she hoped to energize local Democrats and make the party a more visible participant in the community. She assumes the chair after the local party has struggled with infighting following the 2016 general election. Her predecessor, Don Stewart, abruptly walked out of a June 19 meeting following a tense back-and-forth with other members over parliamentary procedure. Canfield expressed confidence that she could help close that divide.
"It's very clear that we all share some core and common values," Canfield said. "My goal is to stay focused on those. If we stay focused on those common values, I am confident we can achieve our mission."
Those who spoke in support of Canfield at the July 17 meeting said they believed that she could effectively lead them down the path of winning some of the 111 local seats up for grabs in 2018, more than half of which are held by Republicans.
"She has the leadership skills," said SLO County 2nd District Supervisor Bruce Gibson.
Canfield is also a member of the SLO Progressives, a 1,500-member club that continues to grow its influence on the party since the 2016 election. According to the group's website, Canfield is a member of the SLO Progressives' advisory board and one of 14 members of a "progressive slate" elected as state-level party delegates for the 35th State Assembly District. Prior to the vote on the chair, the central committee members passed a resolution to allow the organization's full membership, including those 14 delegates, to vote for the chair. Before that, only members representing the county's supervisorial districts could vote for a chair.
In a post to the SLO Progressives' Facebook page, the organization said its members were "delighted" with Canfield's victory, and looked forward to working to elect Democrats to local, state, and national office.