Labeling him a "slumlord," county code officials have launched a new series of fines and orders against Sunny Acres founder Dan DeVaul, telling him he must immediately remove as many as two dozen homeless and substance-addicted people who had been living in a converted barn on the property, which sits just west of San Luis Obispo on Los Osos Valley Road.
The move follows a similar order about six months ago banning anyone from entering the building, but Senior Investigator Marie Cowan said DeVaul had flat-out ignored that order and the posted sign had been torn down.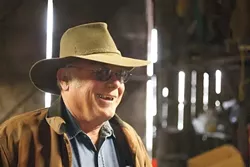 PHOTO BY STEVE E. MILLER
THE OTHER SHOE DROPS : Dan DeVaul, founder of the self-styled sobriety facility Sunny Acres, counters county claims that he's a slumlord--and a new series of code-violation fines--with arguments that his unorthodox methods help homeless people and recovering addicts at no cost to county taxpayers.
# "He's kind of turned into a slumlord right now," she said. "He's renting out a building that is designed to be a barn as a residence to people. It's not fair to the people who are living out there, and it's not fair to other people in the county who have legitimate rentals."
After a complaint from a neighbor, code officials inspected the barn again Feb. 19 and reported finding the posting removed and people working in the building.
The order demands that DeVaul "immediately" remove the people from the structure. They had been living there as part of Sunny Acres' mission to be a nonprofit clean-and-sober living facility.
In related issues, the county has launched a new series of fines against DeVaul, amounting to $400 per day for various code violations. Those fines are in addition to ones already triggered in December over Sunny Acres' selling Christmas trees from a roadside stand. DeVaul recently lost an administrative appeal of those earlier fines and is now taking the matter to court.
"I don't know what I'm going to do," DeVaul said of the most recent order.
"I wanted to help these people," he said. "If you want to talk about a slumlord, the county has got these people living in the crick. All these people are living in the crick. I've made their lives a hell of a lot better than the crick."
He also said his work with homeless has saved the county, parole, and taxpayers significant amounts of money.
"Somebody that's taking care of 55 people at no cost to the taxpayers, the county says 'Let's use staff time and resources to bust his ass?' It's a crime against humanity what this county is doing and getting away with, and they want to call me a slumlord?"
Cowan said the recent action had nothing to do with the arrest of Freddie Joe Lewis, a cook at Sunny Acres who was recently charged in the 2005 murder of Sharon Ostman.