With the deadly mass shooting at the Borderline Bar in Thousand Oaks still fresh in their minds, SLO County officials are planning to hire an advocate to help prepare for a similar scenario.
The SLO County District Attorney's Office will use a $100,000 grant from the California Office of Emergency Services [OES] to hire a mass victimization advocate for its Victim Witness Assistance Center. According to DA's Office officials, the advocate will be responsible for developing and coordinating support and services to victims in the event of a mass shooting or terrorist attack.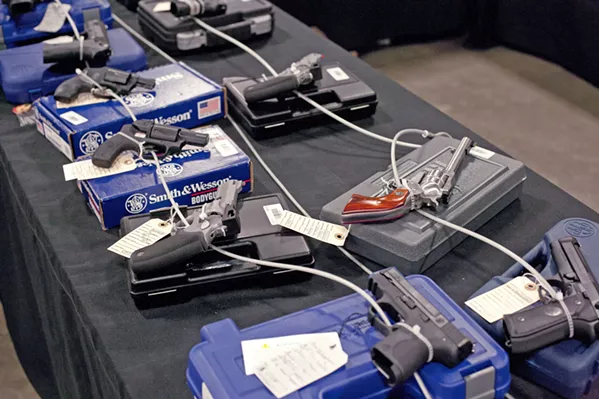 File Photo By Steve E. Miller
PREPARING FOR THE WORST SLO County will use a state grant to hire someone to coordinate support and services for victims in the event of a mass shooting.
"I hope it's something that we never have to initiate but it's important to have something in place," SLO County Assistant District Attorney Eric Dobroth said.
The shooting in Thousand Oaks, which left 13 dead and more than a dozen people wounded, hit particularly close to home for Dobroth, who worked as deputy district attorney in Ventura County from 1998 to 2005.
"The night I was proofreading the submittal [for the grant], we had the shooting in Thousand Oaks," he said. "We are just seeing so many of these kinds of events, so it's best to be prepared to address that."
A county report on the grant mentioned a number of recent mass shootings in Pittsburgh, Pennsylvania, and Las Vegas Nevada, as well as the 2014 shooting spree in Isla Vista in neighboring Santa Barbara County.
The mass victimization advocate's duties will include developing a comprehensive crisis response plan for assisting victims of mass casualty events. That includes helping to provide them with food, shelter, safety, and other services. They will also help develop and implement memorandums of understanding with neighboring counties to help coordinate a regional response to such events and engage in outreach and education efforts with the public and local government agencies.
The position will consist of a single, full-time employee, which the state grant will fund for three years. The grant is being offered to all California counties, according to a report provided to the SLO County Board of Supervisors, which voted unanimously to accept the grant at a Nov. 19 meeting.
"In developing this grant opportunity, the [OES] has recognized that 'it is not if, but when' such an event will occur, and that a collaborative effort is needed for a quick and effective response," the report stated. Δ