Despite a long list of similar projects currently at various stages of development, the San Luis Obispo County Board of Supervisors voted to study the feasibility of purchasing a swath of land to connect a network of bike paths and trails.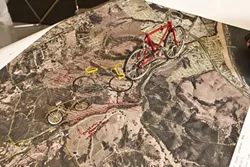 FILE PHOTO BY STEVE E. MILLER
THE SLO CONNECTION? : SLO County supervisors voted to move forward with studies to assess parcels and funding options available to complete a Class One bike trail between Pismo Beach and San Luis Obispo.
The study could possibly lead to adding a roughly mile-long segment in Edna Valley to the historic Juan Batista de Anza Trail, which runs from southwestern Arizona to San Francisco.
On Aug. 21, the board voted 4-1, with Supervisor Frank Mecham dissenting, to authorize $30,000 from park operating funds to assess three parcels and determine whether the county could purchase the land for the trail.
Supporters contend adding the segment could provide a link to existing bike paths and trails connecting San Luis Obispo to Pismo Beach, which could drastically improve environmentally friendly transportation options and improve safety for bicyclists.
The plan is the brainchild of resident and San Luis Obispo Planning Commissioner Eric Meyer, who personally put more than $100,000 to purchase one of three parcels of property. Meyers has also secured two other properties, estimated to be worth roughly $325,000, in escrow while waiting to see if the county might consider purchasing them.
Where that funding could come from is still unknown.
Meyer told supervisors that connecting the local path has been talked about for 30 years, and that if the county doesn't act quickly, it might take another 30 years.
"I've heard you often hear [not-in-my-backyard] arguments with these kinds of projects," said resident supporter Richard Teufel. "Well, this is in my backyard, and I'm sure I may be negatively affected by this at times … but the stars have kind of aligned on this project."
Supervisor Mecham said he was concerned about investing funds toward a study that may lead to a nearly $500,000 investment when other similar developments are already in the works.
According to planning staffers, the feasibility study would likely take no longer than six months to complete.