When Gabrielle Rivera got a text message from her volleyball coach at around 8 p.m. on a Friday, she was immediately shocked and panicked. Her reaction wasn't because of the time; she was used to texts from her coach at all hours. But this message carried an added threat. Her coach, Jon Stevenson, told her that if she didn't come to his office to meet that night, she could lose her scholarship.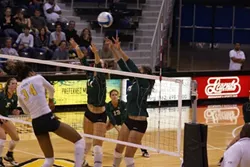 PHOTO COURTESY OF GABRIELLE RIVERA
IN THE GAME: Gabrielle Rivera along with Cal Poly women's volleyball team, taking on Cal State Long Beach.
Rivera recalls the moment vividly. It was cold, dark, and raining that winter night in 2009. She was on the phone with her mom, who advised her not to respond. Still, he texted again: "Have you been victim of a crime? In an accident? Something MAJOR must be going on to take you away from having such an imprtnt [sic] meet."
She didn't respond that night, but when Rivera finally talked to Stevenson about her scholarship, she said, he never gave her a reason as to why he considered taking it away; he only told her what she had to do to keep it: She had to go to see counselors on campus, then tell him everything she talked about in her counseling sessions.
It doesn't make sense to her now, and it didn't make sense at the time. Rivera didn't know why her coach did what he did, but she was in a bind. She needed her scholarship.
Rivera came to the United States from Puerto Rico to play volleyball. Her athletic scholarship gave her the opportunity to get a college education.
Stevenson's relationship with Rivera might seem odd, but it's not odd to anyone who knows him. He began coaching at Cal Poly in 2005, and over the years has racked up a record of serious allegations against him of inappropriate conduct and harassment, all of which were investigated by athletics faculty. It wasn't until now, as New Times put the finishing touches on a four-month investigation and brought various allegations and concerns to the current administration's attention, that Cal Poly Athletics took significant action.
Stevenson didn't return phone calls or a voicemail left on his Cal Poly office phone. A blog post found at coachjonnystevevolleytruth.blogspot.com said to contact him via Facebook. New Times sent Stevenson a Facebook message on Sept. 6, which wasn't returned until Sept. 14, the day this story was set to go to press. Stevenson said in the message that he was "extremely anxious to get his side of the story out there" but that he "would prefer to move on with his life." He added, "I really would like to speak with you however."
He hadn't returned further requests for comment as of press time.
The coach recruited Rivera from Florida State University. During the recruitment process, Rivera said, Stevenson told her he would give her a car and get her a job as a receptionist. It's not against the rules to help a student-athlete find a job, but Stevenson still crossed a line: Rivera reported that he said she would make a good receptionist because she was so good-looking.
Rivera eventually decided to come play at Cal Poly, and her subsequent experience as an athlete on Stevenson's team was what she later called a "mindfuck." The first time she stepped foot on Cal Poly's campus in the fall of 2009, she got a taste of how Stevenson really coached his team.
"That first day, he pulled me into his office and said, 'Just so you know, you're a huge liability to me,'" Rivera remembered. "He runs his team on fear."
As the season went on, Rivera said she often found herself in uncomfortable situations with Stevenson. She said he would tell her she was beautiful, buy her coffee, and invite her out for meals. One night, after Stevenson picked her up from the airport, she said he came inside because he wanted to talk about volleyball issues and ended up taking the conversation into her bedroom, where they talked for more than an hour.
When Rivera found herself sitting in counseling sessions she didn't need, to appease a man who held the power to take away her scholarship, she decided to give it up.
"I went to two sessions and I realized, I don't need this," she said. "It wasn't worth the scholarship. My happiness and well-being weren't worth dealing with this person."
When she tried to report the problems she had to then-director of athletics Alison Cone (who didn't return a voicemail from New Times), Rivera said she was asked to produce evidence. She didn't have the concrete evidence they were looking for, so she had to let it go.
"A lot of other girls complained to [the athletics director], and nothing was done," Rivera said. "It was exhausting, it was draining, and it wasn't worth it."
Not alone
Of the 10 former players who spoke with New Times, four quit the team and four transferred to different schools. All eight of those who left cited Stevenson as the direct reason for their leaving Cal Poly's volleyball program.
One of the other two players interviewed was Courtney Holman. She played at Cal Poly before Stevenson began coaching there. When the 2005 season started with Stevenson as head coach, Holman had an injured back. At the end of that season, she said, Stevenson told her she had to find somewhere else to play; she was losing her scholarship. She remembered that Stevenson said it was because of her grades, though she insisted they never fell below the required limit.
"I was beyond devastated; I had a full ride scholarship," Holman said. "But volleyball was my life."
After struggling with a very difficult decision, Holman decided to stay on the team and play without her scholarship. She said Stevenson agreed, then changed his mind a week later, and before she really knew what happened, she was off the team.
Holman said she requested to meet privately with Cone, the former athletic director, but when she arrived for the meeting, Stevenson was there, too.
"I believe it was a ploy," Holman said. "I was in such a vulnerable state, I couldn't even face him."
In that meeting, Holman told New Times, Stevenson attempted to tell Cone that Holman was losing her scholarship because she was doing drugs, which Holman says isn't true; when Holman told Cone she had never done drugs in her life, he rescinded.
Fine, then you drank alcohol, she remembered him amending. Holman said his outright lie didn't seem to disturb Cone. Holman then told Cone about an incident she had witnessed early in the 2005 season, when Stevenson accepted Vicodin from an athlete on his team.
A player had recently been injured and was prescribed Vicodin; Stevenson asked her for some. He told her to drop it off, alone. Instead, Holman accompanied her teammate.
"I saw her hand him the Vicodin, and he was clearly shaken up that someone else was there with her," she recalled of the incident. "I told Alison Cone, and she said she was already aware of it. They never did anything about it."
Don Oberhelman, who took over Cone's position in April, said he was never made aware of this incident, but in his opinion, accepting Vicodin from a student-athlete was a fireable offense.
In fact, an allegation that he took prescription medication from a player was investigated and substantiated by Cone in 2005, according to a 2010 report compiled by Cal Poly's Office of Employment Equity, which New Times received after filing a Freedom of Information Act request as a part of the four-month-long investigation into Stevenson.
But Stevenson wasn't fired.
The report, which was written by Director of Employment Equity Martha Cody and Associate Vice President of Student Affairs Preston C. Allen, outlined the results of an investigation sparked by sexual harassment accusations against the coach.
The first such allegation listed in the report, detailing when "Stevenson attempted to 'pants' one of his players, by grabbing the elastic waistband of her pants and pulling them down," was denied by Stevenson. However, Cody and Allen write in their conclusion that they "find that it is more likely than not that Mr. Stevenson engaged in all of the conduct alleged."
That allegation was only one of 12 listed in the report. Other allegations include Stevenson kissing players, whispering "I love you" to a player, referring to Latina women as "crazy bitches" in front of the team, questioning the players about their sex lives, and discussing his own sex life with players.
The report details allegations of misbehavior from Stevenson's first year with the team. And though the university investigated and took some actions, the players knew nothing. Despite their pleas, as far as they could tell, they were being ignored.
One former athlete, who asked to remain anonymous, said Stevenson once told her that he would choose to have a conversation with her over other players on the team because she was "the most provocative."
Four other former players New Times interviewed also asked to remain anonymous. One said she feared retaliation by Stevenson.
"He has come to my other teammates' houses unannounced before," she said.
Another described how she lost her passion for volleyball after playing on Stevenson's team.
"Girls go into college volleyball being so committed and so passionate. If you're an intense high school player, it's your dream to do that," she said. "When I quit, I was totally removed and hated the sport. That's how I felt; it was really sad."
This was a common theme among the testimonies Cody and Allen recounted. The report said, "For most of his players, volleyball, once a source of great joy and pride in their lives, became under his direction a source of unnecessary mental suffering and unhappiness."
PHOTO COURTESY OF CAITLIN SUTTICH
IN THE ZONE : Caitlin Suttich serving at a Cal Poly women's volleyball match, before she left the team in 2009.
The list goes on
Caitlin Suttich came to Cal Poly as a freshman in 2006. As with many others, her troubles began before her first season of college volleyball even started.
"Jon told me that all the girls live on campus together during the summer, working out at camp and working with a trainer," she said. "He wanted me to fly out as soon as possible."
So Suttich, who is originally from Oregon, booked a plane ticket and paid for an extra month of rent.
When she arrived, however, she found no other players, no training camp, and no Stevenson. She flew back to Oregon, she said, and she never heard from him, never received an explanation.
Suttich told New Times she assumed it had been a misunderstanding. At the beginning of the season, Stevenson told the freshmen that practice was at 5 a.m., then he didn't show up, she said. As the season progressed, similar things kept happening.
So Suttich began documenting every canceled practice, every inappropriate interaction, and every broken rule. At the end of her three years on his team, she had documented more than 10 pages of what she considered to be infractions.
One example was a confrontation she had with Stevenson, when he demanded that she tell him which of her teammates was drinking.
"I was in his office for 2 1/2 hours. He was yelling, 'If you don't tell me, I'm going to think it's you!'" she said. "At the end of that meeting, he said, 'You can't speak a word of this to anyone. Not your parents, not your teammates, not your friends, not anyone.'"
Suttich immediately told her parents. Two weeks later, she said, she also told Cal Poly's sports psychologist, Jeff Troesch.
Suttich's mom, Susan, wrote to Cal Poly President Warren Baker and to Alison Cone. She didn't receive responses to her first e-mails to Baker and Cone.
Susan Suttich played college volleyball and currently runs a volleyball promotions company in Oregon with her husband, who coaches Division 1 volleyball.
"We are heavily immersed in the volleyball community," Susan told New Times. "We know how a program should be run because we are in the business. It's very clear that [Stevenson] does not know how to treat people … ."
Susan said she was especially concerned when on two separate occasions, her daughter had to travel alone to away games. When she e-mailed Cone a second time about that issue, she told New Times, she finally received a phone call.
"Cone said that it happens all the time," Susan said. "To everything I brought up, she just said every coach does things their own way."
Current Athletics Director Oberhelman said student-athletes are only allowed to travel alone in special, pre-approved circumstances, often involving medical appointments for injuries or academic obligations.
Caitlin didn't have any exceptional reasons for traveling alone, she said, besides the fact that Stevenson simply decided at the last minute he wanted her to come. On one occasion, Stevenson told Caitlin that though the budget for the trip didn't allow for her to travel, he would pay for her transportation costs from his own pocket. Because that would be against NCAA regulations, Cal Poly investigated this allegation. No conclusion was made.
And at the end of Caitlin's last season on the team, in spring of 2009, she requested a meeting with Cone to officially lay out everything she documented against Stevenson. She said she showed Cone the pages of documented incidences, as well as testimony from her teammates that she asked them to prepare. Caitlin recalled to New Times that Cone told her she had a strong voice because she was president of the Student Athlete Advisory Committee, and that her complaints would be dealt with. But as far as she knew, nothing was done.
A player who wished to be kept anonymous also came to Cal Poly as a freshman under Stevenson. After two seasons on his team, she transferred out. At her first preseason game, she said, Stevenson told her she was going to be starting. Five minutes before the start of the game, he changed the lineup and took her out.
"He was constantly telling me that I was doing well and going to see the court," she said. "Then he never played me and never gave me any feedback. It messed me up, mentally."
She reported that Stevenson then told her she was going to be a traveling "redshirt" for her first year. Though they never signed any paperwork to make it official, she said she trusted him.
With this label, she would travel and practice with the team to grow as an athlete and gain experience, but would never compete. Freshmen are often "redshirted" so they can get college-level training, but their participation in competition is delayed to allow for eligibility in their fifth year of college.
Then at a game against UC Santa Barbara, Stevenson looked at her and told her to be ready to play. He never played her that night, she said, adding that he started to ignore her.
"He basically ignores you to try to get you to quit because he doesn't have the balls to tell you to quit," she said. "I would call him to try to set up a meeting, and he would ignore my calls."
She said she was removed from trips to away games literally minutes before departure, once as she was sitting on the bus waiting to leave. And she, like Caitlin, was interrogated about her teammates' behavior and asked to turn them in for drinking.
Grace Sprague came to Cal Poly as a freshman in 2008. She played for one season before transferring to University of California, Davis.
Sprague said that before choosing Cal Poly, she was promised a starting position and the opportunity to compete for playing time.
"I understand that in college sports, a coach will promise a player something and may or may not follow through with it, based on the player's ability to keep up with the team," Sprague said. "But I was promised these things and never given the opportunity to fight for it."
She explained how Stevenson ignored her and isolated her from the team, and she said she constantly felt like she was on "thin ice." Sprague said Stevenson once called her a "fucking bitch," yelling it at her as she exited the gym.
"I never knew if he would look at me, yell at me, or even pay attention to me," she said. "It was an absolutely uncomfortable and miserable experience. Words cannot do it justice."
All of these allegations told to New Times were in line with the testimonies given to Cody and Allen in 2010 by the 23 witnesses they interviewed.

The end of the line
Cal Poly's 2010 sexual harassment investigation of Stevenson concluded, "Mr. Stevenson has intruded on player's personal time and lives without attention to appropriate professional boundaries. He has sown fear, divisiveness, and distrust among his players. He has attempted to isolate them from supportive networks and access to recourse to address their concerns. At times, he has made them feel inadequate and unworthy. He has created an environment described by players as unpredictable, unsafe, destructive, and miserable. We cannot believe that such an environment would be regarded by the NCAA as 'representing the honor and dignity of fair play and the generally recognized high standards associated with wholesome competitive sports.' It is our conclusion that Mr. Stevenson has created an environment that is detrimental to the members of the team … ."
This statement was sent to Alison Cone in April 2010. Stevenson still wasn't fired.
Instead, he was asked to sign an agreement requiring that he attend a sexual harassment training course. The agreement also guaranteed that the investigation report would not be placed in his personnel file. The materials were "placed in a sealed envelope to be kept in the Athletic Director's Office," where it would stay—unless certain circumstances, such as a Freedom of Information Act request, necessitated its release.
The agreement prohibited Stevenson from calling or text messaging his current players for any reason. According to Oberhelman, Stevenson was the only coach at Cal Poly with those communication restrictions.
Incoming and prospective players were never informed of this when deciding or committing to play at Cal Poly.
"I don't know why they would be," Oberhelman commented.
Oberhelman told New Times he had never heard anything about the Vicodin incident.
"It's news to me," he said.
He also said he knew very little about the sexual harassment allegations against Stevenson.
"I admit that I do not know much about that," he said. "I heard that there was an investigation. And I admit I don't know much about what the outcome was."
Stevenson was "relieved of his coaching duties" on Sept. 4, after the 2011 season had already started with him at the helm.
Former assistant coach Caroline Walters was named interim head coach. However, Stevenson won't be officially gone until his attorneys and those from Cal Poly negotiate a settlement for his departure.
The announcement of Stevenson's removal was made just five days after New Times approached Cal Poly with questions about the complaints against Stevenson. More so, Oberhelman said he made the decision to shut out the coach the day after New Times' initial interview.
In that interview Oberhelman—in the presence of a public relations official from Cal Poly—said there were no current investigations against the coach. As for the complaints brought to his predecessor, he said those cases had been reviewed and closed.
Oberhelman told New Times his decision to get rid of Stevenson wasn't based on the possibility of a story in the press—though he did say it was one of 15 or 20 contributing factors. And though he had claimed ignorance of the serious allegations against Stevenson days earlier, Oberhelman later said he'd been thinking of removing Stevenson for weeks before New Times' visit to his office.
"Maybe the timing was not the best," Oberhelman commented on the seeming connection between his decision and New Times' interest.
Former players Rivera, Suttich, and Holman all graduated from Cal Poly after leaving the volleyball program. Sprague is a senior at UC Davis.
To all of them, and the other women affected by Stevenson, his departure was years overdue.

Amber Kiwan is a Cal Poly graduate and former New Times intern. Staff Writer Robert A. McDonald and News Editor Colin Rigley contributed to this report. Send comments to Managing Editor Ashley Schwellenbach at aschwellenbach@newtimesslo.com.