Every time I go to San Miguel, it feels deserted. Occasionally a stray dog will cross the street followed by a tumbleweed (insert Sergio Morricone music here). True, it does have one of the more authentic missions (with a mass grave from an old mass murder), the Elkhorn Bar (said to have been frequented by Jesse and Frank James), and the studio of famed artist David Settino Scott, but aside from that, there's a whole lotta nothing up there, which is why it's a freaking miracle that The Ranch's first live music event—Emerson Drive—was a whopping success.

"It was a boot-scootin' shit-kickin' sellout," gushed attendee and San Miguel resident John Mackey. "Hard to believe 600 cowpokes and cowchicks stuffed their Wranglers into a club in San Miguel. It was quite a sight! I guess my little backwater town is growing up (sniff, sniff). It really is a great story that the club is thriving, considering this screwed-up economy. But hell, dogs bark, women cry, and cowboys gotta honky tonk! That's just the way it is."


PHOTO COURTESY OF THE LOST TRAILERS
KINGS OF THE ROAD : The Lost Trailers have been touring nonstop to promote Holler Back, their new album that's getting tons of play on country radio. See them March 20 at The Ranch.
Now The Ranch Honky Tonk and Restaurant is ready for round two, this time with
The Lost Trailers
on
Friday, March 20
, at 9 p.m., with
Marty Rene and the Regulators
opening the show.
BNA recording artists The Lost Trailers were recently named MediaBase's "Most Played New Country Group of 2008," and they've been touring like mad to keep their momentum going. The band's new album, Holler Back, debuted at #5 on the Billboard Country sales charts. They were also nominated for two Academy of Country Music awards: Top Vocal Group and Top New Vocal Duo or Group.
"We are truly honored to be a multi-award nominee for the 2009 ACM Awards. It has been a long and crazy trip from that high school gym where we played our first show together as teenagers, and we wouldn't trade the years and miles and endless nights that have come since then for anything," said singer-guitarist Stokes Nielson in the band's press materials. "One of the main goals for us five has always been to be considered for the overall Top Vocal Group award, and it's incredible to know we're now in contention for the award once held by our heroes: Alabama."
Doors open at 6:30 p.m. Tickets are available through Valitix.com, Boo Boo Records, the Mid-State Fairgrounds, or by phone, (888) 825-5484.
PHOTO COURTESY OF LEROY BELL
ASK NOT FOR WHOM THE BELL TOLLS : Roots, rock, and soul artist LeRoy Bell and His Only Friends kick off a gnarly series of concerts at Downtown Brew starting on March 19.
Brewing up a phat week
It's going to take a lot of tenacity and stamina to keep up with Downtown Brew this week. They've got one killer show after another, starting with roots, rock, and soul artist
LeRoy Bell and His Only Friends
on
Thursday, March 19
(7:30 p.m., all-ages, $5 at the door). Last month Bell played with Etta James at the Paramount Theater in Seattle. He's also shared the stage with B.B. King, Al Green, India. Arie, Erykah Badu, LeAnne Rimes, Michael McDonald, Mavis Staples, Keb Mo, Taj Mahal, Leon Russell, Charlie Musselwhite, and Los Lobos. "We look forward to coming to the Downtown Brew," said Bell. "I hear it's a great music town and we hope to make some new fans and friends. For this tour, we'll perform lots of older and some new material, including songs from our most recent CD
Change Is Coming
. Radio stations across the country are now moving on to the second single, 'I'm In Love With You Girl.'"
Touring favorite
Pato Banton
returns to town on
Saturday, March 21
with
Mystic Roots
(7:30 p.m., all-ages, $15 presale or $17 at the door). Banton will forever be known for "Don't Sniff Coke" and its iconic line "I do not sniff the coke, I only smoke the sensimilla," but he's had plenty of hits with his upbeat, socially conscious, positive reggae.
PHOTO COURTESY OF ROBERT EARL KEEN
THE ROAD GOES ON FOREVER : Americana legend Robert Earl Keen plays March 23 at Downtown Brew.
Famed Americana-country-folk artist
Robert Earl Keen
plays on
Monday, March 23
, with our own replanted Texas troubadour
Joe Koenig
opening the show (6:30 p.m., 21-and-older; $23 presale or $25 at the door). Like his pal Lyle Lovett, Keen is one of the more literary songsmiths to come out of the '80s Texas singer-songwriter explosion, but his mordant sense of humor and gritty narrative songs ("The Road Goes on Forever," "Christmas with the Family") marked him as something special. This is a don't-miss show!
Rock, blues, and French pop artists
Carney
return to DT Brew on
Tuesday, March 24
with
Truth
and
Salvage Company
opening (6:30 p.m., all-ages, $6 presale or $8 at the door). This quartet fronted by siblings Reeve and Zane Carney is a young (all in their early 20s) but immodest band: "We try to make music that's timeless," says Reeve. "Our music is an array of various styles drawn from rock, folk, reggae to blues." They compared themselves to Jeff Buckley, The White Stripes, Led Zeppelin, John Lennon, and Pink Floyd. It's not being cocky if you're really that good!
Bad Brains' legendary frontman
Paul "HR" Hudson
, a reggae performer who also traverses styles between hardcore and jazz, hits the Brew on
Wednesday, March 25
with
Lionize
(8 p.m.; all-ages, $13 presale or $15 at the door). Bad Brains and HR were seminal in mixing punk and reggae styles, which influenced everyone from Sublime to Gwen Stefani.
Tickets for all Downtown Brew shows are available at the venue, Boo Boo's, or through ticketweb.com.
Bathroom breakthrough
I've got one less thing to bitch about. I used to whine about the bathrooms in Frog and Peach. They were so nasty that I swore the only way I'd go in there is if I learned to levitate.
New Times' former staff writer Kai Beech described the Frog bath thusly: "It's easy to smell why this place made the worst bathrooms in SLO County list—the pungent scent of soured micro brews and Central Coast hippie funk can leak all the way out onto Higuera Street.
"Inside, there's no lock on the men's bathroom door, and propping it closed with one foot while trying to take a leak is a tedious task. Trying to do that on a slippery floor with dreadlocked white people banging on the door during reggae night is even more frustrating.
"Located at the base of a long hallway, this bathroom offers a peek-and-pee scenario, even from the patio.
"According to bartender Coco Herda, the bathroom's graffiti is painted over pretty regularly, so it offers essential up-to-the-date information.
"'It's some of the most entertaining reading when you're hovering over the pot—because you don't sit on the pot here,' she said. 'Ever.'"
After the pub's recent retrofit and remodel, I now give the bathroom and venue my official seal of approval! The drop ceiling has been removed and the seating and bar expanded. It's sweet in there now. Super sweet!
Check out the CaliforniAcoustic Tour with singer-songwriters
Kyle Williams
and
Jeanette Hawkins
when they open for the Zongo Allstars on
Saturday, March 21
at 8 p.m.
Welcome back, Frog, and thanks for cleaning up your act. I'd even let my mother go in there now!
PHOTO COURTESY OF CAL POLY ARTS
ALL IN THE FAMILY : America's "First Family of Bluegrass," the multi-Grammy nominee Cherryholmes, plays March 19 in the Spanos Theatre.
More music …
They've been called America's new "First Family of Bluegrass," and for good reason. The multi-Grammy nominee
Cherryholmes
has created a sound that's been called "bluegrass on steroids." On
Thursday, March 19
, at 8 p.m. in the Spanos Theatre, Cal Poly Arts presents this amazing family band, touring in support of their latest hit release, Cherryholmes III. Tickets range from $28 to $34; call 756-2787.
City Nights Jazz has multi-talented studio great
Ray Pizzi
playing the Inn at Morro Bay with the
Mike Raynor Group
on
Friday, March 20
from 7 to 10 p.m. Pizzi will be performing on saxophone, flute, and bassoon, and there'll be a special appearance from pianist
Bob Harway
as well as local poet
Francesca Nemko
, performing improvisational poetry with Pizzi.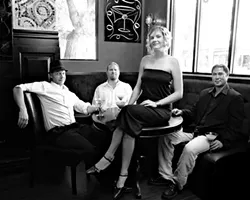 PHOTO BY STEVE E. MILLER
HEART THIEVES : (left to right) Forrestt Williams, Matt Reeder, Hillary Langdon, and Toan Chau are the Tipsy Gypsies, a Gypsy jazz quartet playing March 20 at the Clubhouse and March 28 at Gina's Coffee Shop.
The Tipsy Gypsies
, a Gypsy jazz quartet featuring über-lovely vocalist Hillary Langdon, guitar gods Toan Chau and Forrestt Williams, and double bassist Matt Reeder, are kind of freaking awesome. They make you feel like you're in a smoky French café even when you're in Steve Miller's ratty warehouse/photography studio, which is where I was the first time I saw them. On
Friday, March 20
, they play the Clubhouse from 7 to 10 p.m., and on
Saturday, March 28
, they'll be up at Gina's Coffee Shop in Cayucos from 2 to 5 p.m. If you're a Django or female vocalist fan (think Billie Holiday-style crooning), check 'em out.
PHOTO COURTESY OF MICK MOLONEY
THE GREEN SMILE : Three-time Junior Scottish Fiddling Champion Athena Tergis (left) joins National Endowment of the Arts National Heritage Award winner Mick Moloney on March 21 at St. Benedict's Church for a traditional Irish music concert.
Just in case you didn't get enough St. Paddy's Day celebrating in, the green machine keeps marching on
Saturday, March 21
, when
Mick Moloney
with
Athena Tergis
and
Melanie Nolley
play a St. Patrick's Irish concert in Los Osos' St Benedict's Church at 7 p.m. ($10 donation at the door; 6 p.m. potluck for those interested). Moloney was awarded the National Heritage Award from the National Endowment of the Arts in 1999. Tergis won the Junior Scottish Fiddling Championships three years in a row.
PHOTO COURTESY OF CAL POLY ARTS
TWO ON THE TOWN : Enjoy a sophisticated evening of Broadway and Hollywood hits with vocalist Anne Runolfsson (left) and composer-pianist Marvin Hamlisch when they play March 22 at the Cohan Center.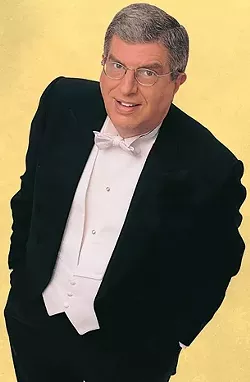 PHOTO COURTESY OF CAL POLY ARTS
You won't want to miss acclaimed stage vocalist
Anne Runolfsson
accompanied by composer-pianist
Marvin Hamlisch
on
Sunday, March 22
, at 7 p.m. in the Cohan Center. Witnessing Hamlisch at the grand piano performing a myriad of his award-winning Broadway and Hollywood hits is a sight to behold, and he's won just about every major award that exists: three Oscars, four Grammys, four Emmys, a Tony, and three Golden Globe awards. Runolfsson is as beautiful as she is talented. Tickets range from $33 to $54; call 756-2787 for availability.
Listen up!

If you missed the Valentine's Day Beatles tribute last month at the SLO Down Pub in Arroyo Grande, never fear, you can catch the show on Merrell Frankhauser's TV show Tiki Lounge starting Tuesday, March 24 at 12 noon, Fridays at 12 midnight, and Sundays at 7:30 p.m. on Charter Channel 2. "It will be repeated those days and times for four weeks," said Frankhauser. "Performing to a standing room only audience was the Jim Townsend Band, Doctor Danger Band, and myself. The audience sang along and danced to every song; it was really a great time with good vibes!"

Glen Starkey knows what you're thinking. Creepy, huh? Test his skills at gstarkey@newtimesslo.com.
CD Reviews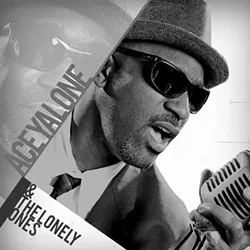 Aceyalone—Aceyalone & The Lonely Ones
Taking influence from '60s girl groups, the urban rhythm and blues of Chess records, and the gritty soul of the Funk Brothers, Aceyalone has shaped his new album as an ode to the musical soul heritage that is near 50 years old, but still sounds timeless. Full of handclaps, hard-hitting snares, and the circled-lipped "ooohs" of back-up singers, Aceyalone & The Lonely Ones reaches for Motown glory, and sizably succeeds. As a founding member of Los Angeles' Freestyle Fellowship, Aceyalone and his crew injected cerebral lyricism and improvisational timing to West Coast hip-hop in the '90s when hardcore gangsta rap captured all the attention. Here, he continues his strong rhythmic drive and complex rhymes, but positions it over classic soul. "Step Up" conjures up a Ronettes beat as the Aceyalone tries to get the attentions of his recent heartthrob, while "To The Top" duplicates the rhythm of a hand-jive harnessed with a Bo Diddley guitar sample. Raphael Saadiq accomplished a similar soul revival on his recent album The Way I See It, and Aceyalone will nicely accompany it.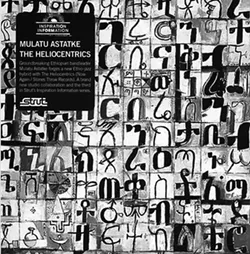 Mulatu Astatke / The Heliocentrics—Inspiration Information Vol. 3
In a series that is putting together musical idols with their contemporary worshippers for an in-studio collaboration, the third volume of Inspiration Information smokes with the various influence of Ethio-jazz. Led by one of Africa's great bandleaders, vibesmen, and percussionists, Mulatu Astatke, the backbone of all the instrumental grooves here pulls from the fusion of funk, soul, and jazz that filtered into the deep treasure troves of the Ethiopiques album series. Backing up Mulatu is the free-thinking UK ensemble the Heliocentrics. Formed by drummer Malcolm Catto, they channel the diverse rhythms of Sun Ra, David Axelrod, and James Brown into something entirely unique, if not heady and sometimes skronky. Thus two heads conjoin as one, and you can hear Mulatu Astatke's jazz jams take on the out-worldly experimentation of psychedelic electronics layered with African melodies, funky beats, and honking saxophones. A great spotlight on the progression of two powerhouses of soul jazz and beyond.
—Malik Miko Thorne, of Boo Boo Records and KCBX's "Night Train."