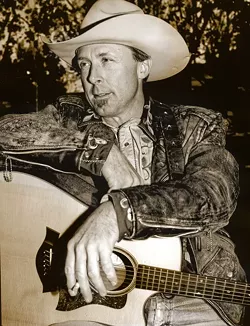 PHOTO COURTESY OF CODY PENDANT
SADDLE UP : Cody Pendant brings his special brand of western/punk/metal/rock to Linnaea's Cafe on Jan. 30.
Songsmith Cody Pendant is so all-over-the-place musically that he's like a big tarp covering a '60s rock band, two punk trios, a honky-tonk act, a metal band, a surf guitar hero, and a singer-songwriter. Now imagine they're all under this big blue tarp fighting to get out, but only one emerges: a cowboy in a big hat and Wranglers with a punk edge but the charm of a gentleman. That's just who Cody Pendant is (get it? co-dependent? A-ha!).

This Friday, Jan. 30, the incongruous troubadour, a real live cowboy who breaks horses for a living, will play a free show at Linnaea's Cafe. Cody sent me a demo, which is why I know how diverse his music is, but I've yet to see him live. A discerning gal pal of mine whose name I'll withhold did catch his act a while ago at The Clubhouse and wrote to tell me about it:

"Cody came in looking pretty darn cowboy—Wranglers, black button down shirt, and black cowboy hat jammed down on his head. The shirt had brightly colored flowers (?!) embroidered on it. At first I thought, 'Dear god, just don't let him be wearing the spurs too!' Thank goodness he wasn't. And he actually didn't have shit-kickers on, but well-lived-in, newly-cleaned, Blundstone-type things.
"So the main point is that from the first one wonders whether he is 'for real' or not. When he starts to sing, one is still wondering. It is cowboy music, but is he meaning to be funny? By the third song I decided that he was and I didn't care very much anyway because he was a real hoot. Quite the entertainer. It remains to be seen whether this neo-cowboy act wears thin after more than three songs or whether his material is as uniformly entertaining. Another thing, he is pretty sexy and he tries hard at that part too."

Damn sexy cowboys! It's tough to hold onto a gal when they're around. Find out for yourself at 8 p.m. Jack Casey will join Cody on a few tunes.

Who luvs ya, baby?

Downtown Brew has your various rock'n'roll needs well in hand this week. Those who desire some indie/alternative action can check out Lakes this Thursday, Jan. 29 during an all-ages, 7:30 p.m., $8 presale show with Tim Myers opening. If you like harmony vocals, desperate sensitivity, and jangly guitars with hints of banjo twang, then yep, this is it.

Looking for something a bit heavier? May I suggest the Badfish and Scotty Don't show?


PHOTO COURTESY OF BADFISH
ONE FISH, TWO FISH : Sublime tribute act Badfish plays Downtown Brew on Feb. 4 with ... themselves, Scotty Don't, which features the same guys playing their original songs.
Badfish
is the premiere Sublime tribute act, serving up the same frenetic reggae/ska/punk as the famed Long Beach act. Fans already know that band ended with the tragic death of its lead singer Brad Nowell in 1996, but you can't stop the music, baby.
Formed in 2001, Badfish has played blistering shows across the country, but instead of merely copping Sublime, they throw themselves into the music with the same authentic abandon, something that can't be faked.
Scotty Don't
is actually the guys of Badfish doing their original music, and it's pretty freakin' awesome. The act's second effort, Songs form the Back Porch, are soulful, hook-laden pop nuggets that feel like a toe-tapping summer day with the bros in the backyard.
Check out both acts on
Wednesday, Feb. 4
at 8 p.m. The 16-and older show costs $17 advance or $20 at the door.
Enough peace to wash an elephant
PHOTO COURTESY OF JAMES TWYMAN
SPIRITUAL HEALIN' : Peace activist, musician, and filmmaker James Twyman plays a special concert on Jan. 31 at The Circle of Spiritual Enlightenment, located at the SLO Adult School.
James Twyman
is the kind of guy who makes me feel like an asshole. Look, I try to be a nice guy—thoughtful, helpful, kind—but compared to Twyman I'm like Genghis Khan or worse.
Twyman's an internationally renowned, best-selling author, musician, and filmmaker. His most recent film,
The Moses Code
, was called the most important spiritual film of 2008. His CDs have inspired hundreds of thousands of people, as have his music concerts and performances throughout the world.
I sent forty bucks to Amnesty International, Twyman started grass roots projects like The Cloth of Many Colors, making him one of the most influential spiritual peacemakers in the world and by comparison me look like a cheap jerk.
The foundation of Twyman's work is based on the peace prayers from the twelve major religions of the world. My score? Zero peace prayers. He's performed the prayers in song around the world to tens of thousands of people, which is why he's called "The Peace Troubadour." I prayed to get a raise (I didn't), which is why I'm called "The Selfish Bastardo."
In 1998, while the ethnic war in Kosovo was at its height, James was invited to sing "The Peace Concert" at a refugee camp on the border of Kosovo and Macedonia. I think I went out for a beer that night.
Clearly, Twyman is spreading peace while I'm spreading manure.
The Circle of Spiritual Enlightenment is honored to have Twyman play a peace concert this
Saturday, Jan. 31
at 7 p.m. at The Circle of Spiritual Enlightenment, SLO Adult School – Room J-2, 1500 Lizzie St., in SLO. Tickets are $25 and available online at www.spiritualcircle.org or by calling 995-1390.
More music...
Local band Impromptu plays Linnaea's Cafe this Thursday, Jan. 29, bringing upbeat original music that blends acoustic-electric folk rock with Caribbean rhythms, a dash of funk, and the occasional hint of country. This 8 p.m. show is free.
Reggae music from the garden isle, Kauai, is coming your way on Friday, Jan. 30 when The Lambsbread brings its mystic roots sounds to Frog and Peach. The group is touring the West Coast to promote Rise, their third studio album, which has been getting radio play in Hawaii, California, Colorado, Portugal, and France. Recorded in Jamaica and California, the songs have a classic reggae vibe but may also appeal to hip hop and dancehall fans.


PHOTO COURTESY OF DERAILED
BADASSES! : Up and coming hard rockers Derailed play Hoovers Live on Jan. 30.
Up-and-coming
Derailed
plays Hoovers Live on Friday, Jan. 30, for an evening of hard rock. Cofounded by Dave Barron (drums) and Chris Dollahite (bass), the group wrote to say they're "excited to welcome newcomer Jeff Mitchell, lead Guitar, who displays a true dedication to his craft. The lead voice is Jasmine Dollahite. Jasmine was Central Coast's very own Teen Idol 2006. Her vocal power and range is sure to pull in the audience and rock their world." The 8 p.m. show also includes
Homie Erectus
and
Slick Bishop
.
PHOTO COURTESY OF DON LAMPSON
BIRTHDAY BOY : Gritty singer-songwriter Don Lampson (forefront) will play a 64th birthday celebration with some friends at Steynberg Gallery on Jan. 31.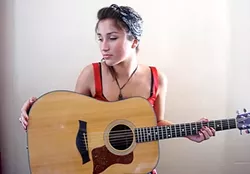 PHOTO COURTESY OF JADE JACKSON
NORTH COUNTY GAL : Singer-songwriter Jade Jackson will open Don Lampson's Jan. 31 birthday concert at Steynberg Gallery.
Say it ain't so?
Don Lampson
is turning 64! Can we expect a Beatles song? Probably not, because this talented old cruster has plenty of his own tunes, which he'll plays this
Saturday, Jan. 31
when he celebrates his birthday at the Steynberg Gallery with a special 8 p.m. concert featuring Charlie Kleeman, Peter Morin, and Melody Klemin, who played Live Oak with him last summer. The show will feature Don's original songs plus those penned by Bob Dylan, Muddy Waters, Mickey Newberry, and Jesse "Lone Cat" Fuller.
Jade Jackson
will open the show, and as usual, the grand finale will be the singing of Leadbelly's "Goodnight Irene" by the entire house! Your $10 admission includes a copy of Don's CD, Heart of the Chaparral. Call for reservations: 547-0278. Happy birthday, amigo!
Promoter extraordinaire Rob Burpee of Strike Fire Productions has an awesome psychobilly show lined up at Mongo's Saloon in Grover Beach on
Saturday, Jan 31
at 9 p.m.
BadTown
and
ZombillyZ
, hailing from the San Gabriel Valley in L.A., will share the bill. "The show will have a psychobilly/ska feel with a twist of Latin style," said Burpee. This 21 and older show costs $2 and starts at 10 p.m.
James Nihan
will bring his spiritual sounds to two local shows this week:
Saturday, Jan. 31
, at 6:30 p.m., in Arroyo Grande's Unity Five Cities Church (2850 Peaceful Point Ln.; 788-4777); and
Sunday, Feb. 1
, 10:30 a.m., in Cambria's First Unity Church of Cambria, Joslyn Center (950 Main St.; 927-8021). The award-winning songwriter has had his songs recorded by Anne Murray, Steve Wariner, and many more.
On
Sunday, Feb. 1
, the Famous Jazz Artist Series at the Hamlet in Cambria presents trumpeter/vocalist
Stacy Rowles
, the daughter of legendary pianist Jimmy Rowles. She made a number of recordings both with her late father and on her own for the Concord label. Dylan Johnson (bass) and Darrell Voss (drums), and series co-producers Charlie and Sandi Shoemake (piano/vibraphone and vocals) will also be on hand.
There's a 4 p.m. show ($15); a 7:15 ($12), or see both ($20). Call 927-0567 for reservations.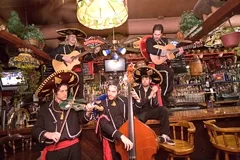 PHOTO COURTESY OF DIEGO'S UMBRELLA
AY-YI-YI!: The theatrical and amazing Diego's Umbrella returns to Frog and Peach on Feb. 3 to play an evening of experimental flamenco-Mexi-Cali-gypsy-pirate-polka rock music.
The theatrical and amazing
Diego's Umbrella
returns to town this
Tuesday, Feb. 3
, when they play the Frog and Peach at 10 p.m. In case you sadly miss the experimental flamenco-Mexi-Cali-gypsy-pirate-polka rock act this time, they return to town in March (more on that later). Now for some of the band's influences: "sounds that aardvarks make, Tom Waits, Danny Glover, mediocre humor, armknees, unicorns, lighting bolts, old album covers, your mom, and that feeling when you're driving and forget that your phone is between your legs and it starts vibrating." Mmm. Your mom.
Attention local bands!
The SLO Downtown Association is currently accepting applications from bands and artists for the Concerts in the Plaza 2009. Sorry for the short notice, but all materials must be submitted by 4 p.m. on Friday, Jan. 30 to 1108 Garden St., Suite 210. For more info, visit www.downtownslo.com or contact Christy at 541-0286.

Glen Starkey will work for food. Okay, not "work" work. And not "food" food. Just send money to gstarkey@newtimesslo.com.


CD Reviews
Animal Collective—Merriweather Post Pavilion
Taking a similar path as The Flaming Lips, Animal Collective hasn't necessarily walked away from its early eccentricity so much as found a way to tame it for wider benefit. With its ninth album, Merriweather Post Pavilion, Animal Collective has slowly inched away from its marginalized beginnings and magnified its talent for writing melodies that pop above its electronic strobing backdrop. Yes, with their dizzying layers of loops, synths, and percussion, it is still too big to fit inside your skull on one listen. Openers "In The Flower" and "My Girls" both blast off into a spirit-lifting, ecstatic choruses, while the thumbing bass of "Summertime Clothes" begins to turn into a kaleidoscope of irresistible sunny pop. Time and again, Animal Collective's giddiness refuses to be headache-inducing, as their vocals continually find an infectious thread of melody. "Guys Eyes" sees a ricocheting of harmonizing voices, further compelling the Brian Wilson comparisons. You may see Merriweather Post Pavilion gather acclaim, and most of it will be rightly deserved.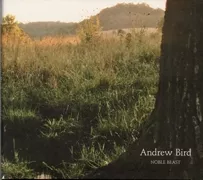 Andrew Bird—Noble Beasts
While he can manipulate the violin into a sound box of infinite tones and can whistle with the captivation of a siren, Andrew Bird truly excels at writing songs with literate heft. On "Tenuousness," he puts it all on display as he rhymes obscure historical ethnicities ("proto-Sanskrit Minoans to porto-centric Lisboans") and delivers vivid imagery ("investments of translucent alabaster") deftly, without pretentiousness, and all expertly pronounced. And it all works. The songs build up with various influences: "Masterswarm" offers a simple folk beginning that expands into a merging of gypsy jazz and Spanish orchestration, where on "Effigy," a down-home country fiddle pops up surprisingly halfway through. As a classically trained violinist, it's best to think of Andrew Bird as a chamber pop composer, outfitting his album with a range of musical influences. His recruitment of Martin Dosh emphasizes his own development of looping sound into either atmospheric texture or percussive repetition. A strong album from start to finish.

—Malik Miko Thorne, of Boo Boo Records and KCBX's "Night Train."