An energetic toddler shrieks, "Mommy, they're monsters!" immediately after he walks through the door. His dad gently corrects him. "No, they're sculptures."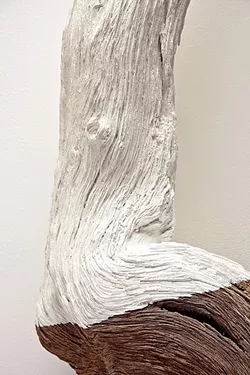 PHOTO COURTESY OF TRENT BURKETT
DETAIL ORIENTED: Artist Trent Burkett has an eye for detail in his pieces and places value on where his found materials come from.
To be fair, there's a certain menacing factor in Arroyo Grande artist Trent Burkett's abstract, minimalist wood sculptures that stand taller than I do. The sculptures are currently on display as part of Burkett's Etcetera exhibit at the San Luis Obispo Museum of Art. Others see buildings or war-torn countries when they look at Burkett's sculptures. Burkett loves hearing the different stories that people see when they look at his art, but the truth is a bit simpler.
"I'm trying to share my experience or a place, the things that I find to be profound or beautiful," he said.
Burkett started out in the realm of two-dimensional arts like painting and then had his aha moment during graduate school, when he switched his focus to three-dimensional arts like ceramics and sculpture. He seeks inspiration from the wilderness, frequently leaving the world behind to go backpacking and escape the urban jungle.
PHOTO BY CAMILLIA LANHAM
WILD: Etcetera features pieces inspired by the wilderness. This wood sculpture's base is a chunk of blue marble that came from a mine in Colorado.
"I'm trying to re-create Yosemite, the High Sierras, that fracturing found in nature," he said. "If you were to look at the side of a broken mountain with all these fractures and cracks."
Those lines, both straight and jagged, are a constant in the Arroyo Grande artist's work, which is a refreshing level of abstract and minimalist rarely found in the SLO art scene.
Often found items such as wood that was once furniture; marble; or an antique teacup find their way into Burkett's pieces. For him, the source of the object is important, whether it's a rock he found on a hike or a piece or marble that came from a mine in Colorado he got the opportunity to tour.
"That kind of sourcing or origin that went through a natural process and then we extract it," he said. "There's power in that. There's energy that I want to retain."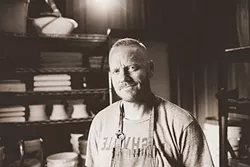 PHOTO COURTESY OF TRENT BURKETT
AHA MOMENT: Artist Trent Burkett made the switch from two-dimensional art to three-dimensional sculptures and ceramics while studying art in graduate school.
Burkett's work in Etcetera (defined in the dictionary as "so forth") features his most recent creations. And while it can be filed under abstract, there's nothing random about it. Burkett will shut himself in his studio and systematically plan out and design each piece.
"I'm very organized," he said. "There's nothing sloppy or haphazard about it."
Ryah Cooley is into minimalist décor at rcooley@newtimesslo.com.

IT'S A PROCESS: Arroyo Grande artist Trent Burkett's minimalist sculptural work is on display under the exhibit Etcetera, at the San Luis Obispo Museum of Art through Oct. 2. Burkett will teach a ceramics workshop for adults at his studio in Arroyo Grande Oct. 21 through 23. Call the museum at 543-8562 or visit sloma.org to sign up. SLOMA is located at 1010 Broad St., and is open every day from 11 a.m. to 5 p.m. Admission is free. Visit trent-burkett.com for more of the artist's work.