You know when Robin Kirk Wolf is casting spells again. She'll be in the kitchen, consulting glittering glass jars filled with magic potions. A pinch of this, a sniff of that; she huffs from each jar as she works her mysterious magic. Fleshy pink peppercorns. Delicate rose hips. Pungent, eight-pointed star anise, like wild fennel or black licorice on steroids. Wolf doesn't finish until her craft releases her. This is how the most dynamic pairings make their way into SLO Bitter Co.'s small batch bottles. It's amazing how one drop—spicy, rich, warm, smoky, floral—can add alluring complexity to any old drink.
PHOTO BY DYLAN HONEA-BAUMANN
COCKTAIL ALECHEMIST : SLO Bitter Co. Owner Robin Kirk Wolf alchemizes herbs, fruit, and botanicals into wildly distinctive cocktail bitters.
Take Wolf's grapefruit and chili bitters, perfect for spring and summer cocktails begging for a little zing. This combo is vivacious and fiery … kind of like Wolf, an actor at heart. The redhead moved to NYC to pursue the stage, but found something else entirely: a creative food and drink scene bursting with possibilities. Every barkeep was shaking up golden era drinks—Sazeracs, Manhattans—including her husband, Matthew Hanson, a mixologist by trade.
When the couple returned to Wolf's stomping grounds of SLO County in 2011, the food industry veteran threw herself into the local wine scene while her love landed a job whipping up drinks at Novo (he's now resident mixologist and bar manager at Paso Robles' Fish Gaucho). Wolf, who went on to become certified by the Court of Master Sommeliers, allows her curiosity to get the best of her.
"I love wine, and I like understanding what goes into making something great, and why you might like one particular version of something more than another. The best wine in the world is the one that you like," Wolf says. "I always try to create bitters that are a little different from what you'd normally taste, like rose and pink peppercorn."
You can find SLO Bitter Co. creations dropped into cocktails made with local Wine Shine brandy at Paso hangouts like The Hatch and Fish Gaucho, at Granada in SLO, or in the artist's own kitchen, ground zero for legendary food and wine soirees (her foodie friends also harbor a healthy competitive spirit, keeping her on her game).
"I'm always making cocktails, at home, for demonstrations. It's a constant in both of our lives, but what a fun constant to have?" Wolf says, showing me the bar that stands an arm's length away from her dining room table. It appears to be an altar dedicated to local spirits, top-shelf hooch, and vintage glassware.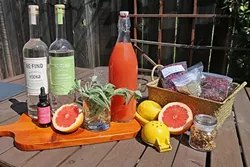 PHOTO BY DYLAN HONEA-BAUMANN
MAGNIFICENT MENAGERIE : Herbs, citrus, SLO Bitter Co. bitters, a little ingenuity, and Re:Find booze come together to create a creative cocktail with SLOcal swagger.
Wolf's house doubles as a witch's lair, an alchemist's study. The old hardwood floor creaks as you enter the living room, prompting haughty felines to glare from antique furniture. On a recent visit, the mix master ushered me out to her sun dappled backyard patio table, where a spread of cocktail accouterments beckoned. Many of her herby wares are sourced from The Secret Garden, nestled next to the babbling San Luis Obispo Creek.
"I know how to open up flavors. Sometimes, I just pop a piece of something in my mouth while I figure it out," Wolf says, handing me a pungent jar of one of her favorites, juniper berry. "Some flavors, like wormwood and cassia bark, are not so great to do that with, because those are the bittering agents. I always try to infuse my bittering components separately from my fruits, herbs, and spices. I'm really glad I did that for the grapefruit and chili. The chili infused extremely rapidly and potently."
DIYers should take note. Of course, there's also what Wolf calls a "one pot" method, where you throw everything into one jar of alcohol and wait it out. Wolf used this technique to craft her sweet-smelling lavender flavor, the star that spawned her entire lineup. Wolf gave the bottles out as Christmas presents two years ago, and those gift-holders gave a standing ovation.
"I wanted to round out the floral qualities of the lavender with a little baking spice backbone to it; so you get the amazing lavender smell but also the clove, the anise, a little bit of cinnamon, and certainly a nice whiff of orange," Wolf says. "There's a huge component that relates to perfume-making or winemaking; the product is always changing. You smell it in a bottle, then add a few drops to club soda or in a drink, and shake it, and it evolves."
THE BITTER TRUTH: Want to know more about Robin Kirk Wolf's local bitters, as well as where and when you can pick up your own groovy batch? Email her at

robin@slobitterco.com

, call 459-7333, or click

slobitterco.com

. You can also help bring her craft to a wider audience by visiting Handcrafted Cocktail Bitters on Kickstarter and pledging your support (the rewards are delicious).
Wolf's bitters aren't just more nuanced than what you'll find at your average BevMo!—they're also made with better alcohol base (which matters, trust me). While some might throw a few herbs into a jar of fly-by-night moonshine, the bitters maker uses only high-proof alcohol produced by Re:Find Distillery in Paso Robles. There, owners Alex and Monica Villicana repurpose the leftover grapes from their boutique winemaking operation to create premium spirits with a smoother, rounder mouthfeel (that's thanks to the magic of killer Paso grapes).
"I've always loved Re:Find and their story—using byproducts that otherwise would not have a future and transforming it into amazing spirits," Wolf says. "I am a firm believer that a product is only as good as its worst component, and Re:Find's alcohol has a sweetness, an oiliness, that allows me to use less sweetening compounds in my bitters."
This helps Wolf in terms of production, which literally consists of her hand mixing each batch of flavorings, waiting on the infusions, straining, mixing again, and pouring them into tiny bottles spiked with alcohol. An output of 700 (including lavender, grapefruit chili, and charred cedar and blackstrap molasses) may not seem like much, but when you're doing it all by hand, it's a little much. As Wolf likes to say, "You put on some Def Leppard and just do it."
Next time you take an eyedropper of bitters and add it to your drink, consider just how much time, effort, and love went into that tiny drink enhancer. In Wolf's case, it includes finding the perfect amount of char for a cedar chip—and no, the Internet doesn't always have all the answers.
This is simply the hard work it takes to get your locavore on, right down to your glass. The output might be encased in a tiny bottle, but the flavor is massive. Maybe that's why folks are pausing to consider an aspect of drink-making that was once lost to the sands of time.
Thankfully for the cocktail obsessed, Wolf believes in being the change she wishes to see in her glass.
"People across the county and country are in local bars drinking cocktails made with local spirits and local fruit," she says. "Why not local bitters?"
Flavor writer Hayley Thomas doesn't get bitter, she gets even at hthomas@newtimesslo.com.