Alexandra Wallace isn't your average 26-year-old. She's a professional photographer who's been in the field since she was 19 years old and she recently created a magazine. Coyote + Oak is her newest venture. It showcases creative individuals throughout California.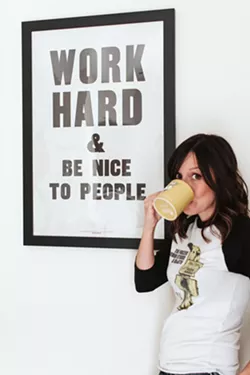 Photo Courtsey Of Lance Wallace
MAKING CONNECTIONS Alexandra Wallace matches writers and photographers together to create Coyote + Oak.
The magazine that started about 2 1/2 years ago has garnered enough local attention that Cal Poly students are emailing her to inquire about an internship.
"I have to email them back and tell them that I do this in my pajamas on the couch. I wish I could, but this is not what you think it is," Wallace said with a laugh. "I'm watching YouTube videos on broken down Disneyland rides while I do this, I'm sorry."
The name Coyote + Oak came from a Wikipedia search of California. The words "coyote" and "oak trees" just stood out the most and she matched them up to create the name behind magazine.
Wallace has a knack for that—matching things together. As editor of the publication, she matches writers and photographers together to work on her stories.
That's what Coyote + Oak is about for Wallace, an outlet for people to utilize their skills in storytelling and showcase their stuff. She realized that there are specific outlets for certain niches, like wedding photography, but not always for other creative people.
If you're a wedding photographer, she said, there are a lot of opportunities to get published, or maybe they have an agent or a promoter help to get their work out.
"For people that are usually doing something cool in their garage or doing something that isn't their full-time job, sometimes they don't have the means to get it out there," she said.
In providing this outlet, Wallace said that she wants her magazine to have a different aspect of storytelling; she wants her readers to feel like they're there with the source.
"I really wanted the voice of the magazine to have a similar tone to a Rolling Stone interview where you're following the subject around and you know what they're wearing or you pet their dog," she said.
A story that has really stood out for Wallace was when a writer spent time with a band.
"He was just staying with them in the desert out in the middle of nowhere for a few days and just going to shows with them and practices. It was everything I would have wanted in a story," she said.
Getting to actually take a look into someone's life is what she aims for in the stories that people pitch or she assigns.
"I think that a lot of things right now are people being so concerned with how they're represented online, how they look, what they look like in a picture," she said. "I love just getting to see what a person is like in real life," she added.
While there are many positives to being your own boss, creating your own publication, and the satisfaction of linking people together, it doesn't always come out as planned. Currently Wallace is working on the fall and winter issues of the paper, and it's a little behind schedule.
"I'm a real person and these are real people. These are people with different lives, and they're just making it work," she said.
For more information about the publication or where to get your hands on a copy, visit coyoteandoak.com.
Fast Fact
The Women's March San Luis Obispo announced the availability of a new grant for students interested in pursuing projects that align with the mission and goals of the organization. These include civil rights, LGBTQ rights, immigrant rights, environmental justice, and others. Grants of up to $500 have been made possible from money raised during the Women's March San Luis Obispo's March for Our Lives event that took place earlier this year. Students may apply for the grant at womensmarchslo.com.
Staff Writer Karen Garcia wrote this week's Strokes and Plugs. Send tidbits to kgarcia@newtimesslo.com.