PHOTO BY GLEN STARKEY
MOURNING LIGHT : Artist Linda Castellon started painting two years ago as a way to cope with the loss of her long-time partner Jeremy Veator, to whom she's dedicating her first exhibition, opening June 12 at Sustenance Cooking Studio.
I
t's 10:30 a.m. on Monday, June 7 as I walk into Linda Castellon's art-filled living room.
"How are you?" I ask as she embraces me and kisses me on the cheek.
"I'm a little buzzed," admits the stately, dark-haired beauty. "I just found out they're taking my father off all the machines, so I drank a couple shots of tequila."
Linda's father Miguel Castellon was one of Fidel Castro's confidants and collaborators in the 1959 Cuban revolution, an idealist whose hopes for a free and independent Cuba were dashed as Fidel moved ever closer to a Communist dictatorship. He eventually fled the island with his family (Linda was born in the U.S.) as his views continued to diverge dangerously from El Jefe's.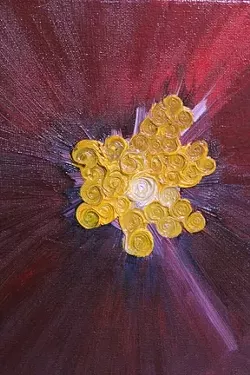 PHOTO BY GLEN STARKEY
"WHAT COMES OUT" : Castellon doesn't plan her paintings. Instead she allows her emotions to guide her.
"Oh, I'm so sorry," I offer. I also happen to know that the impetus for Linda's upcoming exhibition is to display paintings she's made over the last two years to cope with the death of her longtime partner Jeremy Veator, who died in 2007 from lymphoma. "That's a lot to deal with."
"I know, but that's life," says Linda, her dark eyes trying gamely to appear bright. "People die. My father's 78, and he was a partier and a half. He lived a full life."
"Were he and Fidel close?"
PHOTO BY GLEN STARKEY
IMPASTO! : Without any instruction, Castellon simply bought oil paints and started painting, in this case thickly laying on paint into a highly textured surface.
"Yes, very close. They were good friends until he became anti-Fidel. He wanted Cuba to be independent, not Communist—a social democracy."
Though Linda's never been to Cuba—she promised her parents she wouldn't go until after Fidel was dead because her family name remains on an Anti-Castro watch list—her life is inextricably entwined with the tiny island nation. In fact, I first met Linda when she was doing a Cuban food lunch demo at Sustenance Cooking Studio, the location of her exhibit that opens this Saturday, June 12 from 4 to 8 p.m. with Cuban fusion food and live music. The public is invited.
The best way to describe Castellon's paintings is expressionism, and indeed some of the canvases look as though they've been attacked by a feral animal! One even has a knife sticking out of it—I kid you not! She'd never painted before two years ago when she purchased oil paints as a way to deal with Jeremy's death.

FEEL THE ART: Self-taught Cuban-American oil painter Linda Castellon presents a collection of expressionistic paintings created in the wake of her long-time partner Jeremy Veator's death two years ago; at Sustenance Cooking Studio (2033 Santa Barbara St., SLO). The public is invited to an opening with Cuban fusion food and live music from 4 to 8 p.m. on Saturday, June 12.
"It was a way to face losing him. He's very present in most of my paintings. He's the inspiration."
Despite a lack of instruction, or maybe because of it, the emotion in Linda's paintings is palpable. Some images border on the disturbing.
PHOTO BY GLEN STARKEY
HIM AND HER : In this painting, Castellon represented her logical, expressive, dead poet boyfriend in blue and her own passionate self in red; he soars birdlike toward the sun while her heavy heart hangs like ripe fruit.
"I have no agenda; what comes out comes out," she explains. "I just paint, and when I'm done and look at it, it blows me away that I've done that. And they're not about making money; they're about expressing myself. I think people are too often afraid to express the pain they feel, and I wanted to show it was OK. These paintings are part of my journey I've been taken on the last couple years."
Does she think the urge to create will disappear just as quickly as it came?
"No, I don't think so. It's become such an outlet, a way to connect to my spirit. I don't think I could shut it off now if I tried."
Glen Starkey takes a beating and keeps on bleating. Contact him at gstarkey@newtimesslo.com.