A star witness in local workers compensation fraud cases is now under suspicion regarding his own integrity. During a trial in San Luis Obispo last week, investigator Anthony Esparza would not answer questions about whether he had lied regarding his investigations of county employees suspected of workers comp fraud. Esparza repeatedly refused to answer on the grounds that he might incriminate himself, invoking the Fifth Amendment.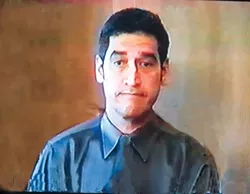 FILE PHOTO COURTESY OF CHRISTOPHER GARDNER
UNDER FIRE : Workers comp fraud investigator Anthony Esparza is taking some heat for refusing to answer questions about his credibility.
# The investigator was on the witness stand during the trial of Shannon Clarke, a former county employee charged with perjury over her workers compensation claim for a work-related injury. He is the primary witness in her case, as well as numerous other cases now being prosecuted by the SLO County district attorney's office.
Esparza refused to answer when asked whether he lied to San Luis Obispo County school districts regarding his investigations of county employees, and whether he had lied when he claimed to have previously investigated several thousand cases.
"There is an issue of credibility,� said Chris Casciola, Clarke's attorney, during cross-examination. "The court is obligated to strike his entire testimony.�
In response, Judge Dodie Harman said she wanted an opportunity to look into the law and to provide both sides with time to address the issue of striking Esparza's entire testimony. The case has been delayed until August 3.
In the meantime, local attorneys say they're keeping an eye on Esparza, an ex-con with a conviction for cocaine peddling who has been the primary investigator on numerous cases currently being prosecuted by the district attorney's office. Esparza himself is being investigated, after allegations of fraudulent business practices.
"The D.A.'s office is an innocent victim,� Casciola said. "They were given a packet of information they believed. Now they are stuck with cases that aren't what they first appeared to be. It was only during the eleventh hour that they realized their investigator has credibility issues.�
Esparza provides secret surveillance for claims administrators who hope to catch county employees committing fraud by collecting worker's compensation benefits despite their good health.
Shannon Clarke was one subject of his surveillance. In 2001, Clarke was employed as a county animal control officer when she injured her shoulder while lifting a dog corpse into an incinerator. She has since gone through three surgeries.
"There is no doubt in my mind that there are people taking advantage of the system,� Casciola said. "But the county should focus on people that are likely to be defrauding the system, not people enduring numerous surgeries. We need to be more careful of whom the system targets.�
Clarke's perjury charge stems from a statement she made during a deposition in 2004 in which she explained that although she regularly participates in 13 equestrian events including barrel racing, she is unable to saddle the largest of her five horses.
Esperanza secretly followed Clarke to two different equestrian events where she was competing, filming her as she saddled and rode her horse. The outcome of the case seems to hinge on which horse Clarke was saddling in the video, Esparza's credibility, and the appropriateness of Esparza's investigative techniques.
According to California Civil Code 17.08, a person is liable for invasion of privacy when attempting to videotape in a manner offensive to a reasonable person.
"He filmed me at the horseshow and kept the camera focused on my butt for about 30 minutes,� said Clarke, a striking woman with long blond hair and pale blue eyes. "My husband was very angry.�
Esparza is currently the defendant in a civil lawsuit claiming invasion of privacy, after he secretly spied on and videotaped Klare Richardson-Tunnell during her wedding and subsequent honeymoon in 2003. Richardson-Tunnell, a teacher for 20 years, has endured two back surgeries as a result of work-related injuries.
The investigator was fired by an employer, Santa Barbara Surveillance. In a 1999 letter to a client, owner Roy Howat explained his action against Esparza: �The reason I made the decision to terminate him was due to the fact that his falsified reports put all of us in a position to be liable for lawsuits and charges of perjury. Submitting a falsified document into evidence is a felony.�
The district attorney's office is investigating Esparza after receiving a complaint from an insurance agency.
"The matter is under consideration and we are evaluating our position on future cases and the appropriateness of calling him as a witness,� said Chief Deputy District Attorney Stephen Brown.