PHOTO COURTESY OF CUESTA RIDGE
PICKIN' FOR PISMO PRESERVE: Great bluegrass-and-beyond band Cuesta Ridge headlines an awareness and fundraising concert on May 4 at Dinosaur Caves Park for The Land Conservancy's efforts to purchase the Pismo Preserve and make it permanent public open space.
Man, I love the Central Coast. It's such an amazing place to live, between the weather, the landscape, and the people, most of whom, like me, seem to appreciate the natural splendor around us.
One reason we have so much amazing natural open space available for recreation is thanks to The Land Conservancy of San Luis Obispo County, an organization that works tirelessly to acquire open spaces and make them available to the public as well as protect habitat for local flora and fauna. They're now trying to raise $11.7 million to purchase the Pismo Preserve, a nearly 900-acre parcel.
This Sunday, May 4 at Dinosaur Caves Park in Shell Beach from 11 a.m. to 4 p.m., The Land Conservancy will host a free community concert called the "Pismo Preserve Rally & Benefit Concert," with bands and artists performing throughout the day.
"Plans for the property include 10 miles of accessible trails for hikers, mountain bikers, and horseback riders," according to The Land Conservancy, which must raise the necessary funds to purchase the property by July 2014 in order to be successful. "This event focuses on the community fundraising facet of the project, which has reached 20 percent
of its target goal."
"All donations generated during the event will be matched dollar for dollar by local donor Maria Junco," added event organizers. "A silent auction with unique items will also help raise funds. Special announcements and project updates will be made by County Supervisor Adam Hill, Pismo Beach elected officials, and other surprise guests."
The show starts with Ragged Company (Tim Pacheco and Cindy Myers) and their mix of Americana, folk, oldies, and originals.
Rally for the Preserve will take the stage, featuring Gale McNeeley, Ken Norburg, and a group of students from PCPA Theaterfest, performing the wacky and original ditty, "Pismo Preserve Anthem," followed by a conservation sing-along.
Anne and Will Dunbar of Musique a Trois will bring their Bourbon Street-style musical entertainment to the stage.
Event headliner Cuesta Ridge will share their eclectic bluegrass-and-beyond music.
"Nature has always been a tremendous solace to me, and the landscape of the Central Coast continually provides me with renewal, and a deep sense of peace," said matching donor Maria Junco. "I am so grateful to The Land Conservancy of SLO for giving me, and all of us, the opportunity to be a part of helping preserve this very special parcel of land, in a place we all call home. Preserving this beauty is both a gift to us, as well as a gift to the future. I imagine people hiking the hills or enjoying the vista from below; this is deeply satisfying to me."
A silent auction with original art and handmade crafts and two mountain bikes donated by Ira's Bike Shop will also help raise funds. Sneak a peek at the auction on The Land Conservancy's Facebook page.
"The Land Conservancy of San Luis Obispo County is a local nonprofit land trust working to protect and restore local landscapes for the benefit of people and wildlife. The land trust's efforts help protect drinking water sources, prevent poorly planned development, restore wildlife habitat, and promote family farmlands and ranches in our region. Now in its 30th year, The Land Conservancy has led collaborative efforts to permanently protect over 14,500 acres of land in San Luis Obispo County."
Get more info at LCSLO.org or call 544-9096.
Reggae, reggae, country
PHOTO COURTESY OF WILL HOGE
NEVER GIVE IN: Nashville singer-songwriter Will Hoge returns to SLO Brew on May 7 to sing songs about his indefatigable spirit.
This week, SLO Brew has both kinds of music, country and western. Just kidding. Try reggae and country.
Louder Space plays on Friday, May 2 (7:30 p.m.; all ages; $10 presale or $12 at the door), with Eliquate and the Fire Department.
Louder Space delivers high-energy rock "with reggae vibes and funk feels." The Central Coast band's released three singles and two corresponding music videos.
"If all we have are dreams, then dream big," says Elliot Wright, frontman and philosopher for the five-piece, California beat rock troubadours, Eliquate, on their latest EP, Who The F*ck is Eliquate?
The Fire Department is a quintet founded on "the love of playing fun, funky, and soulful music, channeling a positive and vibrant energy, and making a personal connection with every crowd they perform for," their bio says.
More reggae is on hand when Fortunate Youth plays on Sunday, May 4 (8 p.m.; all ages; $10 presale or $12 at the door), with The Wheeland Brothers. Fortunate Youth is a collaboration of South Bay reggae standouts. The Wheeland Brothers are two Southern Californian brothers who grew up in Orange County "surfing, scarfing down hole-in-the-wall Mexican food, and jamming around bonfires," they say.
Finally, country crooner Will Hoge plays on Wednesday, May 7 (7:30 p.m.; 21-and-older; $14 presale or $16 at the door), with Matt Stillwell.
Hoge, a Nashville singer-songwriter, is a real road warrior, crisscrossing the country to spread his music. His ninth album, Never Give In, is a collection of 11 songs about maintaining an indefatigable spirit.
"In both my career and personal life, I've had a million chances to walk away or quit," said Will, a married father of two, in press materials. "But with this project, there is a sense of pride and ownership that we—the band, our families, and our fans—have taken, and that mentality is about never giving in. It represents where we all are, artistically and in our lifestyles."
More music …
Bobby Meader Music, an acoustic folk-punk singer-songwriter from Las Vegas, plays the Frog and Peach on Thursday, May 1, at 7 p.m. for free. I listened to his YouTube video "Cutthroat Ferry Session," an acoustic version of a song off his second album My Coffee's All Cold, and dug his energy and raucous vibe! Take a break from Farmers Market and check him out.
Get a sneak peak of Opera San Luis Obispo's upcoming Mother's Day weekend production of Show Boat this Friday, May 2, during the free Brown Bag Concert at SLO's First Presbyterian Church when Brian Asher Alhadeff, Artistic and General Director of Opera San Luis Obispo, along with cast members, perform for free! Tickets for the Saturday, May 10 (7 p.m.), and Sunday, May 11 (2 p.m.), performances of the complete show in the PAC are available at pacslo.org or by calling 756-4849. Grab your lunch and join the free mini-concert at noon in Wilson Hall, on the corner of Marsh and Morro. Doors open at 11:45 a.m. for this special noontime event. Call 543-5451 for more info.
PHOTO COURTESY OF DUSTBOWL REVIVAL
MASH-UP!: The Dustbowl Revival plays a Red Barn Community Music Series concert on May 3.
The Dustbowl Revival plays the next Red Barn Community Music Series concert this Saturday, May 3, (potluck at 5 p.m.; concert at 6; $10 to $15 donation requested), in the Red Barn in Los Osos. The Venice, California-based collective blends "old school bluegrass, gospel, swamp blues, and the hot swing of New Orleans to form a spicy roots cocktail," according to press materials. "Known for their roaring live sets, the Dustbowl Revival boldly brings together many styles of traditional American music. Imagine Old Crow Medicine Show teaming up with Louis Armstrong's Hot Fives and Sevens, or Bob Dylan and The Band jamming with Benny Goodman and his orchestra in 1938. It's infectious, joyous music—a youthful take on time-worn American traditions." That sounds pretty freakin' good! Maybe that's why they were voted "Best Live Band in LA" by the LA Weekly!
Local music guru Cliff Stepp wrote to tell me about Luis Oliart, playing Saturday, May 3, from 7 to 10 p.m. in Pismo's Shell Café: "I've caught Luis' act about a half dozen times and keep going back for more. A good guy, teacher of children, and a great musician. And now, The Luis Oliart Band, featuring Debra Windsong, locally famous for her soulful blue harmonica skills and vocals," have joined forces. The cover's $10.
They'll beat the drum slowly, and faster, and everything in between at The 25th Annual Drum Circuit Drum Competition and Expo this Sunday, May 4, from 1 to 4 p.m. at The Graduate in SLO. "We'll have between 15 to 20 competitors, demos by local percussion groups Samba Loca, the Middle Eastern Ensemble, previous comp winners, and drum circuit staff," Drum Circuit owner Howard Emmons said. "Every year tons of gear is raffled to raise money for the Autism Spectrum Center, including drum sets, cymbals, snares, and hand drums. The event is free of charge. Drum company reps will be showing and selling the latest and greatest. May the 4th be with you!"
PHOTO COURTESY OF THE HORDE AND THE HAREM
TRIPPERS: Seattle-based indie band The Horde and the Harem play the Frog and Peach on May 6.
Ghosts of the American Road, a husband and wife duo featuring Kevin Higgins and Barbara Malteze, play the Songwriters at Play singer-songwriter showcase on Sunday, May 4, at Sculpterra (1 p.m.; all ages; free). "Kevin and I met in L.A., right before the '94 Northridge quake," Barbara explained. "We left shortly thereafter for Austin, where we've been ever since, playing in our Texas band and working on our national duo project. It will have been 20 years since we've been back to the West Coast, so we're thrilled about this tour." Visit songwritersatplay.com for a complete listing of their weekly showcases.
Seattle-based indie band The Horde and the Harem are on the road in support of their new EP released April 12. They play the Frog and Peach on Tuesday, May 6, at 10 p.m. "We've been getting some great reviews on the new EP and video lately from NPR's The Current, Performer Magazine, UTG Review, and the EP was recently added to rotation on KEXP!" said percussionist Justin Ellenson. "Lots of fun stuff happening!" The EP's got a trippy, engaging sound with hooky melodies and lots of texture! They remind me a bit of Edward Sharpe & the Magnetic Zeros. Good stuff!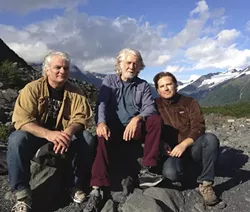 PHOTO COURTESY OF THE JOHN MCEUEN TRIO
NITTY GRITTY: John McEuen, founding member of the Nitty Gritty Dirt Band, plays with Matt Cartsonis and Craig Eastman on May 7 at Blacklake Golf Resort.
This just in! John McEuen, founding member of the Nitty Gritty Dirt Band, plays with Matt Cartsonis and Craig Eastman this Wednesday, May 7, at Blacklake Golf Resort (doors at 4 p.m., show at 5 p.m.; $20 general admission or $40 VIP tables; tickets at blacklake.com). "For this show I will be bringing my pickin' buddies Craig Eastman and Matt Cartsonis," said McEuen. "Matt is one of the finest singers I know. Though he hails from Phoenix, he sings like he is from Kentucky—that high bluegrass lonesome sound with a rock 'n' roll sensibility, and is a funny guy with funny songs, all accompanied by his hot licks on mandola and guitar. We've done hundreds of shows together."
Keep up with Glen Starkey via twitter at twitter.com/glenstarkey, friend him at facebook.com/glenstarkey or myspace.com/glenstarkey, or contact him at gstarkey@newtimesslo.com.