The San Luis Obispo County District Attorney's Office has dropped a felony murder charge against a man arrested for allegedly stabbing his girlfriend to death in a Nipomo home.
SLO County Sheriff's Office deputies arrested Julio Caesar Alonso, 25, of Nipomo on May 31 in connection with the death of his girlfriend, 24-year-old Paulina Ramirez-Diaz. Despite filing an initial criminal complaint against Alonso shortly after his arrest, SLO County Assistant District Attorney Lee Cunningham announced July 5 that the complaint had been dropped.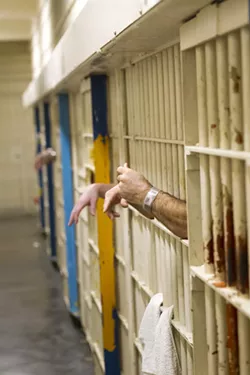 PHOTO BY JAYSON MELLOM
The SLO County DA is dropping a murder charge against 25-year-old Julio Caesar Alonso in connection with the stabbing death of 24-year-old Paulina Ramirez-Diaz. Alonso was handed over to U.S. Immigration officials after his release from SLO County Jail.
"Considering the current state of the evidence, along with our burden of proof, 'beyond a reasonable doubt,' we are unable to proceed with prosecution at this time," Cunningham said in a written announcement issued shortly after the charges were dropped.
Cunningham declined to elaborate further, stating that the case remained an open investigation. In an email response to questions from New Times, Cunningham said Alonso could be charged again if "further evidence" indicating his guilt could be produced.
But there is still a question of whether Alonso will remain in the country due to his immigration status. U.S. Immigration and Customs Enforcement (ICE) officials confirmed that Alonso is an undocumented immigrant who had been deported to Mexico in 2016.
ICE issued an immigration detainer against Alonso after his 2017 arrest for Ramirez-Diaz's murder. The detainer requires local authorities to notify ICE prior to Alonso's release to enable them to take custody and pursue further administrative immigration enforcement action. According to previous statements on the subject, the Sheriff's Office will not hold an inmate with an
ICE
detainer
past their scheduled release date.
Sheriff's spokesman Tony Cipolla confirmed the department was cooperating with ICE.
"This afternoon, [Alonso] was processed for release from our custody and turned over to ICE where he was taken into federal custody pending charges,"
Cipolla wrote in an email response to questions from New Times. "The Sheriff's
Office respects the criminal justice system and the decision made by the District Attorney's Office. We will continue to examine evidence in this case and talk to witnesses, however, we must be able to prove the facts in this case beyond a reasonable doubt."
Cunningham said there were no criminal charges pending against anyone else in connection with the case. ∆