I can see how Daddy Long-Legs, a novel by Jean Webster, might have been an enjoyable read when it was published in 1912. On paper, the premise of a poor orphan girl sent to college by an unknown benefactor, to whom she must write a letter every month, sounds cozy and entertaining, with a hint of intrigue. I can see how Jerusha Abbot's buoyant, well-written, and often humorously naïve descriptions of her new life at college might make for a pleasant literary experience in the vein of Anne of Green Gables and Little Women; how hearts might have been warmed as Jerusha's relationship with her mystery man slowly blossomed into love.
PHOTOS BY LUIS ESCOBAR/REFLECTIONS PHOTOGRAPHY STUDIO
MAN OF MYSTERY : Keeping his identity anonymous, Jervis Pendleton (Kevin Ealey, pictured) sends poor orphan Jerusha Abbot to college, but then goes and falls in love with her, in Daddy Long Legs.
Yet, as a musical in 2012, Daddy Long Legs—adapted and directed by John Caird, and staged at PCPA— translates as bland and out of touch. With its dragging pace, relentless sentimentality, and worst of all, its queasily paternalistic love story, there's precious little here to engage audience members under 55.
From a technical standpoint, everything is flawless. The only two actors in the play, Ephie Aardema, as Jerusha, and Kevin Earley, as the mysterious Daddy Long Legs, carry enormous responsibility with poise and grace. Much of the script is comprised of Jerusha's letters delivered in monologue form, as she either sits at her desk, composing, or acts out the events they describe. It's not easy to deliver such great portions of material without making it sound like a speech, but Aardema manages to make each line fresh, as though it had just occurred to her. Jerusha's monologues are broken up by "Daddy's" reading of the letters aloud at his desk, so that the letters quickly become a kind of duet between writer and reader. Aardema and Earley's singing voices feel powerful and assured, whether solo or entwining lovingly around one another. (A live band backstage, under the musical direction of Julie McBride, does its best with Paul Gordon's terribly schlocky musical score.)
Costume and set designer David Farley has done a beautiful job, too, revealing a sharp eye for detail. A classic gentleman's study, with a bookshelf boasting one of those sliding ladders, sits on a raised platform. This is where Daddy sits and reads Jerusha's letters. The rest is ornate hardwood, windows, and lots of old-fashioned chests where Jerusha keeps her books, which double as chairs, tables, and a bed. It looks simple, but as one might expect from PCPA, the set has a few nifty tricks up its sleeve.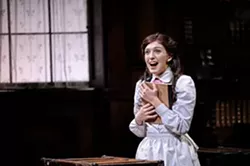 PHOTOS BY LUIS ESCOBAR/REFLECTIONS PHOTOGRAPHY STUDIO
POOR JERUSHA ABBOT : Jerusha Abbot (Ephie Aardema) must write a letter to her mysterious patron once a month, though he will never respond.
Yet despite all the talent it boasts, the production can't help but feel trite and dated. There are moments of enduring humor and wit, of course, but these are rather sparse.
The play opens as young Jerusha, the oldest orphan at the John Grier Home, has just been informed that one of the orphanage's trustees has taken an interest in her writing, and has offered to pay her way through college. She must never meet him, but is required to write him a monthly letter detailing her progress, addressed to "Mr. John Smith." He will never respond. Having once caught a glimpse of his lean, lanky silhouette, Jerusha dubs her benefactor "Daddy Long Legs," eventually shortening it to "Daddy."
This is all fine. Wait 'til it gets weird. Enchanted by her expressive writing, Daddy decides to pay Jerusha a visit, though without revealing his identity. Daddy (the audience learns) is really Jervis Pendleton, the young, handsome uncle of one of Jerusha's snotty classmates, so he has a perfectly normal reason to turn up on campus. Right away, he strikes up a conversation with Jerusha, who, smitten, writes to Daddy about dashing Uncle Jervis. Thus emboldened, Jervis continues to turn up unexpectedly, suggesting fancy dinners, long walks, and trips to the theater. Jerusha continues to pour out her innermost feelings into her letters, which Daddy/Jervis reads with a sort of guilt-tinged excitement.
CATCH DADDY LONG LEGS: Daddy Long Legs plays through Sept. 9 at the Solvang Festival Theater, located at 420 Second St. in Solvang, at 8 p.m. every evening but Monday. Purchase tickets at pcpa.org or by calling the box office at 922-8313.
But instead of choosing that moment to reveal his identity, Daddy keeps up the confusing, philanthropic power charade. When one of her letters to Daddy describes her plans to spend the summer with her best friend Sally—and Sally's handsome older brother, whom Jerusha seems to admire—she receives in return a note from her benefactor's secretary, explaining that Daddy has forbidden it. She is to spend the summer on a farm instead, Daddy commands. Jervis then shows up at the farm, under some feigned coincidence, and continues to woo her, now unencumbered by competition.
Perhaps in 1912, or even in 1955, when the novel was made into a film starring Leslie Caron and Fred Astaire, this would have passed for romance. Yet, even as fellow playgoers sighed over Daddy Long Legs' delicate beauty, I found its manipulative love story rather uncomfortable. Were my senses not so deadened at this point by the play's glacial pace, I might even have worked up some kind of feminist indignation.
Arts Editor Anna Weltner can be reached at aweltner@newtimesslo.com.