Photo By Caleb Wiseblood
POMP AND CIRCUMSTANCE The weekend kicks off with my brother's graduation ceremony. Here he is sandwiched between my parents (notice their adorable, matching shirts).
I should be able to predict the weather by now since it's always the opposite of what I dress for. It's June 16, the day before Father's Day, and my parents, sister, and I are heading down to UCSB for my brother's graduation.
It's 80 degrees and clear, sunny skies almost all the way there, until we pass Refugio. Of course, it's chilly and overcast when we get to Isla Vista; my decision to wear a Hawaiian shirt has doomed us all. I didn't even think to bring a jacket. Luckily we're early, and since we're not allowed to claim seats right away (as a separate, ongoing graduation ceremony hasn't ended yet), we head to the bookstore where I purchase a UCSB sweatshirt to thaw my pale, icy arms. I'm sure you've heard the expression "a Mustang in Gauchos' clothing?" That's me today. And as soon as I exit the store, it's warm outside. But hey, what else was I gonna spend that $40 on? Probably churros at Disneyland, which is where we're heading after the ceremony.
Photo By Caleb Wiseblood
THE GANG'S ALL HERE Mickey, Minnie, Donald, Goofy, Pluto, Chip, and Dale dance their tails off in front of the Sleeping Beauty Castle.
We actually manage to snag some pretty good seats close to the stage. All eyes are on the procession of graduates as "Pomp and Circumstance" plays. We look for my brother, of course. My mom is already in tears before we even spot him. Maybe my dad is too, but he's wearing sunglasses so I can't tell. But I know he's proud. What else can I say? After an eternity of names are announced, we finally hear my brother's. He meets us after that. There's hugging, crying, and lots of Snapchatting. Then we hit the road. Next stop: Anaheim!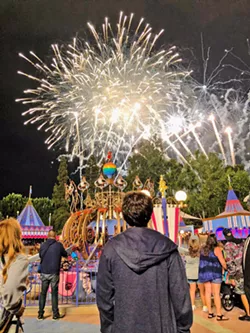 Photo By Caleb Wiseblood
EPIC FINALE The closing fireworks show was an appropriate ending to a celebratory weekend.
Well, that's not true. We stop for dinner in LA first, then we head to the motel. After that, six hours of sleep are all that divide us from Sunday morning. Dad opens a few Father's Day gifts before we rush to the park (I got him two vinyls, one Cat Stevens, one Linda Ronstadt). Once in Disneyland, our primary objective is to conquer all the mountains first. And there ain't no mountain higher than Space Mountain. We head there with the intention of getting a Fast Pass, but we end up just jumping in line (it's only a 40-minute wait, surprisingly). This is the first shred of evidence that the park is less crowded than we were expecting.
One by one, we ride. Splash. Thunder. Matterhorn. Indiana Jones (I consider him part of the mountain family). All are conquered before the sun goes down, some even twice. We catch the fireworks show and browse the various shops on Main Street before our departure. Exiting those Disneyland gates and stepping back into reality is always tough. Just gotta remember that the real world has plenty of its own mountains we've yet to conquer. Plenty of haunted mansions too! Δ
Calendar Editor Caleb Wiseblood used 'ironclads' in the headline as a reference to the Finding Nemo ride (it's a submarine, close enough). Contact him at cwiseblood@newtimesslo.com.