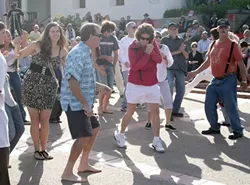 PHOTO BY GLEN STARKEY
CHECK OUT THESE SWEET MOVES! : Folks of every stripe turn out for Concerts in the Plaza.
PHOTO BY GLEN STARKEY
HARMONY! : Nathaniel Wallace and Ruben Urtiz of Nada Rasta deliver the goods during a rousing concert in Mission Plaza Friday, June 10. Truth About Seafood plays Friday, June 17.
It's hard to beat Concerts in the Plaza for pure people-watching spectacle. It's a true cross-cultural event, drawing families, retirees, college kids, tourists—everybody!
It's especially fun if you like watching people dance their faces off, which I do! Like this one woman in front of me here, all dressed in white, leaping around the area in front of the stage just as soon as Nada Rasta launches into its set. Man, she's twirling around, throwing her arms in the air, doing that "come out here" thing with her arms and fingers to coax all the people sitting around watching her onto the dance floor with her.
She's so wild and earnest and into it that she's clearly freaking some people out, which is also awesome! Eventually, however, more and more people join her out front, and thanks to her wild abandon, soon others are joining the crazy dance.
PHOTO BY GLEN STARKEY
GET DOWN! : The mysterious woman in white had the dance floor to herself for a while, but her wild abandon eventually juiced the crowd into action.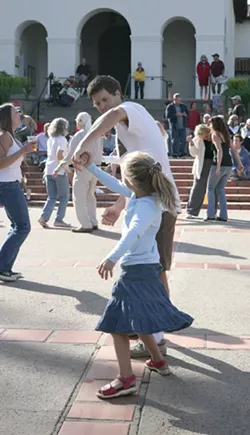 PHOTO BY GLEN STARKEY
FATHER-DAUGHTER DANCE OFF! : A father and daughter show the crowd how it's done.
A father and his young daughter jump into the fray, and he picks her up like she's a rag doll and whips her around him like those '40s swing dancers. She's shrieking with delight, the lady in white is prancing around, Nada Rasta's bass player is thumping away as his Mohawk points straight up at the blue sky and cotton candy clouds.
It's 72 degrees, the Firestone beer and J. Lohr wines are flowing, people are dancing, Nada Rasta has the crowd pumped up … it's summer in SLO Town.

Glen Starkey takes a beating and keeps on bleating. Keep up with him via twitter at twitter.com/glenstarkey, friend him at Myspace.com/glenstarkey, or contact him at gstarkey@newtimesslo.com.