PHOTO COURTESY OF TEN MILE TIDE
FEEL GOOD FUN : Ten Mile Tide flows with spirit and talent, ready to fill the dance floor at the free Stone Soup Music Faire in Grover Beach on Aug. 29.
How about some high-energy folk-rock, feel-good muppet funk, and beer-drenched bluegrass? That's how S.F.-based sextet Ten Mile Tide describes their music.
Known for combining spirit, chops, fun, and artistry, they've been nominated for a Jammy for New Groove of the Year, selected as the New Groove of the Month by jambands.com, and selected as a finalist in Relix magazine's Jamoff Competition.
Ten Mile Tide was founded by two guitarists—twin brothers Jason and Justin Munning—violinist Steve Kessler and keyboardist Marc Mazzoni while they were students at Stanford University. Marty Balou (bass) and Adam Weissman (drums) complete the group.
They discovered the Internet music sharing service Kazaa, and people all over the world started downloading their songs. At last count their fans have downloaded their songs more than ten million times, and Ten Mile Wide has received national and international media attention. They even have a tribute band in Brazil!
From deep, meaningful songs to fun party songs, Ten Mile Tide is surging. They're headlining the 18th Annual Stone Soup Music Faire in Grover Beach on Saturday, Aug. 29 at 7 p.m. Along with all the music at Stone Soup, their performance is free. Wear your dancing shoes!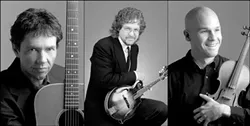 PHOTO COURTESY OF LITTLE BLACK TRAIN
CHOO CHOO : A new acoustic trio, Little Black Train, shows off their stuff at Stone Soup in Grover Beach on Aug. 29 and Aug. 30.
More stones in the soup
Stirring it up at the incredible Stone Soup Music Faire at Ramona Garden Park in Grover Beach will be an exciting new project by some primo Central Coast acoustic musicians. Named after a traditional Carter Family gospel song, Little Black Train features John Weed on fiddle, Kenny Blackwell on mandolin, and Stuart Mason on guitar. This is "oldternative" bluegrass at its best, folks! You'll recognize Stuart Mason (of Celtic band Molly's Revenge, along with Weed) for his tuneful contribution to the New Times Music Awards Top Twenty CD. Kenny Blackwell is known for his work with the Laurel Canyon Ramblers, a legendary California bluegrass band. John Weed is a master of Scottish, Irish, and old-time Americana fiddle. Little Black Train takes the stage at Stone Soup on Saturday, Aug. 29 and Sunday, Aug. 30. North County acoustic music fans can catch a free performance of Little Black Train at 7:30 p.m. on Friday, Aug. 28 up in Bradley at the historic Hesperia Hall.
But wait, there's more. Also performing at the Stone Soup Music Faire on Saturday, Aug. 29 are Taiko drummers Satori Daiko, Russian folksters Big Rock Balalaikas, Drum School 101's Bucket Busters, Mariachi Mexicanisimo with their authentic Mexican sound, and Red Skunk Jipzee Swing Band, known for their 1930s-style European jazz and American roots tradition. All this happens in conjunction with the Stone Soup Health Faire, held from 10 a.m. to 4 p.m.in honor of the late local humanitarian Isabel Ruiz, a tireless hero who started the health fair portion of Stone Soup to offer free health tests to the public.
Then on Sunday, Aug. 30, catch the sounds of the Bald Spots and their 1950s-style rock, the Johnny Starlings, Latin rockers Grupo Aries, plus encore performances by Satori Daiko and Little Black Train. What a weekend! And it's all free! You can find out more by calling 489-9091 or visiting groverbeachchamber.com.
Here's the schedule for Saturday: Big Rock Balalaikas at 10 a.m., Bucket Busters at 11:30 a.m., Mariachi Mexicanisimo at 1 p.m., Red Skunk Jipzee Swing Band at 2:30 p.m., Satori Daiko at 4 p.m., Little Black Train at 5:30 p.m., and Ten Mile Wide at 7 p.m. for a two-hour show.
Here's Sunday's schedule: Satori Daiko at 11 a.m., Bald Spots at 12:15 p.m., the Johnny Starlings at 1:30 p.m., Little Black Train at 2:45 p.m., and Grupo Aries at 4 p.m.
PHOTO BY ANNIE AXTER
ALT-COUNTRY BLUES : Ryan Bingham and the Dead Horses come to Downtown Brew on Aug. 28.
Roadhouse SLO
The watering-hole alt-country blues of Texas songwriter Ryan Bingham and his band the Dead Horses comes to our own local watering hole (and awesome concert venue), Downtown Brew in SLO, on Friday, Aug. 28 at 7:30 p.m. With his characteristic raspy, gravelly vocals and an upstart edge, Ryan Bingham and his band have appeared on The Tonight Show with Jay Leno, plus Late Night with Conan O'Brien and the PBS show Austin City Limits. Now here's our chance to see this deeply personal songwriter outside the confines of the TV screen.
Ryan Bingham and the Dead Horses (Corby Schaub on guitar, Matt Smith on drums, Elijah Ford on bass) will no doubt play some tunes from their latest CD, Roadhouse Sun, which was produced by former Black Crowes guitarist Marc Ford. Take it from the L.A. Times: Roadhouse Sun "rifles through the dirtier pages of the American songbook—outlaw country, roadhouse blues, wind-whipped folk—while blowing it wide open."
Tickets for this all-ages show cost $8, available in advance or at the door. Joe Koenig opens the show.
The fun just keeps on coming at Downtown Brew, and that's always good news for music fans. On Saturday, Aug. 29, catch the sounds of Forrest Day, whose indie-type soul and experimental groove has been wowing fans all over the place. This is an all-ages concert, folks, and tickets cost $8 in advance from Boo Boo Records or ticketweb.com, and $10 at the door. Dublin opens the 7:30 p.m. show.
PHOTO COURTESY OF DANYAVAAD AND THE SHIMMY SISTERS
BELLY UP : Middle Eastern lounge music and bellydancing with fire are what you can expect from Danyavaad and the Shimmy Sisters at the Steynberg Gallery Aug. 27.
The East comes west
Are you ready for a cultural journey? The mystique of the Middle East will appear before your very eyes at the Steynberg Gallery (1531 Monterey St.) in SLO, when Danyavaad and the Shimmy Sisters perform on Thursday, Aug. 27 at 7:30 p.m.
San Diego-based Danyavaad uses an electric sitar and tribal drum beats to create Middle Eastern lounge music flavored with rock and Indian vibes, and how's that for unique? The band's name means "thank you" in Hindi. Thanking you are San Diego's Guitarmageddon champion Greg Vaughan, tribal drummer Gabriel Penix, and DJ/bassist Sandy Bagri. Danyavaad was recently nominated for the 2009 San Diego Music Awards, for best world music and best world album.
The award-winning Shimmy Sisters, Leilainia and Adelaide, are belly-dancing queens who put on quite an extravaganza. Get ready for snakes, swords, fire, and glowing hula hoops, along with the traditional veils and zils. Want to know more? Visit danyavaad.com or theshimmysisters.com, and steynberggallery.com. Tickets for the Steynberg show are $10 at the door.
It's Beatlemania all over again!
Cue the screaming teenyboppers! Beatlemania is alive and well, and whether you were part of it or you missed that era completely, now you have the chance to re-live it, thanks to the Vina Robles Concert Series in Paso Robles.
It's not exactly the original boys from Liverpool, but who cares? Dress up in your best 1960s attire, bring your vocal chords (for the screaming!), and dance the night away on Friday, Aug. 28 at 7 p.m., when Unfinished Business takes the stage to play Beatles classics. This Beatlemania Concert is a special benefit for the worthiest of causes—Big Brothers Big Sisters and the Paso Robles Boys and Girls Club—and Seth Blackburn of Q104.5 FM plays host.
To get you in the mood, there'll be a showing of Beatles' flick Yellow Submarine, and you can dine on English-style fish and chips for $10 (pass the vinegar, please). Or bring your own picnic, just like an original Beatles fan might have. Tickets for this one-of-a-kind musical event cost $25, or $20 for wine club members. Call 227-4812 or visit vinarobles.com for yours. Vina Robles Winery Hospitality Center is located at 3700 Mill Road, off High 46 East in Paso Robles. All you need is love … and so do the kids this benefit supports.
Spice it up
Jamaica-born Richie Spice has earned an international fan base with his uplifting reggae tunes chock full of inspiring messages and political observations. His latest recording features a song called "Gideon Boot," based on the "Johnny Too Bad" rhythm popularized in the film The Harder They Come. The song details his strategic plan to deliver his sermon to a global audience: "I need a Gideon boot and a khaki suit to stand out inna Babylon and defend the truth/ I got a strong reggae beat with a mic in my hand fe lead out de youth dem outta destruction and let de people know right from wrong."
Another Richie Spice tune, "The Plane Land," has been quite a hit in Jamaica, and strikes a familiar chord with anyone who's traveled in the last few years: "Saddle up myself fe take interrogation … tek off mi shoes, tek off mi tam, if they ever find you with a spliff yu gone another land." Isn't reggae great?
See what else Richie Spice offers up to inspire you next Thursday, Sept. 3 at SLO's Downtown Brew. Reggae fans of all ages are welcome at the 7:30 p.m. show. Tickets cost $22 in advance from Boo Boo's or ticketweb.com, and $24 at the door.
More music …
Santa Margarita's homey downtown hotspot, the Porch, is the cozy venue for a songwriter showcase featuring Mikey de Lara on Thursday, Aug. 27 at 6:30 p.m. You can also hear the featured tunes of eight other songwriters, all at 22322 El Camino Real. Call 438-3376 to find out more.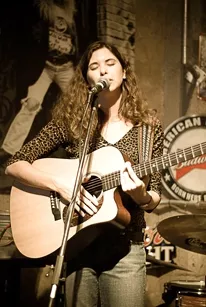 PHOTO COURTESY OF MARE WAKEFIELD
MARE WAKEFIELD:
Nashville songwriter
Mare Wakefield
will share her lyrical talents at Linnaea's Café in downtown SLO on
Thursday, Aug. 27
at 8 p.m. Originally from Texas, she won a songwriting scholarship to Berklee College of Music in Boston and she's never looked back. Her album
Ironwood
was the highest debuting new album on the AMA charts last summer, and it's now featured at Starbucks across the country. No doubt her sophisticated jazzy-bluegrassy-rootsy songs will sound great in the warm atmosphere of Linnaea's, where the coffee is always the best.
Here's a heads-up for music fans who like to listen outside: Cuesta Ridge plays the Avila Farmers Market on Friday, Aug. 28 from 4 to 8 p.m., right by the beach. These bluegrass boys are working on a new recording. Check their website at cuestaridge.net for their complete schedule of performances.
Steynberg Gallery presents Ten Songs of America Today, a concert by Crosby Tyler on Friday, Aug. 28 at 8 p.m. See if you can talk him into performing an eleventh one!
What could be better than fantastic singing and a gorgeous seaside home? See for yourself when Pacific Repertory Opera presents Broadway by the Sea on Saturday, Aug. 29 at the Chapman House in Shell Beach. This concert features the voices of some of PRO's best singers performing some Broadway favorites. Doors open at 3 p.m., and the concert starts at 4 p.m. Concert seating with chairs provided is $35, and table seating is $45, or $300 for a table of 8. Bring your own picnic to round out the afternoon. Call 541-5369 or visit propera.org to reserve your seat.
Are you ready for some positive energy? SLO Down Pub in Arroyo Grande will be filled with the laid-back rhythms of inspiring reggae when Vance Rahie takes the stage at 7:30 p.m. on Saturday, Aug. 29. He's well known locally as the lead vocalist of local favorite roots reggae band Resination. Listen up while you're swaying on the dance floor, because there are conscious messages in his music. It's reggae, after all! SLO Down Pub (1200 E. Grand Ave., 481-4067) is known for its unique interior set-up, which allows all ages to enjoy the show.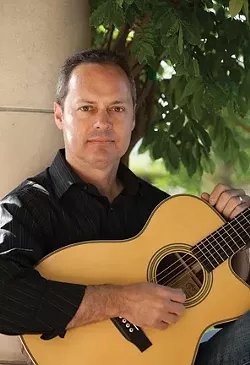 PHOTO COURTESY OF MARTIN PARIS
FINGERSTYLING : Guitarist Martin Paris holds a CD release for Guitarist Off the Vine on Aug. 29 at Castoro Cellars in Templeton.
Local guitarist
Martin Paris
performs tunes from his new CD released by Solid Air Records,
Guitarist Off the Vine
, on
Saturday, Aug. 29
at Castoro Cellars (1315 N. Bethel Road in Templeton). Paris is known for playing a range of blues, Celtic, Latin, and fingerstyle ballads, inspired by the likes of Tommy Emmanuel, Peppino D'Agostino, and Laurence Juber. He'll be joined by bassist Kirk MacLane and drummer Jesse Hesch to perform his original acoustic instrumentals. Tickets for the 7 p.m. show are $15 a person, $25 a couple, which includes a copy of the CD. Dinner and wine will also be available at an additional cost. For tickets, call 238-0725 or 1-800-DAM-FINE, or visit castorocellars.com. You'd better hurry, though: Paris' last CD release party at Castoro, for his 2006 release
Turning Point,
was a sold-out show. You can get a preview of what you'll hear that night by checking out martinparismusic.com.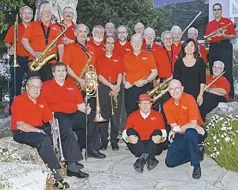 PHOTO COURTESY OF CAL POLY ALUMNI BIG BAND
CAL POLY ALUMNI BIG BAND:
It's that time of year again, when the
Cal Poly Collegians Alumni Big Band
brings the best of Count Basie, Duke Ellington, Benny Goodman, Glenn Miller, Les Brown and more to the Madonna Inn Ballroom on
Saturday, Aug. 29
. The big band includes 20 Cal Poly alumni who've been gathering every year since the mid-'60s, the predecessor to today's University Jazz Bands. Admission to the 7:30 p.m. concert and dance is free. Call 543-3000 for more info, or visit cpcollegiansalumni.com, where you can also see historic photos.
Morro Bay Community Center (1001 Kennedy Way) turns into a concert venue just for Rappin' 4' Tay and Squirrel, who will perform live with Tha Jacka on Saturday, Aug. 29. Doors open at 7 p.m., and tickets cost $20 at the door.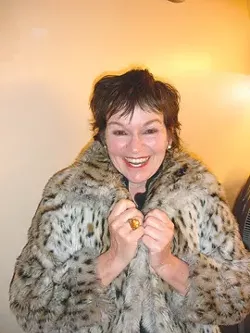 PHOTO COURTESY OF DELILAH SHANK
PARIS COMES ALIVE : Singer extraordinaire Delilah Shank performs the songs of legendary French cabaret singer Edith Piaf on Aug. 29 and Aug. 30 at Pewter Plough Café.
Visit Paris without ever leaving SLO County when the Pewter Plough Café in Cambria presents Delilah Shank singing the classic torch songs and romantic ballads of legendary French singer Edith Piaf in a show called
Delilah Sings! The Songs of Edith Piaf and the Cabaret
. She'll also include music of Stephen Sondheim, Kurt Weill, Jacques Brel and more.
Delilah Shank
started her singing career in New York City, performing in clubs alongside Bette Midler, Barry Manilow, and Melissa Manchester. She's a favorite of Cambria's Pewter Plough crowd, and you'll hear why on
Saturday, Aug. 29
at 8 p.m. and
Sunday, Aug. 30
at 5 p.m. Tickets cost $12; reserve yours by calling 771-8907 or e-mailing cafelounge@pewterploughplayhouse.org.
The lovely sounds of human voices will float across Atascadero Lake Park when the Pacific Horizon Chorus and the Gold Coast Chorus take the stage on Sunday, Aug. 30, from 5 to 6:30 p.m. Bring a chair and a picnic for this free performance. More info: 782-9951.
PHOTO COURTESY OF PK
WHAT DOES IT STAND FOR? : Powerpop rocksters PK take the stage at Downtown Brew on Sept. 1 in an all-ages show.
Powerpop rockers
PK
headline an all-ages show at Downtown Brew on
Tuesday, Sept. 1
. According to
Tasty Fanzine
, "The instrumentation is high quality throughout, particularly the intriguing range of dystopian guitar solos and textures. If you're after something a little more subversive than the classic sunny-side-up Californian rock number, this might just be your thing." Sleep for Sleepers opens the 7 p.m. show, and tickets are $6 in advance from ticketweb.com or Boo Boo's.
L.A. singer/songwriters Taylor Begert and Tim Bergstrom each perform a set as well as backing each other up when they come to Frog and Peach on Wednesday, Sept. 2. They promise to deliver "a fun, atmospheric set that all will enjoy." Check them out at myspace.com/taylorbegert and myspace.com/timbergstrom.
PHOTO COURTESY OF DAVID LYNCH
CALIFORNIA BLUEGRUSION : Singer/songwriter/guitarist David Lynch (center) performs an acoustic set with Mark Travis on mandolin (left) and Frank Duncan on dobro (right) at Peet's Coffee on Sept. 3.
Our very own
David Lynch
, a nationally recognized singer/songwriter/guitarist, pours out a heaping cup of his warm, original tunes at Peet's Coffee (1075 Court St. in SLO) during Farmers Market on
Thursday,

Sept. 3
. He'll be joined in a totally acoustic set by awesome dobro musician Frank Duncan and mandolin magician Mark Travis. Listen closely, since it won't be amplified! His unique sound has been described as a cross between Jack Johnson and David Lindley. This is "California bluegrusion" at its best, with lilting melodies and heartfelt lyrics that make you feel like you've been one of David Lynch's friends all your life. Even his recordings come complete with squeaks and string noise, as if you're in his living room. Luckily for us, he's working on a new CD of his latest original tunes, due out next spring.
Contributor Kathy Johnston may be reached at kjohnston@newtimesslo.com. Glen Starkey is on staycation.
Joe Henry—Blood from Stars
Joe Henry has built his reputation on being an old soul. Preferring the company and sound of the antiquated, he's produced glorious comeback albums for soul legends Solomon Burke and Bettye Lavette, and just this year, pulled lifetime performances from New Orleans icon Allen Toussaint and folk hero Ramblin' Jack Elliott. Thus it's no surprise that Blood from Stars, Henry's eleventh solo outing, dips heavily into musical arrangements of the early 20th century. From the sauntering blues march of "Death to the Storm" or the New Orleans piano and cornet jazz of "Bellweather," Henry's songs are tinted with weary lament. His voice shifts between the finessed, literate pronounciation of Randy Newman to a less guttural Tom Waits, but it's all carried with the expressive playing of drummer Jay Bellerose and guitarist Marc Ribot. It's a solid effort throughout, and a clear nod to jazz and blues as a resilient and malleable art.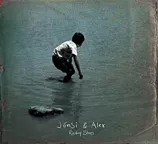 Jónsi and Alex—Riceboy Sleeps
A side project to their art exhibitions, Jónsi (Jon Thor Birgisson) and Alex (Alex Somers) partner up to construct an album that resembles the atmospheric ambience of Jónsi's other band, Iceland's Sigur Rós. Equally delicate, but tossing any post-rock abrasive, Riceboy Sleeps is a dreamy soundscape, seamlessly melded together into a consistent, at times haunting, symphonic requiem. Completely acoustic and featuring the string quartet Amiina and the Kópavogsdaetur Choir, it resembles the sonic landscapes of Brian Eno's ambient works, equally background and foreground music. It's as if an orchestra's tuning had been elegantly deconstructed, and reassembled into a gentle, contemplative composition. Yes, this may whiff of Enya's overdubbed New Age to some. But its an exquisitely crafted album, as lulling as it is mesmerizing.

—Malik Miko Thorne, of Boo Boo Records and mikovision.blogspot.com, where you'll find archived reviews and soundclips.