It's Friday, July 3, and the Steynberg Gallery is packed. The man of the hour, artist David Settino Scott, is seated at a table surrounded by adoring fans, while spread out before him are prints of his pen and ink drawings for those unable to drop $2,200 on an original. Hey, man, you want the best, you gotta pay for the best. There's a great painting for $10,500. Go through your change jar.
PHOTO BY GLEN STARKEY
AMERICAN BEAUTY: Clare Kennedy musters up the bemused expression of her portrait.
Almost immediately, I see my friends Clare and Dave Kennedy, who managed to find a sitter for their adorable little girl, Mabel, and are making the most of their night on the town. I coax Clare into posing in front of her portrait, and we talk about how awesome Scott is.
Pretty awesome, it turns out.
Next I see Paige Kromhout striking a pose in front of her portrait, and she's having a hard time re-creating her expression. She tells me she met David at "a Christmas party years ago," and then I asked her about her experience sitting for David.
"It was fun. It really was. And very natural," she adds, maybe jokingly since she's topless in the painting. "He didn't pose me or anything. I was just in a really natural state."
The naturalist!
The room is full of portraits, nudes, and one room is dedicated to David's Egyptian influences where his pen and ink drawings of a female sphinx share space with two sculptures. Here I find a trio of women posing before a bust of Cleopatra and wrangle them for a photo op.
PHOTO BY GLEN STARKEY
DUTCH BEAUTY: Paige Kromhout struggles to keep from cracking up in front of her portrait.
David put out the word that he wanted women to come in Egyptian-style eye makeup, with heavily lined mascara. Many agreed, including two dudes, but these three ladies turned it up a few notches. Madelyn Ropner and Jamie Ngg actually constructed Egyptian headgear out of dyed-black mop heads and gold spray-painted duct tape. The third, Jeanne Brant, managed, with the help of her husband, to paint her eyelids so when she closes her eyes they still look open. Awesome!
Like usual, the Steynberg Gallery has attracted the glitterati of the local art scene. Cuesta College fine art photography instructor and former Arts Obispo head honcho Marta Peluso is in the house, and I have to chat her up about her husband George Cotkin, a former Cal Poly history professor who now writes intimidating and intellectually challenging books that make me feel stupid.
"Did you read Dive Deeper: Journeys with Moby Dick? It was pretty accessible," Marta assures.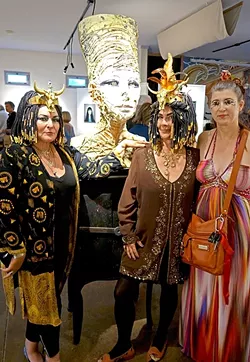 PHOTO BY GLEN STARKEY
WALK LIKE AN EGYPTIAN: (Left to right) Madelyn Ropner, Janie Ngg, and Jeanne Brant get into the Egyptian theme of one part of Scott's show.
"To be honest, I only read the five important chapters of Moby Dick itself," I admit.
"His new book, Feast of Excess, comes out later this year and looks at the artistic excesses of post World War II," Marta says. "It has people like composer John Cage in it."
Hmm. Maybe I could get through it and smarten myself up a bit in the process.
Then I see artist Mark Freear, who recently returned from another trip to Peru. He likes to visit exotic locales, make painting studies, take photos, and then come home and create his colorful paintings of the indigenous people. I think of it as artistic colonization and exploitation. How does he live with himself? How?
There's Terez Autrand, yoga instructor and cosmetologist, hanging with another of David's portrait models, Michelle Aragon. I wonder why all David's models are so beautiful? Doesn't he know any homely women? Weird.
The artist Mark Bryan is here and so is glass artist Larry La Brane and his wife, Rhonda. I need to go out to Baywood and take one of La Brane's workshops!
There's also artist Peg Grady and her musician partner, Don Lampson, who buys my wife and me a beer, which is only two of the many reasons I think Don's the best!
SEE ALL THE WOMEN: David Settino Scott presents Women, a show of portraits, nudes, pen and ink drawings, and sculpture celebrating the female gender, hanging at Steynberg Galley (1531 Monterey St., SLO) through the month of July.
Wow, even Rogue Voice publisher Stacey Warde has come down from the Cayucos hills for this one. I guess when you have a show devoted entirely to women and female energy, you're going to bring out "art" lovers! Viva la women!
Glen Starkey takes a beating and keeps on bleating. Keep up with him via twitter at twitter.com/glenstarkey, friend him at facebook.com/glenstarkey, or contact him at gstarkey@newtimesslo.com.