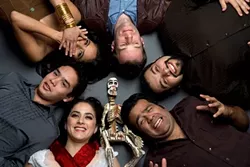 PHOTO COURTESY OF LOS CENZONTLES
SONGBIRDS : The musicians of Los Cenzontles sing in three languages and perform on more than a dozen musical instruments.
"W
hat else is a man/ than what he can provide/ to the people that he loves/ and live his life with pride," asks a singer in Los Cenzontles' most recently released album American Horizon
. The band's eighteenth album was released in November of 2009, and already the Mexican folk music troupe is putting the finishing touches on another album, Raza de Oro
(The Golden People). In English, the band's name translates to The Mockingbirds, and anyone interested in hearing them perform live can attend the Live Oak Music Festival on June 19 and 20.
Eugene Rodriguez originally founded Los Cenzontles as a youth group in San Pablo, California in 1989 with the assistance of an artist in residence grant from the California Arts Council. Five years later, operations expanded when Rodriguez filed for non-profit status for the project, and—with much sweat and enthusiasm—the Los Cenzontles Mexican Arts Center was founded. The Academy is an important branch of the center, offering music, dance, and arts and craft lessons to 200 neighborhood children, ages four to adult. The band is mostly comprised of former academy students who now teach as well as perform.
One of the primary forces that drove Rodriguez to found the center was his inability to find musicians to play traditional Mexican folk music with him. Rodriguez had grown up playing mariachi music with his family, but encountered only commercial music as an adult.
"It was an exploration for me to find rootsier music," he explained. "You're not playing for tips in a restaurant. You're playing to be with family. It's a whole other reason to play."
The band's current core five members all have strong ties to the center, both as students and teachers. Singer Lucina Rodriguez joined the band at the age of 15, and now works at the Mexican Arts Center as a business manager and dance teacher. Her fellow singer Fabiola Trujillo—who immigrated to the United States at the age of seven—also joined Los Cenzontles at the age of 15. Hugo Arroyo plays vihuela, guitarron, jarana, percussion, and tuba with the band, and teaches guitar and voice at the Academy. And Rodriguez' son, Emiliano, began as a student at the center at the age of 5, and now plays piano, electric bass, guitar, jarana and leon with the band.
While studying Aztec poetry and philosophy Rodriguez came across descriptions of a bird of 400 languages, a creature that listens to other birds' songs and incorporates them into his own. It was a metaphor for what he hoped to accomplish with his own musical group. Rodriguez objects to the English translation—mockingbird—of the Nahuatl word, insisting that the bird does not mock, but rather enriches its own song through others.

MUSICA!: Live Oak Music Festival, an annual benefit for KCBX public radio, takes place June 18 to 20. Tickets start at $15 for a child for a single day, $35 for an adult for a single day, and $75 for a full-festival teen ticket, $115 for a full-festival adult ticket. Los Cenzontles perform June 19, from 5 to 6:15 p.m., 10:30 p.m. to 12 a.m., and June 20 from 2:45 to 3L30 p.m. For additional information visit liveoakfest.org.
A journey through the band's discography is an enriching, and often surprising, cultural experience. They've performed cancion rancheras, a Mexican style of music in 4/4 rhythm; corridos, which are ballads that tell stories of heroism or tragedy; pirekuas, love songs sung both in Spanish and Purepecha, the native language of Michoacan; polkas and waltzes; sones, which are songs that imitate nature and are vastly different from one region of Mexico to another. Some of the styles are quite popular, while others are in danger of being lost or forgotten altogether. They sing in three different languages, play such traditional Mexican instruments as the jarana, vihuela, requinto, pandero, and quijada (jawbone), but they also collaborate on cultural fusion projects with master musicians of other genres.
"People expect a Mexican folk group to do one thing," said Rodriguez. "We're Mexicans and we're also Americans. We like all sorts of music."
But behind the many different styles, the message is usually one of hope and cultural reconciliation. The last album, American Horizon is about the immigrant experience, and while many of the songs are filled with yearning and loneliness, it concludes with gratitude for a new life.
"Although I suffer in this world/ so much profound pain/ there is strength in my heart. And for all my senses/ I am grateful," concludes the album's 12th song, "The Strength." The sentiment is expressed more powerfully still in "I Go Walking," which tells the story of an immigrant's tearful farewell to their parents with the hope "that I'll see them again someday." "Now I say goodbye/ like an uprooted tree;/ with the dream of living/ a better life on the other side," narrates the singer.
Had the album been released just a few months later, the tone might have been different, Rodriguez acknowledged, when he began to discuss the Arizona immigration law SB 1070, which the state's governor, Jan Brewer, signed in late April. The bill has generated a storm of controversy, and Rodriguez cites the move as an indication of growing racist sentiment among Americans—which makes his job all the more important.
"There's a lot of need, a lot of fear," he said. "There's an enhanced need for songs about cultural reconciliation. It affects your soul. To be treated as a second class American is painful. It's a betrayal."
In fact, Rodriguez turned to song—specifically the corrido—to express his anger and disappointment. Called "Estado de Verguenza (State of Shame)," Rodriguez doesn't couch his grievances in imagery or metaphor. Instead he straightforwardly asks, "Arizona, state of shame/ what have you done with your fear?"
In the past, Rodriguez shied away from overtly political songs. To his way of thinking, giving underprivileged youth an opportunity to develop as artists, to express their own hopes and fears, is a powerful political act. And it's something he's willing to share with just about anybody who loves music, regardless of their political persuasions or opinions.
"I'm not so interested in preaching to the choir," he concluded.
Arts Editor Ashley Schwellenbach is a corrido and polka all rolled into one. Send lyrics to aschwellenbach@newtimesslo.com.