There are a lot of things Blair Baker likes. The Cal Poly alumna is a self-described geek with special emphasis on music, video games, and anime. So, when she had the opportunity to attend a Final Fantasy concert in San Francisco, you could reasonably expect some gushing about the experience.
"It was crap," she said flatly. "It was so total and complete crap. The symphony wasn't even that good. I was very disappointed. So I thought I could do better."
IMAGE COURTESY OF HIDEO
GET YOUR GEEK ON: See the unorthodox magic of Hideo at Cal Poly's PAC on Nov. 5 at 8 p.m. Tickets cost $18 to $28 and can be purchased by calling 1-888-233-2787 or visiting pacslo.org. For more information, visit hideoconcert.com.
Then, unlike every disgruntled football fan and politician, Baker did something extraordinary: She decided to put her money where her mouth was, setting out on a course to create a theatrical concert experience that melded the very best Japanese video game music had to offer with complementary visuals and a narrative that concert-goers could relate to. With a degree in computer engineering and music, and a series of part-time jobs that dwindled down to nothing several months ago, she was technologically prepared and had the necessary time to activate a team of illustrators, writers, musicians, music directors, actors, and assistant producers. Though the core team that's been working together for more than a year is just a handful of people, when Baker's vision, Hideo, takes the stage at the PAC on Nov. 5, more than 40 people will be assisting in the effort.
Cal Poly grad Christopher Pasillos is one of the core team members who has been along for the entire ride. He serves as music director, which could imply responsibilities as simple as directing the musicians, or selecting music. But Hideo, Baker points out, is first and foremost a concert.
"It was put together to showcase the music," she insisted.
Complicating Pasillos's job is the fact that none of the team members is a music executive, no one had a background in licensing laws, and no one even spoke Japanese—making it difficult to establish relationships with the companies whose music they wanted to use. But before Pasillos could even wade into all of that, they needed to select their music. Their first rule was that it had to be Japanese, partly because their task was easier if they narrowed their focus. But also, they wanted to pay homage to a culture that didn't treat their beloved anime and video games like child's play.
"People here don't take the music seriously," Baker explained. "They're starting to now. In Japan, trust me, cartoons are not just for the kids. In Japan animation is a serious art form."
So they started with music that was artistically good, independent of its role in a video game or anime. Which means that some of the more identifiable video game music won't be included.
Pasillos combed through YouTube to watch Top 100 RPG Battle compilations and as much anime as he could find time for. Baker, who characterizes her role as purveyor of the big picture while maintaining a hand in everything her underlings do, insisted on a handful of songs from the very beginning.
Once they had a playlist in place, Baker and Pasillos listened to every song in order the entire way through. Again and again. Their selections include songs from Final Fantasy IV, Read or Die, Mega Man, Fullmetal Alchemist, and Darker Than Black, among a handful of others.
Then Pasillos dove headlong into the complicated world of music licensing with limited assistance from California Lawyers for the Arts. He quickly realized that different types of shows require different licensing.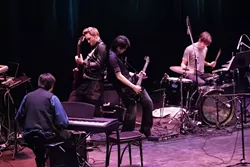 "It was mainly me and Google," he said. "If it was just a live concert, it would be a totally different process."
Because Hideo has theatrical elements—costumes, actors, a plot and the like—the process of obtaining the rights to the music was a complicated maze riddled with Japanese music databases that Pasillos navigated with Google Translate and very formal e-mails between Japanese executives and Pasillos in San Francisco. The end result is that the production company Baker established for Hideo now has a contract and price for each performance of a song.
"It took some doing," Pasillos admitted, "but we feel really good that we understand it and we're doing it right."
But Baker wasn't just looking to create a geeky concert. No video game would be complete with just the music, after all. So she decided that step two, after the music, was to give her audience something relatable, whether they were video game fans or not. That something turned out to be the hero's journey. Good versus evil.
From the get-go, Baker insisted that the title of the show and names for the main characters had to be Japanese. The fact that no one on the team spoke Japanese was a minor hurdle for Baker. She had a friend put her in contact with a family who spoke Japanese. They provided a list of possible names, along with the general meaning. Baker's team tried them out, and narrowed the protagonist's name, which loosely translates to hero, down to three selections. Eventually, they chose Hideo and used the runner-up—Sotoshi—for Hideo's sidekick.
"We needed an ominous sounding name for our super-duper bad guys," Baker said. "The Kaiden is actually a combination of two different suggestions."
The two female characters, Reina and Rebecca, don't have Japanese names.
From there, Schyler Baker—the writer—and Kathy Kowal—the illustrator—were called upon to create a new, rich, and compelling world. Neither had a strong foundation in anime, which Baker chose to regard ultimately as a strength. On Feb. 19, Kowal blogged, "Blair assured me that my mild ignorance of the genre would only bring to it a unique perspective." But Kowal's mild ignorance certainly didn't indicate apathy or laziness. In the same post, she indicates her awe over the magnitude of the task:
"As the story and world were being fleshed out, I realized how many considerations had to go into the process: What era are we in? What architecture/style is present? What kind of clothes do the people wear? What weapons do they use? What's the general mood, visually? And further, how do you keep these all as generic as possible—as timeless as possible? How do we pay a [sic] homage to the stories of anime and video games without calling upon one or the other too obviously?"
At present, production costs are so high that ticket sales don't even come close to covering them. Baker laments that she's unable to pay her performers, recognizing that some of them chose to give up paying gigs that conflict with Hideo. She's borrowed money to help fund her vision, but learned at the first production of Hideo, at UC Berkeley's Zellerbach Hall in 2010, that though expensive tickets might help defray the cost, they also deterred potential audiences from coming.
Which brings us to the question: How did Baker, her team, and Hideo, wind up back at Cal Poly?
As a junior, she began to work as a stage manager at the PAC.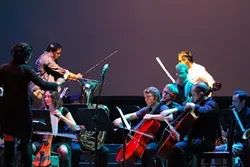 "That building never got used to its full potential," she noted. "I was like, it would be really cool to showcase all the things the PAC can do."
She knew that if she could get permission to use the building, she could also work with the music department, minimizing production costs significantly. But Cal Poly was always more than just a potential venue. It's where Baker began to test her strengths with the technical aspects of producing a show.
"People underestimate what they can do. They're afraid to ask," Baker said. "I want to do a show at the PAC. So what do I do? Ask if I can have the building."
Now here they are. Seemingly against the odds, and with a considerable workload behind them, an uncertain future, and considerable workload ahead—after a brief break for the holidays, of course—and one night at the PAC to revel in everything they've accomplished. Though they're very aware that they're forging a new path in the extent that they've integrated acting and visuals into their concert experience, there's some comfort in the fact that they're hardly alone.
In September, the London Philharmonic hosted a concert in which they solely performed music from video games. And the Final Fantasy concerts, whatever Baker's opinion of their quality, have been around for nearly a decade. Video Games Live is another popular concert series that debuted in 2005 at the Hollywood Bowl and has since toured the world with more than 100 performances.
Still, not everyone's onboard with taking elements from a nontraditional art form like video games and giving it the same treatment as a cantata from Bach or concerto from Mozart. In a March 31 blog, Pasillos responded to an article by Matt Wills titled "Is Video Game Music Worthy of the Concert Halls?" Not really, the piece concluded. But Pasillos defended Hideo's purpose, and the potential virtues of music in video games as well: "Video game music is an incredibly important aspect of modern culture and it deserves no less than the best in a live show," he wrote. "We aim to honor it by presenting it in the most compelling way we can imagine. So is video game music worthy of a live performance? In a concert hall? If done right, absolutely."
Managing Editor Ashley Schwellenbach needs a power-up. Toss her one at aschwellenbach@newtimesslo.com.