PHOTO COURTESY OF SWITCHFOOT
IF THEY HAD A HAMMER : They'd hammer in the morning, but they're a rock band, so Switchfoot will play at the Cal Poly Rec Center on Nov. 28 and donate $1 from every ticket to Habitat for Humanity.
# What happens to a band that used to be on a major label but now isn't? Their management starts the spin cycle, baby.
Multi-platinum-selling San Diego band Switchfoot isn't on Columbia Records anymore, but according to their management, "They are finding newfound freedom of expression in their music, no longer second-guessing or over thinking the music. And they are not playing to just support a marketing plan they are playing because they want to play and touring with whom they want." Awww, ain't that big of them, turning lemons into lemonade and all.
Maybe that's my holiday cynicism talking, or maybe I'm actually feeling manipulated, because "They also have the freedom to help causes they want to help, such as Habitat for Humanity. They are even giving away a song written for the current tour and to benefit Habitat (available at the band's website switchfoot.com)." Is this some disingenuous ploy?
No, says Rick Hoganson of Hoganson Media Relations: "Freedom ensues. Shackles are off. They can do what they want, write what they want, tour with whom they want, give music away if they want."
Readers, I must be a cynical ass. Clearly, Switchfoot is kinder than Jesus. The band's like Gandhi if he played guitar. They're fuzzier than the Easter Bunny!
Check out Switchfoot when they play the Cal Poly Events Center on Wednesday, Nov. 28, with fellow philanthropists Relient K and Ruth during their "Appetite For Construction Tour" when a buck from each ticket sale will benefit Habitat for Humanity. The bands are also offering Habitat for Humanity's top two to four volunteers in each tour market free tickets and a chance to meet the bands.
"For the past three years, the Bro-am has been an amazing chance to give back to our local community," Switchfoot lead vocalist Jon Foreman said of the annual surfing/music event the band founded to benefit San Diego's Care House. "We wanted our next tour to be built the same way: giving directly to local communities around the country. Habitat for Humanity was an obvious fit we're honored to be partnering with such a great organization."
See, people? This isn't some shameless marketing gimmick. These bands are rocking to build houses! Tickets are $29, available at Vallitix outlets including Boo Boo Records and the box office at the Rec Center.
George Bush, the musical
Tired of national politics? Sick of seeing a privileged C-student Yale legacy send our country further into a downward spiral amid a web of lies and evasions and false promises? Well, what if this story was set to music? Then it'd be fun again!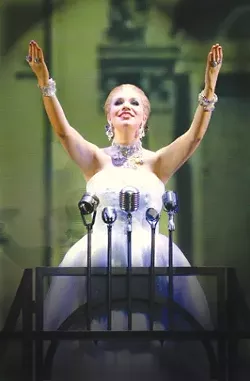 PHOTO COURTESY OF CAL POLY ARTS
POLITICS AS USUAL : Evita Peron was the George Bush of Argentina. Watch her rise and fall when Evita, the musical, comes to the SLO PAC on Nov. 23.
# Cal Poly Arts is bringing the national tour of Tim Rice and Andrew Lloyd Webber's spectacular Evita to the Christopher Cohan Center on Friday, Nov. 23, at 7 p.m.
This epic story chronicles the rise and fall of Evita Duarte, an Argentinean B-movie actress who eventually became the wife of Argentinean president and dictator Juan Per€n, and subsequently the most beloved and hated woman in Argentina. Go see it and imagine George W. Bush as Evita! Imagine him singing, "Don't Cry for Me, America."
When Evita hit Broadway in 1979, it ushered in the era of the mega musical, setting records for the largest box office advance. It went on to sweep all theater awards that year, winning seven Tonys--including Best Musical, Score, Book, and Director.
Tickets are $45 to $60, available at the PAC Box Office, by calling 756-2787, or online at www.pacslo.org.
There's a tear in your beer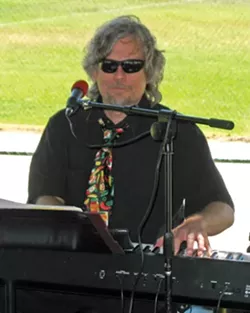 PHOTO COURTESY OF BRENT DANNELLS
FOR THE GIRLS HE'S LOVED BEFORE : Local piano man Brent Dannells is the featured performer at the Songwriters Showcase at the Clubhouse on Nov. 27, where he'll perform songs from "'The Ex-Lover's Parade,' a collection of songs reflecting on past relationships in a number of emotional tones and keys, but with an undercurrent of humor."
# On Tuesday, Nov. 27, local piano man Brent Dannells is the featured performer at the Songwriters Showcase at the Clubhouse, where guest performers will begin at 6:30 p.m., with Dannells taking the stage at 7:30.
"I'll be playing the piano and performing songs from 'The Ex-Lover's Parade,' a collection of songs reflecting on past relationships in a number of emotional tones and keys, but with an undercurrent of humor."
Ah, the holidays! They bring out the maudlin in everyone. Music fans, I encourage you to bring photos of your lost loves upon which you can gaze sadly while crying into your Cosmo or beer or whatever poison your heart desires. Waaaah!
More music
Celtic trio The Muses will deliver an evening of music to blow your kilt up. Tanya Brody plays the harp, hammered dulcimer, penny whistle, and other instruments, as well as sings angelically. Matthew Gurnsey plays the concertina, bodhran, bowed psaltery, mandolin, and--again--other instruments. He sings, too. Annie Mariner plays recorders and bodhran. See them on Saturday, Nov. 24, at Green Acres Lavender Farm ($20 466-0837 with a catered dinner available for an additional charge).
Jazz guitar wiz Bruce Forman, a world renowned player who composed music for Clint Eastwood's Academy Award-winning film Million Dollar Baby, is the next attraction at the Famous Jazz Artist Series at the Hamlet in Cambria on Sunday, Nov. 25, at 4 p.m. ($15) and 7:15 p.m. ($12) or see both shows for $20. Local bassist Luther Hughes and drummer Colin Bailey--as well as series co-producers Charlie (vibes) and Sandi Shoemake (voice)--will join Forman. Reservations are highly recommended (927-0567).
After last August's Downtown Brew Karl Denson Trio show, feedback from locals was so positive that Numbskull Productions and the club decided to bring him back again. Denson is the tenor sax-playing genius of such acts as Lenny Kravitz, the Greyboy Allstars, and his own ensemble, Karl Densen's Tiny Universe. Advance tickets for the Sunday, Nov. 25, show are available at the venue or Boo Boo's for $13.50, or $15 at the door. Local band, Mo'Diggs will open the 7 p.m. show.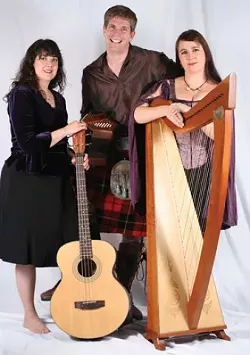 PHOTO COURTESY OF THE MUSES
IRISH WISH : Celtic trio The Muses will deliver an evening of music to blow your kilt up, on Nov. 24 at Green Acres Lavender Farm.
# The Drum Circuit and Sabian drums present Terry Bozzio in an intimate drum clinic. Bozzio first got his start drumming for Frank Zappa in the '70s, but he went on to become one of rock's most versatile session men, and formed one of new wave's most visually exciting outfits as Missing Persons (along with then-wife Dale Bozzio). Advance tickets for the Wednesday, Nov. 28, all-ages clinic are $11.50 at the venue or Boo Boo's.
Mark your calendars for Thursday, Nov. 29, when Downtown Brew hosts the Aquabats with Hunter Revenge for an all-ages, $19 show. Get tickets at the venue or Boo Boo Records.
CD Reviews
Pedro--You, Me & Everyone (Mush)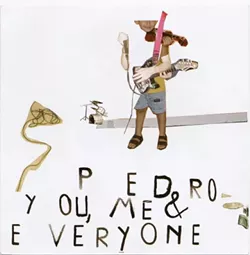 # As the alias of James Rutledge, Pedro could easily be the name taped across his computer monitor. With bedroom technicians who shuffle around programmed beats with odd snatches of instrumental sounds lifted from vinyl records, the art is in the execution. On You, Me & Everyone, the final assembled output combines the looped steady rhythms of hip-hop with the wild frantic energy of free jazz into a musical structure that rapidly pivots between head-nodding pulses and mind-freeing combustion. Rarely does the drumming seem complacently looped. On "I'm Keeping Up" and "Spools," the percussive barrage can shift time-signatures instantly, and with the wild saxophone riffs blasting out, you're likely to think of John Coltrane accompanying Elvin Jones as opposed to an electronic creation. With a continuous propulsive drive, squiggles of synthesized keys, xylophone melodies, and found sounds all compositionally arranged so magically they seem organic rather than crafted, Pedro is a master hand in the confines of the "cut and paste" electronic field.

Various Artists--The Roots of Chicha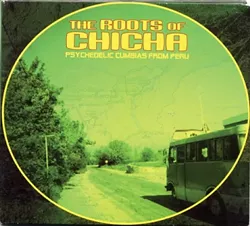 # The British Invasion didn't limit its dominating influence just to the states. Worldwide, in various ethnic locales, musicians reconfigured their bands to the format of drums, electric bass, and guitar, emulating the sound transmitting from pocket radios and television broadcasts. Out popped such genres as Cambodian rock, Mexican garage rock, and Malaysian pop. Similarly, Peruvians translated the cumbias they'd imported from Columbia, but dropped the featured accordion for a steel twine of the electric guitar. Now outfitted with a surf twang and the modern sound of the Moog synthesizers and Farfisa organs, this new sound--titled Chicha after a native corn drink--was distilled for the working class dance floors in Lima. Recorded between 1968 and 1978, this compilation triumphantly recovers this instantly danceable merging of Afro-Cuban rhythms, Andean melodies, and Western psychedelia from overlooked, discarded, international record bins. Recommended for salsa dancers, fans of underground garage, and discriminating lovers of artistic international hybridization, this collection is a true knockout.
-Malik Miko Thorne, of Boo Boo Records and KCBX's "Night Train."
---
Glen Starkey stole your wishbone wish. Eat the last of the gravy as payback at gstarkey@newtimesslo.com.