Democrats in Nipomo were left scratching their heads after receiving a so-called "Democratic Voter Guide" telling them to vote for a Republican in the highly competitive race for SLO County 4th District supervisor.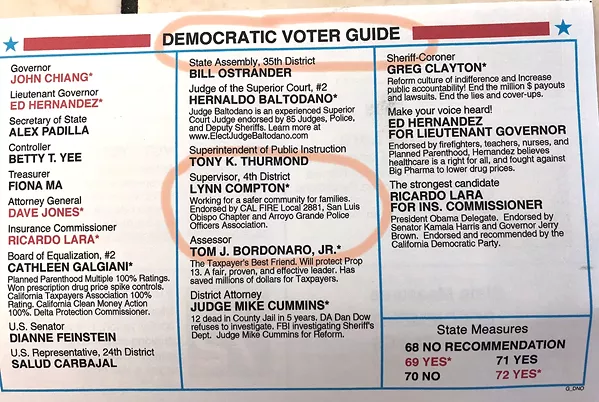 Staff Photo
RED AND BLUE Some Nipomo voters were surprised to see a "Democratic Voters Guide" encouraging them to vote for conservative Lynn Compton for SLO County 4th District Supervisor in the June 5 Primary Election.
While SLO County's Democratic Party has endorsed challenger Jimmy Paulding for the seat, a mailer created by a Long Beach-based company not affiliated with the party lists incumbent supervisor Lynn Compton, a conservative who has both the support and endorsement of the SLO County Republican Party, instead.
The guide does include some Democratic Party candidates running for state and local office the June 5 primary. Compton is included along with Democratic gubernatorial candidate John Chiang, as well as SLO County Sheriff candidate Greg Clayton and SLO County District Attorney candidate Judge Mike Cummins, both of whom are actually sponsored by the county Democratic Party.
Tom Bordonaro, the incumbent SLO County Assessor who snagged the endorsement from the SLO Republican Party, is also listed on the mailer.
SLO County Democratic Party Chair Rosemary Wrenn said that the mailer in question wasn't paid for or associated with the party, which sent its own voter-guide mailer endorsing Paulding over Compton. Wrenn said the party's office was "bombarded" with calls about the mailer. Speaking to New Times, Wrenn raised concerns that such mailers might trick voters by appearing to be an official guide from the party.
"It's so deceptive," she said. "People are looking for information, but not everyone has the time to go really in depth, so they look to these as a resource. Things like this are made to look official, but they aren't. ... It's a pet peeve of mine."
The mailer was created by Voter Guide Slate Cards, a company that has created similar mailers for partisan and nonpartisan elections in the past. Examples of past voter guides on its website show that the Nipomo mailer isn't the first time the company has included Republican candidates in guides aimed at Democratic voters. A 2016 Democratic Voter Guide on the company's website told Los Angeles County Democratic voters to cast ballots for Democratic Presidential nominee Hillary Clinton and U.S. Rep. Adam Schiff, but also for LA County Supervisor Michael Antonovich, a Republican.
The company did not respond to a request for comment from New Times. The mailer sent to Nipomo Democrats, as well as others created by the same company, include a disclaimer that the guide is not from an official political party. Candidates or measures that authorized and paid to be included in the guide are marked by an asterisk, according to the disclaimer. The Nipomo mailer features asterisks next to Compton's name, as well as Bordonaro's, Clayton's, and Cummins'.
When asked about Comtpon's appearance on the mailer, Justin Salters, a campaign consultant for Compton, noted that the 4th District supervisorial seat is a nonpartisan office.
"Lynn Compton's campaign for re-election has sought out various opportunities to communicate with all voters, regardless of political party, to demonstrate Lynn's qualifications for office, her broad-based community support, and her record of supporting the working families and businesses of the 4th District," Salters wrote in an email response to questions from New Times. "That includes appearing on various slate mailers sent to voters residing in the 4th District." Δ
The Fair Political Practices Commission (FPPC) will investigate whether recent votes cast by San Luis Obispo County 2nd District Supervisor Bruce Gibson to deny vacation rentals licenses in Cayucos, where he lives, violated conflict-of-interest laws, according to the state agency.
Los Osos resident Julie Tacker filed the complaint against Gibson with the FPPC in April. Tacker alleged that Gibson's votes on Cayucos vacation rentals could impact his property value, and therefore presented a conflict of interest.
On May 10, the FPPC responded that it would investigate the allegation to determine if any violation occurred.
"Be advised that we have not made any determination about the validity of the allegation or about the culpability of the person you identify in your complaint," the FPPC's response read.
Gibson, who's running for re-election on June 5, denied Tacker's allegation and forwarded New Times a letter he sent to the FPPC in response to her complaint.
"No evidence suggests that my property is at all affected by granting or denying a vacation rental permit," Gibson wrote. "I therefore conclude that any asserted effect on my property is only speculative, hypothetical, or theoretical."
Most vacation rental licenses in SLO County are issued administratively over the counter, but, if denied, they can be appealed to the Board of Supervisors. Gibson has openly opposed the expansion of vacation rental homes in Cayucos—a community with the most vacation rentals per capita in all unincorporated SLO, according to public records—for their neighborhood impacts.
"Mr. Gibson has taken a strong and biased position in opposition to permitting any new short-term vacation rentals in his district," Tacker wrote in her complaint. "He is especially vocal about them in the communities of Cayucos and Cambria where he owns property."
The votes under scrutiny include decisions on two vacation rental applications on Pacific Avenue—about 1,300 feet from his residence—and on Bakersfield Avenue, a little less than a mile from his residence. Tacker's partner, real estate agent Jeff Edwards, represented the applicants for both Pacific Avenue vacation rentals.
If Gibson's votes are ruled a conflict of interest, he could receive a fine and/or be barred from voting on future vacation rentals in Cayucos. Δ