U.S. Bureau of Land Management (BLM) officials will visit San Luis Obispo later this month to take public comment on a pending federal plan to grow oil and gas production on public lands in Central California.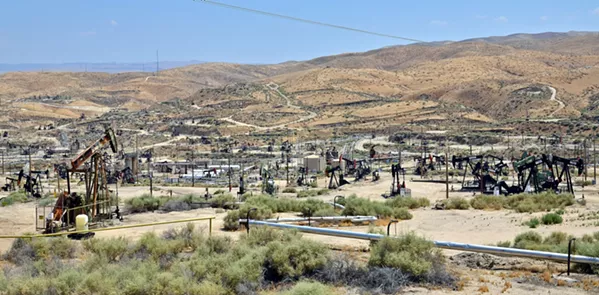 Photo Courtesy Of The U.s. Bureau Of Land Management
NEW DRILLING On May 22, SLO County residents will get a chance to comment on the U.S. Bureau of Management's plans to expand oil and gas production on public lands in Central California (Kern County pictured here). The federal agency will hold a public meeting at Embassy Suites in SLO on the subject.
The meeting—to be held on May 22 in the Hilton Embassy Suites in SLO from 6 to 8 p.m.—will center on a BLM environmental document that outlines the potential impacts of hydraulic fracturing (fracking) on 1.6 million acres of lands in eight counties, including SLO and Santa Barbara.
Nearly 125,000 acres of SLO County lands are part of the review—including high-profile areas like Montaña de Oro State Park, Morro Rock, and parcels near the Carrizo Plain, Lake Nacimiento, and Camp Roberts.
The BLM's draft environmental impact statement is the result of years of litigation between the BLM and environmental watchdogs Los Padres ForestWatch and the Center for Biological Diversity. In 2017, the nonprofits won a lawsuit that forced the BLM to take "a hard look" at fracking impacts before implementing its next resource management plan.
"This is really the BLM fulfilling our commitment to the court order," BLM Public Affairs Specialist Serena Baker told New Times. "This document itself does not open any new lands to oil and gas development."
Per the document, in the 10-year life of BLM Bakersfield's resource management plan, the agency estimates that as many as 400 new wells will be drilled, of which as many as 40 will be fracked. The report claims that on most fronts, the expansion will have "negligible" environmental impacts, including to water resources and seismic activity (like induced earthquakes).
The report also states that the lands most likely to be leased for new drilling would be in or near four existing oil fields: Lost Hills, Buena Vista, Bakersfield, and Sespe—in Kern and Ventura counties. Any new leases that are pursued, the report continues, will require further, site-specific environmental review.
"Just because [SLO County] areas may be included in the analysis, does not mean there would be development in those areas," Baker noted.
Los Padres ForestWatch and Center for Biological Diversity leaders blasted the BLM's report as insufficient and lacking detail, and threatened to take the agency back to court. ForestWatch Executive Director Jeff Kuyper said he found the draft document "disappointing" and "frustrating."
"We're right back to where we started," Kuyper said, "with an environmental document that is inadequate and a plan that will ultimately open our region's iconic landscapes to drilling and fracking."
The release of the report also drew strong criticism from political leaders like Gov. Gavin Newsom and local U.S. Rep. Salud Carbajal (D-Santa Barbara).
"Reckless and irresponsible don't even begin to describe this move," Newsom tweeted on April 27. "The attacks on California and our values by this administration continue. ... We need a future free of fossil fuels—not the other way around."
In a written statement, Carbajal called the BLM's plans "a step backward" in the battle against climate change.
"The Central Coast is already facing grave impacts from climate change, including rising sea levels, drought, and nearly year-round fire season," Carbajal said. "The Central Coast has a long history of environmental stewardship, and we must continue speaking out to protect our clean air, open spaces, and wildlife habitat."
At the BLM's public meeting in SLO, local residents will have a chance to comment for two minutes each, as well as hear a presentation by BLM officials.
A 45-day public comment period on the draft environmental impact statement concludes on June 10. Baker said speakers' in-person comments will not be added to the record, so she encouraged residents to also submit comments in writing.
The agency will hold meetings in Kern County on May 21 and Santa Barbara (at Santa Barbara City College) on May 23 as well. Δ