Early settlers called it Diablo Canyon because of the unrelenting terrain and steep canyons that slice through the hills along the Pecho Coast. A few hundred years later PG&E built a nuclear power plant there, and the name stuck.
Photos by Steve E. Miller
KITCHY: Just one of the quirky signs lining the road to Diablo Canyon.
The winding two-lane road leading to the Diablo Canyon Nuclear Power Plant is bordered by barbed wire on each side. At first, there's nothing to indicate that just a few miles away is one of only two nuclear plants in California and the last one completed in the United States.
After a few miles there are subtle hints. Quirky signs dot the seven-mile drive from the gated entrance at Avila Beach. They're the type of company slogans about safety and work management that typically hang in a workplace break room. One reads "Attitude Turnout" below a picture of a large yellow smiley face.
Miles of nearly untouched coastline stretch beyond the barbed wire. Sparse hillsides roll into ragged cliffs that plummet to the ocean. A thick blanket of sand-colored brush covers the ground, only broken by massive vertical rock formations. And out in the Pacific Ocean kelp forests poke through the water and bob with rolling waves that churn thick patches of yellow foam.
Photos by Steve E. Miller
BELLY OF THE BEAST: Within the walls of Diablo Canyon, steam feeds the massive turbines.
It's easy to forget what lies beyond the next hill, but then there are more clues.
"T-11" reads another sign with a corresponding warning level printed below. The numbers count down almost eerily closer to the plant: "T-10, T-9, T-8 … ."
And then the two domes appear on the horizon.
The power plant itself sits on a fraction of the secluded 12,500 acres and 12 miles of coastline owned by PG&E. It's an industrial city almost entirely cut off from the general public.
Outside, the air is heavy and acrid with the smell of saltwater, fish, and rotting ocean vegetation. Beyond the thick concrete walls, past the armed guards and through the security gates, the guts of the power plant buzz with life. Inside, the building hums and drones like a jet engine. It's hot; it's humid, and almost overwhelming in its size.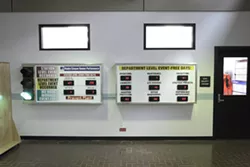 Photos by Steve E. Miller
SO FAR SO GOOD: There hasn't been a catastrophe, but do emergency planners have all the tools to track a radioactive cloud?
The central hub of the plant sits between the massive warehouse that holds the plant's steam generators and the reactor domes. Workers in the control room monitor the reaction and occasionally adjust control rods to keep everything stable. The hope is that the radioactive byproducts stay contained within the domes' thick rebar and concrete.
The good news is that if there is an emergency, there's a plan in place. The bad news: the plan may be based on bad information from a faulty computer model.
The rugged hillsides and ocean breezes make for a breathtaking stretch of oceanfront. But what makes the place so beautiful and unique is also what makes it problematic.
As one security sign reads: "If something doesn't feel right, use your questioning attitude to check for the facts."
Something doesn't feel right
For 29 years, Paul Allen worked for the SLO County Air Pollution Control District before retiring in 2007. He rose to the position of technical services division manager and oversaw a small team that monitored airflows throughout the county.
Beginning in 1984, Allen became part of the team that handles emergency procedures if the radiation at Diablo Canyon escapes and heads toward the surrounding cities and towns. SLO County's Office of Emergency Services comprises a team of experts ranging from Sheriff's deputies to meteorologists. Every year they conduct emergency drills and Allen was there each year for 23 years.
Whether for a drill or a real emergency, the procedure is the same. Experts huddle in the OES office and decide what to do, where to evacuate. Is there a need to evacuate? Or should people just keep their doors and windows shut? Predicting where the radiation is headed is at the core of the plan. For Diablo Canyon, the path of a radioactive cloud is calculated by the Meteorological Information and Dispersion Assessment System, or MIDAS.
MIDAS is the basis of emergency planning decisions. Developed by ABS Consulting in 1975, the software is used across the country and even in Korea for predicting the paths of everything from radioactive releases to biological and chemical terrorist attacks. Radioactive clouds are colorless, odorless, and tasteless. MIDAS is like a drug-sniffing dog alerting experts where the problem is—or at least, where it might be.
MIDAS produces big, bright, colorful blobs of concentric rings that show where the cloud should be headed and how dangerous it will be as it disperses through the air. This is the ideal, but it doesn't always work that way.
Even during his first view of the MIDAS predictions, Allen said they looked wrong. And the more he saw results the model was spitting out, the more skeptical he became, Allen said.
The MIDAS predictions tend to look like clean, cone-shaped clouds with a point at Diablo Canyon that drift along the coast and rarely turn inland. That type of prediction does not fall in line with the known wind flows in Diablo Canyon and the surrounding area.
Allen said he cast his doubts aside for a while and kept quiet. But as the years passed, and as he brought up his concerns with other weather experts, the Diablo Canyon go-to system continued to come up with wonky results.
Winds around Diablo Canyon will often hit the hills and swing south along the coast. MIDAS handles those circumstances fine, he said, but the winds can also shift dramatically, and when they do, MIDAS can't keep up.
The deep canyons and steep slopes surrounding Diablo Canyon have a tendency to funnel winds in odd directions and into crosswinds. For instance: MIDAS would predict winds carrying a cloud south along the coast, when the actual path swings toward Avila and up the valley directly into San Luis Obispo.
Experts agreed that there was a problem, Allen said. Yet with all the variables emergency planners throw in their drills, questioning the computer model and path of the cloud is not one of them.
"You're playing out a script, if you will," Allen said. "So there isn't an opportunity to have a difference of opinion and see how that would be considered."
Photos by Steve E. Miller
WIND WATCHER: Paul Allen is a retired county wind expert. He's standing beside one of several wind stations that don't factor into PG&E's emergency plans.
So Allen and others went digging, and found they weren't the only ones who thought the model was wrong. Reports dating back more than 20 years found that MIDAS struggles to accurately predict the unique wind patterns of Diablo Canyon.
Richard Thullier, a PG&E meteorologist, published a paper in the Bulletin of the American Meteorological Society in 1987, which concluded that MIDAS failed to reproduce results of known wind patterns.
Thullier, and others, found that MIDAS makes predictions using only one wind-monitoring station located at the plant. That station picks up wind speed and direction coming directly off the ocean and tries to predict what it will do when it snakes through the surrounding canyons.
What Thullier reported was that MIDAS is reliable in the predictions made close to the monitoring station, but becomes less accurate about five miles out.
A decade later, Thullier contributed to another report that flatly stated how MIDAS does not work with only one wind-monitoring station.
"For this reason, the current configuration of MIDAS appears inappropriate as an aid in formulating protective action recommendations in a real emergency," that report concluded.
Before MIDAS, officials at Diablo Canyon performed tracer studies to track wind flows in the area. In the mid-1980s, meteorologists released inert chemicals into the air and recorded where the winds took them. In Thullier's 1997 report, he found that MIDAS often came up with predictions that were significantly different from documented wind patterns.
About 40 percent of the 104 nuclear power plants in the U.S. use MIDAS. But Diablo Canyon is not like the rest of the country and is the only nuclear plant on the West Coast that uses the system, according to the manufacturer.
"We're not a flat plain in the middle of Nebraska or someplace like that," Allen said.
The fix
Allen and others brought the problem before PG&E management with a seemingly simple solution: plug more monitoring stations into the system. They didn't criticize MIDAS, Allen said, but argued that it would be more effective with more wind measurements. But PG&E decision-makers responded with complete indifference, Allen said.
"Unfortunately, the management at PG&E has chosen the most cost-effective and least complicated solution, and it doesn't work very well."
There are other PG&E monitoring stations scattered around SLO and Los Osos. The air district also has unused stations in Grover Beach and Morro Bay. Still, the only information feeding into MIDAS comes from one station.
Mark Summerville, director of chemistry and radiation (RAD) protection for PG&E, said he was surprised to learn that PG&E owned unutilized stations. He added that the cost of adding more inputs to MIDAS would probably not be "outrageous," maybe in the tens of thousands of dollars range.
But Allen recalled that for years he was seemingly incapable of convincing PG&E management to update the model. Now that Allen is retired, he said he's become more persistent. He brought his case to the Diablo Canyon Independent Safety Committee in October, but received a tepid response from PG&E officials.
Paul Allen is not the only guy asking for changes, although he's probably the most vocal. Air district Director Larry Allen (no relation) echoes Paul's criticisms.
"We have pointed this out to PG&E on numerous occasions over the past few years and there has been no response to date," he said.
Here is the scenario that has both Allens, and others, worried:
Something goes wrong at Diablo Canyon and immediately the emergency experts gather in an office near the Sheriff's Department. Everyone has their role and they all talk to each other, but they don't always agree.
MIDAS factors in wind conditions from the Diablo Canyon station and makes a prediction. Computer monitors throughout the OES office display the cloud path.
A few people in the room believe the path is wrong. They make their arguments but fail to be as persuasive as the brightly colored MIDAS images.
Meanwhile, a radioactive cloud is carried by the wind down the coast, as MIDAS predicted, but then it changes course and swings inland.
Or: MIDAS predicts that the cloud will head north along the coast toward Morro Bay. In reality, the cloud expands as a large glob that stretches out to Morro Bay, as well as SLO and Pismo Beach.
For some in its path the radioactive particles will pass through harmlessly. Others may get enough exposure that it kills some of their cells, but more cells grow and no harm done.
But for others, the particles may scatter their DNA, fundamentally changing those cells' structure. Eventually such cells can become cancerous. Typically the result is thyroid cancer, explained health physicist Kelly Classic, and it can go unnoticed for years.
Don't worry about it
PG&E representatives have consistently denied that there are any problems with MIDAS.
Pete Ressler, a former PG&E spokesperson, said while he was still on the job that the single-input system predicts as accurately as it would with multiple inputs. Any small gains in accuracy from multiple inputs could slow prediction times, he added.
"The question is: Is the added accuracy worth what it will take to get to it? If it does, in fact, take more time: Is the gain in accuracy enough to make it worth waiting for?"
A MIDAS representative said the system usually makes a prediction in less than a minute. Paul Allen further noted that MIDAS tends to make accurate predictions only under stable wind conditions, which are uncommon for Diablo Canyon.
PG&E representatives also point to their use of evacuation zones. Basically, if MIDAS shows the cloud will cross into any of the zones, that whole zone is evacuated.
Allen countered that even with evacuation zones, MIDAS may produce results that entirely miss an evacuation zone when the cloud actually would flow right through the middle.
Summerville, the PG&E chemist, said he did not believe multiple inputs would be a significant benefit, but thought the criticisms have some merit.
"The APCD meteorologists are, I think, some of the best and brightest around, so when they come up with a suggestion I listen to it."
Speaking with Paul and Larry Allen, there's a certain frustration in their voices. They've identified a problem with the emergency system; others have noticed the same problem; and the solution is relatively cheap and simple. But so far there's been little, if any, progress toward a solution.
For years the official PG&E response has been that there is no problem with the way wind patterns are predicted. But just recently company officials suddenly shifted their position, and in doing so gave some credence to the MIDAS criticisms. In mid-November, PG&E officials met with members of the air district and emergency office in an early move to possibly address potential problems with MIDAS.
For Paul, it's nothing new. He said he's laid out arguments before only to be turned away. But for Larry Allen and Emergency Services Coordinator Meg Swearingen, the meeting was a reason to hope that some of the criticisms are being taken seriously and a remedy may be on the horizon.
"Where we're going now is to look into what products are out there and what can be done by PG&E that can make the situation so that APCD will be
assured that we're getting all the information," she said of that meeting.
Following that meeting, Larry Allen was almost jubilant that real conversations were taking place. It was only a small step in a lengthy and involved process, but it was also one of the first times officials had acknowledged even the possibility of a problem, he said.
"PG&E is researching the feasibility of increasing the number of inputs into MIDAS to determine if it will indeed enhance the model's predictive capabilities," spokeswoman Emily Christensen said in a statement. "It is our intention to meet with the county and the APCD in January to discuss next steps."
So why the sudden change of heart?
Even Summerville was unsure why it took so long for PG&E and APCD members to have a formal meeting. "I feel bad that they've been asking questions for it sounds like a couple of years and they haven't gotten answers. That's really not acceptable." Christensen said PG&E routinely meets with the air district and emergency office and the recent meeting was just another example.
One reason could be turnover at the plant. The old management cast aside critics, but now those managers are gone and the new management is taking a fresh look. At least for now, the new management seems more receptive, Larry Allen said.
"When we showed them the paper from their own meteorologist, they perked up quite a bit," he said.
After years with no luck, Paul Allen is hopeful that a solution could be on the horizon, but he still carries a skepticism that seems beaten into him.
"PG&E can do better and we here in SLO County deserve better."
Diablo Canyon isn't going to change; the terrain won't become less unforgiving and the winds won't change to placate MIDAS's predictions. But for Allen, and others hoping for change, there still seems to be a glimmer of hope. Maybe, they wonder, mindsets within PG&E will follow the same path as the winds and change course.
---
Staff writer Colin Rigley can be reached at crigley@newtimesslo.com.