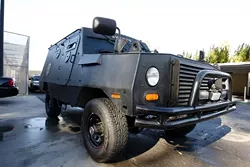 PHOTO BY STEVE E. MILLER
FOUR MORE WHEELS : The San Luis Obispo County Sheriff's Department will soon acquire a second vehicle to combat any potential terrorists targeting the Diablo Canyon nuclear power plant. Pictured is the county's exiting armored vehicle.
# The SLO County Sheriff's Department is planning to buy a new armored vehicle to use to combat potential terrorism at the Diablo Canyon Nuclear Power Plant.
Known as a tactical intervention rescue vehicle, it's designed to be used in situations in which armed suspects capture the facility or people, according to a report by the county Office of Emergency Services.
"The vehicle would be used to re-take the facility and/or rescue hostages," the report states.
Much of the funding for the $225,000 vehicle will be provided by the U.S. Department of Homeland Security. Around $82,000 will come from assets seized during local narcotics investigations.
This will be the second armored vehicle for SLO County, Undersheriff Steve Bolts told the Board of Supervisors on Dec. 4.
The Sheriff's Department acquired a military surplus vehicle six years ago and retrofitted it for use here.
A recent review of security procedures at the Diablo nuclear power plant by the Department of Homeland Security and the Nuclear Regulatory Commission resulted in a recommendation for another armored vehicle, Bolts said.
"To defend against some kind of criminal or terrorist act, at least two armored vehicles would be necessary and required," he added.
Supervisor Bruce Gibson said he would rather see the money from the narcotics assets forfeiture fund used for drug abuse prevention and education and to prevent gang violence. He said that Sheriff Pat Hedges told him in an e-mail that there may be $400,000 in that account.
"Weighing the relative importance of these two things, I'd like to retain the $82,000 for use in drug abuse prevention. On a pure risk analysis, drug abuse might present more of a threat to public safety than the likelihood of a terrorist act," Gibson said.
Supervisor Jerry Lenthall responded, "It's not possible to quantify prevention activity. We don't know how much good $82,000 would do."
Neither Santa Barbara nor Monterey counties has this type of vehicle, Lenthall said, adding, "It's paramount that we have the best tool in the toolbox."
Gibson decided not to pursue the issue, saying, "Even without my reading glasses, I can see handwriting on the wall."
Supervisors eventually unanimously approved the funding request.
The Department of Homeland Security is offering a grant of nearly $550,000 to the county. In addition to the new armored vehicle, the funds will also be spent on preparing a tsunami evacuation plan for the North Coast, preparing a fire evacuation plan for Cambria, and purchasing a trailer designed to help care for pets during evacuations.