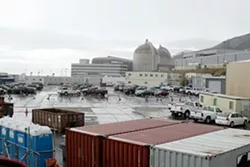 PHOTO BY STEVE E. MILLER
EL DIABLO : The Avila Advisory Council will gather wind and nuclear-power experts to discuss the reliability of PG&E's weather-modeling system.
Members of the Avila Advisory Council are worried about the emergency system at Diablo Canyon nuclear power plant and plan to gather representatives from PG&E and the county to talk about wind next month.

In response to the Dec. 25 New Times story, "Devil Winds," outgoing council chairwoman Sherri Danoff asked to have various experts give presentations to the council, which relays Avila community concerns to the Board of Supervisors.

On Dec. 25, New Times reported that PG&E's wind-modeling system, which would be used to predict the path of a radioactive cloud in the event of an accident, is in need of improvement and critics have lobbied PG&E management for years to no avail. That system, the Meteorological Information and Dispersion Assessment System, or MIDAS, helps emergency officials plan evacuation procedures if there is a radioactive release at Diablo Canyon, but struggles to cope with the chaotic winds surrounding the area.

Officials from PG&E are in the early stages of talks with members of the county Air Pollution Control District, who have repeatedly pushed company officials to fix the system. Although PG&E officials have defended MIDAS' predictions as accurate, they have met with members of the APCD and county Office of Emergency Services to see if improvements can be made.

At the advisory council's Jan. 12 meeting, Patricia Wilmore with PG&E government relations said PG&E experts on radiation and meteorology would be happy to give a presentation and answer questions. She added that progress had been made and PG&E officials were already preparing to buy the next version of MIDAS.

Avila resident Jack Biesek attended the meeting with his wife, Susan, both staunch anti-nuclear advocates. Biesek, who said he keeps a Geiger counter at his home, told council members that he wanted to see more action.

"I think this is an important reporting methodology that we need," he said of wind monitoring in nuclear emergencies.

Representatives from PG&E, the APCD, and the county Office of Emergency Services were invited to give presentations to the council and public at the next meeting on Feb. 9.