Christine Lakatos is devoting her 17 years of experience as a fitness instructor and former bodybuilding competitor, to help women become healthier, by sharing her hard-won wisdom in a new book, My Diva Diet. "After spending so many years in the fitness industry, I'd been answering the same questions over and over again for awhile," said Lakatos, whose accomplishments in the fitness industry include winning Ms. San Luis Obispo in 1989 and competing on American Gladiators in 1990. "I then developed handouts to give my clients the information they needed to get the results they wanted, and people began telling me to write a book. My Diva Diet is what became of that."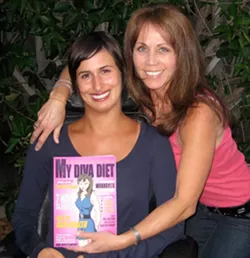 PHOTO COURTESY OF CHRISTINE LAKATOS
HEALTHY BEAUTY : Christine Lakatos (right) and contributing author Amber Garman take a holistic approach to dieting in their new guide for women.
My Diva Diet differs from other diet books by weaving the fitness trainer's principles into a workbook format, enabling women to fine-tune an approach to give them the results they seek. The book focuses on what Lakatos refers to as the five factors affecting body mass and health and incorporates a superhero design to help keep the process light and fun.
"This book is about losing weight and not just fat, and it's different because it's not a quick fix," said Lakatos. "We include diet quizzes, analyses, a journal, and track measurements, so in a way the book is kind of like having a personal trainer." The book is the collaborative effort of several Central Coast residents, ranging from Cal Poly students, who helped with editing, to a neurosurgeon who developed the theme song for the book's website.
"The Cal Poly students have been really energetic, excited, and fun while working with us on this project," said Lakatos. "They've been great."
My Diva Diet is currently being sold by several retailers and websites, including Barnes & Noble, New Frontiers, Amazon.com, and Googlebooks. A childrens' version of the book is in the works.
There will be a book signing with the author on Saturday, October 25 at 1 pm. at Coalesce Book Store in Morro Bay, and those seeking more information on can visit mydivadiet.com;.
---
Intern Aaron Gaudette compiled this week's Strokes & Plugs. Send your business news to strokes@newtimesslo.com.