Peggy was dying.
She had battled cancer for years, but at the age of 45 she was losing her fight. A wife and stay-at-home mother of three children in Ventura, Peggy had caught the online bug and couldn't stop writing about what was happening to her and the effect the disease had on her family.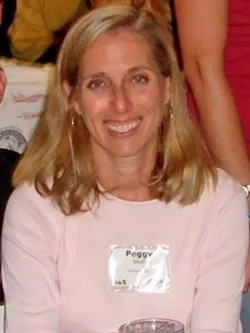 PHOTO COURTESY OF THE WOLF FAMILY
STILL POPULAR : Peggy Wolf's Facebook profile is still humming two years after her death.
She documented her struggle on her blog and Facebook. Friends—including this reporter—and strangers avidly followed both.
Peggy had a unique writing gift, making her struggle with cancer moving and powerful, a fight that was as likely to make you laugh as cry, and sometimes both at the same time. She talked about Christianity and how it shaped her world in the last days of her life.
Then she stopped writing. Her family took over, explaining that she had become too sick to write.
A few weeks later, a picture of Peggy's hand held by her mother during the last moments of her life appeared on her blog. Peggy was gone.
At least in the analog world.
Her blog and Facebook page continued. More than two years after her passing, they're both thriving. Peggy's brother took over her blog before she died and never stopped writing about memories of his sister and updates about her family. Her husband and children took over her Facebook page.
"I really didn't think, in the early days of her passing, much about keeping her Facebook page alive," said Larry Wolf, Peggy's husband. "But day after day in those early weeks and months, I found myself and others posting messages to her ... as if she was still right there. It turned out to be a place where I could just get it off my chest. To feel loss, and to share it sometimes with others. So after a few months, I just decided to keep it going, because so many people felt it was such a great place."
Now, Peggy's Facebook page is active—more active, in fact, than many of her friends' pages. Usually, no more than a few days will go by before someone makes a comment saying they thought of her or shares an old picture.
Peggy's profile picture changes on a regular basis, and Facebook regularly asks her friends if they have "made contact" with her lately. Many of her friends do make contact with her, as if she were checking her account every day. Every few days, a friend will leave a post saying that they were reminded of her or that something she said years ago made them laugh. Her children and husband leave notes, too.
"I am also amazed about the number of people who regularly are writing on her wall. [They leave] a great memory, a funny story, a food or restaurant or show that reminded them of her," Wolf said. "I really like it because it periodically gives me glimpses into stories about her I never heard. It also gives my kids an ongoing fluid story of her life, and maybe something they can read, like a journal, as they grow older. I periodically archive her Facebook page to make sure I am able to preserve the comments."
Peggy would likely be warmed and impressed by how her friends still remember her; they left 43 messages on her page for her birthday.
She's not alone in her virtual immortality. As Facebook and other social networking sites have achieved planet-wide popularity, one particular subset of humanity is beginning a slow but inexorable growth on the Internet: the dead.
More than 6,690 people died each day in 2010 in the United States, and many of them had a Facebook profile or some other kind of online presence. As more people move more of their lives online, few of them probably give thought to what happens to their post-death digital existence.
New Times examined over a three-week period how many of those people younger than 60 who appeared in the obituary pages of the San Luis Obispo Tribune and Santa Maria Times had Facebook pages. The vast majority did.
Obituaries in daily papers usually appear on obit websites such as Legacy.com for a month, and then they disappear. Relatives can pay to have the obituary stay longer.
Though mainstream social media has only just started to deal with dead people, a boutique industry has recently started to help the living prepare and arrange their digital afterlives.
Death in life these days doesn't mean death on the Internet.
It's hard to die on Facebook
MYSPACE IMAGE
DYING YOUNG : Fifteen-year-old Dystiny Myers left behind a MySpace account that's been mostly inactive since her murder.
Facebook hasn't had an easy time dealing with the departed. This shouldn't surprise anyone, since the company is only seven years old and its origins and operating philosophies are imbedded with its initial customers, typically people in their 20s and 30s.
The site never had any system to deal permanently with the profiles of the departed until the shootings at Virginia Tech in 2007. Until that time, a profile could be put into a memorial status for 30 days and then permanently deleted. Students protested and Facebook made memorial profiles permanent.
When New Times inquired about how it deals with the dead, Facebook outsourced its reply. A representative of OutCast agency, a company that helps its clients develop a "smart and custom communications strategy that amplifies its unique narrative," sent an e-mail reply.
According to Kyla Keefe, an OutCast agency representative who said she could be referred to as a Facebook representative, a profile can be converted to a memorial status.
"In the memorial state, certain profile sections and features are hidden from view to protect the privacy of the deceased," Keefe said. "For example, recent statuses are removed, groups the person has joined are hidden, and the person's privacy settings are changed to 'Only Friends' so that only his/her friends can see the profile."
When Facebook gets a memorial request from friends or relatives, it has to investigate to make sure that the subject of the profile is really dead. A newspaper obituary is usually required as proof.
However, family and friends who have control of the profile lose control when a profile is memorialized.
"Facebook's policy is not to provide login information for an account to anyone but the account owner," Keefe said. "Our standard procedure when we receive a report that a user is deceased is to memorialize the account, which restricts profile and search privacy to friends only, but leaves the profile up so that friends and family can leave posts in remembrance. However, we do honor requests from close family members to deactivate the account, which removes the profile and associated information from the site."
Still, there are problems with the idea. Facebook occasionally memorializes someone who is still alive and it's difficult to get oneself resurrected. Other social media companies have developed plans to deal with the deceased. Twitter will bundle all of the tweets of the departed and give them to the next of kin.
We're there for you even when you aren't here
A new industry has risen up in the world of what you'll be leaving behind in cyberspace. These businesses are ready to help you sort your digital afterlife.
There is AssetLock, a company that provides an "online safe deposit box" that allows clients to upload files, passwords, and anything else that will be released to loved ones when you die. Bcelebrated allows members to create a multimedia website that will essentially be an autobiographical memorial site so loved ones can forever check out your own virtual version of the Pharaohs' pyramid. Death Switch will store and send out e-mails after you die, periodically sending personal messages, passwords, and financial information to friends and family. The system is triggered if you don't respond to periodic e-mails. After not getting replies from the customer, the company will presume you are dead and start sending out the prearranged e-mails.
Evan Carroll and John Romano have created "the digital beyond," a website that does for the digital death community what Variety does for the entertainment industry. The site describes itself as "a blog about your digital existence and what happens to it after your death. We're the go-to source for archival, cultural, legal, and technical insights to help you predict and plan for the future of your online content."
The pair has written a how-to book called Your Digital Afterlife.
The central tenet of the duo's philosophy is this: "If you do nothing else, make sure you inventory your most important digital accounts, record your user names and passwords, and then have a conversation with a trusted friend or loved one and tell them how to find it," Carroll said.
Carroll advocates planning extensively for your digital afterlife, much in the same way people have traditionally made wills. Because of the growth of digital photography and the likely growth in cloud computing, they predict digital post-mortem planning will grow to rival traditional estate planning in importance.
Death doesn't treat everyone the same
For all the Peggys who are remembered and honored when they die or the Carrolls and Romanos who plot out exactly what will happen to their post-mortem digital existence, there are others who fall through the cracks.
Dystiny Myers was a 15-year-old Santa Maria girl who was murdered in September 2010.
Raised by her grandmother, Myers grew apart from her family and friends the last year of her life. She adopted a different set of friends, characterized by the media upon her death as a bad crowd. Before Myers was killed, she was beaten, bound, and loaded up on methamphetamines, according to court testimony.
She was too young to consider her Internet presence in the event of her death, but she did leave a trace of herself in her MySpace profile.
Myers' MySpace page reflects the wild side of her life, featuring photographs she posted of herself drinking and smoking. The media took pictures from her profile to negatively illustrate the life she apparently lived before she was murdered.
Unlike Peggy, Myers has no posthumous messages posted on her wall. No one left any condolences to her family, and there are no messages left by friends. The only messages left on her profile's wall are spam.
When asked a few months after Myers' death what they thought about the profile, members of her family and her pastor said they had no idea she had a MySpace profile.
For better or worse, her MySpace profile is all that's left of her in the digital world.
New, but is it any good?
Online legacies are such a new phenomenon, there's little scholarly study of the subject. Psychologists have barely had a chance to examine the impact of an eternal Facebook profile on friends and relatives.
One person who has dabbled in the field is Ned Schultz, a psychology professor at Cal Poly. He thinks the emerging post-life digital phenomenon harkens back to the ancient Greeks.
"They argued that you could beat death and dodge the tricky question of an afterlife by living such an admirable life that we would never forget your words and deeds," Schultz said. "Perhaps a Facebook wall that survives you provides a small measure of immortality in symbolic form: Death did not rob us of your words, deeds, snarky status updates, and wacky photos."
Facebook may end up assisting the mourning process by helping tell someone's story.
"Telling the life of the dead person in stories preserves our memories and helps us make sense of the loss," Schultz said. "Facebook seems to be evolving into a storytelling mechanism, a place where anyone can publish a multimedia biography. Perhaps your friends will continue to write that story after you are gone. If so, it's somewhat like writing a biography or making a movie of your life.
"In the 1990s there were predictions that we'd have video screens on our gravestones to play back our greatest hits. Facebook and Google+ seem less creepy than cemeteries, at least on most days, so perhaps we'd rather visit the dead there. Because almost everyone can have a social media page, the storytelling becomes very democratic. It's the people's biographical machine, and with a little help from your friends, it rolls on after you're gone," he said.
For Peggy's family, the verdict on a post-life digital existence is clear.
"I forget sometimes that there are so many people who knew Peg longer than I, and some who knew her in different ways than I, who are grieving in different ways than me and the kids," Wolf said. "In some ways, this is what has made the Internet a richer part of our lives. [The page] is a collaborative place to laugh, joke, and sometimes grieve together."
Contact Staff Writer Robert A. McDonald at rmcdonald@newtimesslo.com.