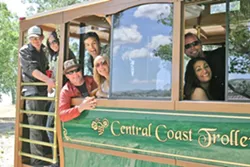 PHOTO BY GLEN STARKEY
ALL ABOARD! : (Left to right) David, Tamara (the birthday girl!), Chad, Dan, Rakesha, Chris, and Patty are among the dozens of us who rode the Central Coast Trolley to four Paso Robles wineries.
PHOTO BY GLEN STARKEY
CHEERS! : The gang clangs glasses at our first stop, Pear Valley.
It's Sunday, May 29, and I'm on the Central Coast Trolley with 11 friends, heading for Paso Robles for a day of wine tasting. It's a celebration for my friend Tamara's 25th birthday, and I know it's going to be a long ride when my buddy Chad yells out, "Take us to the Charles Shaw vineyard!" Then, about five more minutes into the trip, "I have to pee."
Even though we're going to be sampling wine all day, Tamara and her mom Cheri have stocked the trolley with enough drinks to wash a Shetland pony.
Keith, Cheri's boyfriend, asks her if she wants a ham-and-cheese wrap and a bottle of water.
"I can have food and water tomorrow!" she says.
I see Pam, our pilot, and Joyce, the navigator, looking wearily back from the front. This ain't their first rodeo, but we're getting pretty boisterous and we haven't even made our first stop yet: Pear Valley.
BOOK THE TROLLEY!: It ain't cheap, but there's no better way to see the wine country and safely taste plenty of wine than the Central Coast Trolley, which can pick you up at your house and take you to several vineyards, plus get you home safe! Call 1-800-992-9633 to reserve, or visit

centralcoasttrolley.com

to learn more.
Tamara's boyfriend David is swirling his glass and explaining about the "legs" of the wine and how it helps determine the wine's quality. Unconvinced, Rakesha asks the woman pouring us wine, and she explains, "It can be affected by the quality of the glass, the cleanliness of the glass, or the alcohol content."
"Did you hear that?" asks Rakesha.
"Yeah," I say. "Dave's full of shit."
Then my girlfriend Anna says she's sorry she didn't wear a white shirt, because she could keep track of what she drank.
"This stain's Merlot," she says.
PHOTO BY GLEN STARKEY
INTO THE CELLAR : Paul Hoover, owner of Still Water, takes us into his temperature-controlled cellar for a private tasting straight out of the barrels.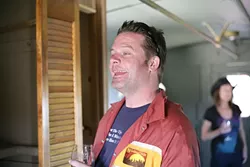 PHOTO BY GLEN STARKEY
THE CARD : Chad kept the quips coming throughout our travels.
"And that's Syrah," say Rakesha.
"And that's vomit," says Anna.
"And that's semen," says Chad.
Wine tasting makes people think they're funny!
"Can I have an ice cube and a straw?" asks Chad.
See? See?
We're back on the trolley heading to Sculpterra, and navigator Pam is asking us if we want a Sharpie to mark our wine purchases, and Chad says, "I need one to write my name in my underpants. It's going to be one of those days."
"Want me to do it?" volunteers Pam, who's clearly a professional drunk wrangler.
Soon we're off on some bouncy back dirt road, and Chad yells, "Where are we going? You're going to harvest my kidneys, aren't you?"
Then we're soaking in the amazing sculpture of John Jagger and sampling Sculpterra wines while Steve Key's Songwriters at Play singer-songwriter showcase gets started in the barrel room.
Then we're back on the trolley heading to Still Water. Cheri's boss Paul Hoover—an insurance man—owns it, so he treats us like royalty, even taking us into his cellar for a barrel tasting.
"Hey, does this wine tasting come with a happy ending?" asks Chad.
"Welcome to our third winery," sighs Anna.
When we get back on the bus, David drops Cheri's Still Water memento wine glass into the ice chest, where it shatters into a million little pieces, and we still have one more winery to go!
Anna and I are muttering about how four wineries are one too many as we pull into Pomar Junction, a rustic little winery that I don't remember at all.
As we're departing Paso, a bunch of us lean out the window to yell "woo hoo" to a couple of kids on bikes.
"Yeah, let's yell at everybody!" shouts Rakesha.
PHOTO BY GLEN STARKEY
PICKING UP STEAM : Rakesha grew increasingly boisterous as the afternoon wore on.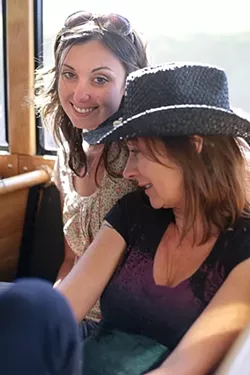 PHOTO BY GLEN STARKEY
HEADING HOME : Birthday girl Tamara and her mom Cheri spend some quality time together as we roll back into SLO Town.
"Woo hoo! We went wine tasting and you didn't!" I join in.
"Wish you were me!" yells David.
I'm pretty sure he won't be yelling that tomorrow morning.
Glen Starkey takes a beating and keeps on bleating. Keep up with him via twitter at twitter.com/glenstarkey, friend him at Myspace.com/glenstarkey, or contact him at gstarkey@newtimesslo.com.