Photo Courtesy Of AvoMarg Fest
ONE AVO, MANY WAYS Everything from a mini-avocado toss for the kids, live bands and margaritas for those who like to party, avocado culinary delights for the foodie set, and a chance to win one year supply of fresh avocados (good for everyone) is on the table for this year's AvoMarg Fest, slated for Sept. 9 on the Morro Bay Embarcadero.
Your cell phone buzzes. You don't recognize the number, but accept the call anyway. On the other end is—who else—but your friendly neighborhood avocado farmer, and he has just alerted you to the fact that you've JUST WON A YEAR'S SUPPLY OF AVOCADOS!
For real. No joke. Dead serious!
What do you do? Maybe perform a crazy touchdown dance in your living room while fist pumping like a maniac? Collapse into a puddle of tears, clutching your heart like you've just won the lottery?
Last year's real life AvoMarg Fest contest winner, a real life North County woman, screamed into her phone like she'd just seen The Beatles live in concert, circa 1965.
If you can relate perfectly to this reaction, I salute you.
You, too, probably believe that avocados—packed with healthy fats and buttery flavor—are Mother Nature's way of proving she really loves us and wants us to be happy. You probably think a bowl of guac and chips constitutes its own meal, and a damn good one at that.
You're also probably going to this year's AvoMarg Festival, slated for Sept 9 on the Morro Bay Embarcadero. Wait. You're not sure? Never been before?
Let me lay some truth on you. This fest isn't just for folks from the valley in need of salty fresh sea air. It's for us locals, too! With such a thriving avocado farming community in SLO County and throughout the coast, why shouldn't we, Central Coast locals, enjoy this hedonistic-yet-healthy homegrown crop to the fullest?
You could even be the next winner of a year's supply of delicious green gold or your very own avocado tree (drawings will take place throughout the event, which runs from 10 a.m. to 7 p.m.). Just the idea of the possibility of winning makes my heart quiver with joy.
According to festival marketing guru Travis Ford, there's more reason than ever for locals (and their whole families) to take a dip into—well—the dip.
"The last few years, it's gotten bigger and bigger. Kids 10 and under are still free, and this year, we decided to take the fest to the next level, adding magicians and kid's performers," Ford said. "Last year, it was a tad too crowded. Now, we have created a much larger open space that will entice attendees to hang around longer."
In addition to live music by a host of bands and the newly expanded kid's "GromZone," mom and dad can dig their forks into an epicurean area where the crop takes full foodie center stage. For those even more interested in the farm-to-table applications, plan on attending the fest's annual Taste of the Grove dinner, slated for Friday, Sept. 8, at The Packing Shed, a Morro Bay avocado farm just minutes from shore. Think: craft beer, artisanal spirits, and chef presenters.
An ongoing fundraiser for the high school boosters, festival day guac is always handmade by the Morro Bay High School Cheer Team and pits are always recycled into plant starters, so local youth can learn where their guac actually comes from (turns out, some really good green things actually do grow on trees).
In short, AvoMarg Fest is all about avocados, the people who love and farm them, and the laid back culture that so perfectly encapsulates California's unofficial snack. Oh, and margaritas, which—let's be honest—have a way of elevating chips and dip into a true West Coast delicacy.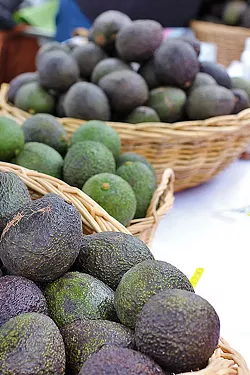 Photo Courtesy Of Avomarg Fest
Longtime festival organizer and avocado farmer Frank Alegria is a living testament to the Golden State's long love affair with the once exotic crop. He owns a 30-acre avocado ranch in Refugio Canyon, nestled in the lush foliage located just west of Goleta. He's also a district field manager at Calavo Growers Inc., one of the oldest avocado packing and distributing plants in the U.S.
Alegria's grandfather and father were both born on the ranch, and Alegria's adult children now live on the same land, carrying on the farming tradition. You could say the family owes this lucky lot in life to their Spanish ancestors, who homesteaded the area in the mid-1800s, first planting beans, lemons, and walnuts.
Avocado trees were planted on the land during the 1940s, back when the fruit was truly a rare treat. The crop might not have worked out so well for the family if it hadn't been for a new, rock star avocado breed—the Hass, which came to the farm in 1952.
"In the old days, we mainly had fuerte, which was a good avocado, but the trees wouldn't produce every year," Alegria said. "There were a lot of different varieties, and they all came off the tree at different times. Hass changed everything, because it not only offered consistency in flavor and ripening, but it also allowed farmers to grow a single variety all year round."
He, like most avocado farmers, will always harbor a soft spot for the Hass. He's also pretty laid back. See, avocado farming comes with its stresses (mainly, everyone from squirrels to bears to human avocado thieves want to get their paws on them). However, avocados are also a slow-and-steady crop that take years to mature and patience to produce.
Working for Calavo, Alegria spends his days stopping at farms, from Montecito to Salinas. These are the folks who are doing everything they can to make sure the AvoMarg fest is ripe and flavorful, indeed.
Photo Courtesy Of AvoMarg Fest
"I help coordinate the harvests and pass information along to the growers of the area. These are real salt of the earth people working on some of the most beautiful farms around," Alegria said. "Cayucos, Morro Bay, and Cambria are all amazing spots for growing avocados, and the farmers I deal with up here remind me of the folks back in the day, growing up."
A lot has changed since the early years of avocado growing in California, but Alegria knows that one fact remains.
No one says "no" to the invitation of a free avocado, whether it be one ripe specimen or a 365-day supply.
"Every time I get the phone number of the year supply winner and I go to call them up, I know it's going to be a very big deal," he said.
Hayley Thomas Cain always says "yes" to an avocado. She can be reached at hthomas@newtimesslo.com.