Dust billows and swirls as a loaded dump truck rumbles along its 500th trip down an unpaved dead-end road. Another full load of dirt is dumped in the bed of the Salinas River south of Atascadero.
Photo Courtesy of the Dept. Fish and Game
VIOLATORS BEWARE : Local officials are getting out the word about the high cost of "free� fill.
# Where there were once frog ponds and willow trees, there's now a filled-in area as long as a city block. A nearby homeowner rubs his hands with glee at the free soil he's scored—from a formerly oak-covered hill at a nearby housing development—to level off a playfield for his kids.
Â
But this is a dirty game, considered environmental crime of the worst degree. Caught with their hands in the dirt, the homeowner and the dump truck driver are now facing stiff penalties. They may even have to remove all the soil from the riverbed and completely restore the smothered habitat.
Â
"These crimes are getting more and more frequent, and more and more heinous,� says San Luis Obispo County code enforcement officer Harley Voss. As streamside dumping cases are mounding up at the District Attorney's office, regulatory agencies are working together to stem the flow of violations.
Â
"The premise has always been 'ask forgiveness before asking permission', says Voss. "They start work without permits, then start the forgiveness phase after getting caught. It's time for people to realize we're changing the mindset of the way they've been doing it. We want to get the word out, before they get the blade out, that they need permits.�
Â
It's not just new housing developments that are creating pollution problems for local streams. The huge earthworks at Cambria's new hillside elementary school eroded into Santa Rosa Creek, impacting fish and frogs. Even the dirt dug up as part of the golden-shovel groundbreaking ceremony at the Los Osos sewer project last October was illegally dumped next to San Bernardo Creek, home to steelhead trout.
Â
Once violators know their crime is at the district attorney's office for prosecution, they often become "very, very cooperative� about removing illegally dumped dirt from creek areas, according David Innis, an environmental scientist with the Regional Water Quality Control Board. "People don't always know the rules,� Innis says. "It's a 'This is the way my dad used to do it' type thing.�
Â
But Dad, and Granddad, also used to be able to catch tasty steelhead trout in our local streams. These once-abundant fish are now considered a threatened species, and dirt in the waterways is one of the culprits in their demise.
Â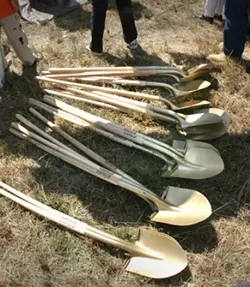 Photos by christopher gardner
GOLDEN TOUCH : Dirt from the Los Osos sewer groundbreaking was dumped near a steelhead stream.
# "Dumping dirt in streams causes sedimentation, which is pretty egregious for steelhead and bad for any aquatic animals,� explains Warden Todd Tognazzini of the California Department of Fish and Game. With increasing development throughout SLO County, Tognazzini spends more and more of his time working to protect local streams from dirty work. "We used to catch deer poachers in the middle of the night. Now we're following dump trucks,� the warden says.
Â
"Sediment is a serious pollutant, with a serious effect on wildlife and habitat,� notes Fish and Game fishery biologist Mike Hill, who has prepared official reports known as Natural Resource Damage Assessments on more than 50 local dirt-dumping cases in the last three years. Sediment in the water prevents fish from feeding and kills the tiny organisms they eat, clogs spaces between their gills and inhibits their breathing, and can cause abrasions and bleeding of their gills, Hill says.
Â
"Steelhead make a nest in the stream by lying on their side and using their tail to make a depression where they lay their eggs. Then they put a pile of rocks on top of the eggs to protect them from predators, which also creates a vortex so there's more oxygen and more flow to carry away their waste,� the biologist explains. Dirt also clogs up the gravel and traps eggs.
Â
It's against the law to dump soil anywhere it can enter a waterway, or to do grading work without a permit, or in excess of the scope of a permit, according to the district attorney's special prosecutor for environmental crime, Steven von Dohlen. "With the increase in development, we've seen an increase in the number of violations,� he says.
Â
Von Dohlen is especially concerned about some of the larger firms involved with recent violations. "We always ask ourselves, 'Was this an error, or a conscious business decision to run the risk, cut corners, and violate the law?' We want to make sure the punishment has a deterrent effect. We're going to continue to make the punishment side harder and more difficult,� the prosecutor says.
Â
The emphasis in recent cases has been on encouraging violators to fix the problem right away, he says, "before we tell them the punishment.� Their level of cooperation has a bearing on whether their punishment involves jail time and heavy fines, or probation. "We're saying, 'Look, don't try to do this stuff without permits or it will cost you significantly.'�
Â
Equipment owned by multi-million-dollar business A.J. Diani Construction Co. of Santa Maria has been involved in at least two recent violations, according to enforcement officers. Company spokesman Rick Jackson says he can't comment on the Los Osos sewer or the Cambria school cases because they're in litigation. "Normally we don't dispose of any material unless it's at an approved site,� Jackson explains.
Â
He says he doesn't think it's a valid observation to say that companies have found it cheaper to ask for forgiveness than permission. "We're not scofflaws. We don't willfully ignore the law. But with 250 employees in our engineering division, sometimes one ventures off the reservation and tries to take shortcuts. If they do, they don't do it again.�
Â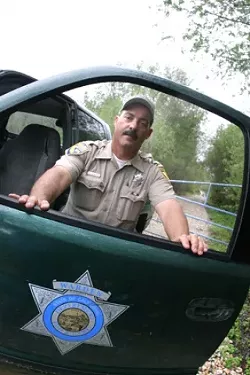 Photos by christopher gardner
FISH PROTECTOR : Fish and Game Warden Todd Tognazzini spends more and more time policing environmental crime.
# For years, according to the Diani spokesman, it was "common practice to fill holes� with excess dirt graded from construction projects. The laws regarding stormwater runoff, on the books since the 1970s, have only recently been enforced, he says. "I don't know if it's valid, or if it's more junk science. Anyone who's taken Biology 101 knows that aquatic life is dependent on the periodic discharge of silt into streams for nutrients. Are we making things worse? I don't think so.�
Â
Fish and Game warden Tognazzini takes issue with Jackson's comments. "I don't think a steelhead trying to lay eggs in a nest of clean gravel would agree. Steelhead cannot reproduce without clean water. Certainly, natural nutrients do enter streams, but that's from natural breakdown of detritus. But dumping 7,000 to 10,000 cubic yards of dirt? I don't know of any biology textbook that would say that's a good thing,� the warden says.
Â
Tognazzini blames "rampant development� for the pile-up of recent illegal dumping cases and the impacts on local aquatic life. Fish and Game and other agencies are investigating quite a few recent reports:
  Â
* About 100 dump truck loads of dirt and eucalyptus trees removed during the groundbreaking for the Los Osos sewer project were deposited on private land adjacent to San Bernardo Creek near Morro Bay. Officials required all the material to be removed. The case is under review by the district attorney.
  Â
* At the massive new Las Lomas housing development in south Atascadero, 70,000 cubic yards of dirt—7,000 dump truck loads—left the site, even though the City of Atascadero approved an environmental permit filed by developer R.W. Hertel and Sons which claimed the development is a "balanced project� (no dirt added or removed from the site) with no environmental impact report required. The developer has now filed an amended grading plan. Enforcement officials have determined that around 7,000 cubic yards were dumped in the Salinas riverbed five feet below the high water mark, and some was also deposited at the new Dove Creek development in south Atascadero, but so far they don't know where the rest of the soil ended up. The case is under review by the district attorney.
Â
* A mile-long swath as wide as a football field was illegally graded on the La Panza Ranch near Highway 58, outside Santa Margarita, where piles of earth washed into Huerhuero Creek. The case is with the district attorney.
Â
* Also along Huerhuero Creek, near Barney Schwartz Park in east Paso Robles, a giant earthen berm has been illegally installed, using dirt from the Centex housing development near Cuesta's North County campus.
Â
* A contractor is facing the revocation of his license by the State Licensing Board, after illegal grading along Seventh Street near Peachy Canyon Road in Paso Robles. Even with four stop-work orders from code enforcement officers, the contractor continued grading work.
* Grading work for a new avocado orchard on Turri Road resulted in bare soil piled up in the riparian zone of Warden Creek, near Los Osos. The landowner has been cooperating with authorities to restore the habitat and repair the site.
* The "Heritage Loop improvements� near Lake Nacimiento, where 224 homes and new roads are being developed, resulted in dirt being dumped in a creek. Wetland specialists have been called in, and the U.S. Army Corps of Engineers is also on the case.
Â
Tognazzini says, "Often environmental laws aren't considered that important in criminal cases. We've gained a lot of ground in my 20 years on the job, but often we don't hold people responsible for environmental crimes. We'd like to see more accountability related to these cases.�
Â

Photos by christopher gardner
FOLLOW THAT TRUCK : Enforcement officials ask anyone who suspects illegal dumping near a creek to call CalTips at 1-888-334-2258.
# Penalties haven't been severe enough to have a deterrent effect in the past, he notes. "When you're looking at a multi-million dollar housing project, civil disposition or probation and a $3000 to $5000 fine isn't much.�
Â
Deputy district attorney von Dohlen says the increase in development is responsible for the increase in cases for the environmental crime division, along with better identification of violations by agencies and citizens. "Our goals are first, to stop the violation, then fix the violation, recover the costs or damages caused, issue the appropriate penalty or punishment, and take whatever action has a satisfactory deterrent effect to prevent that violator or others from doing it again. Lately we've been encouraging violators to fix the problem right away, because it's an ongoing threat to the environment. The court fight can wait. The sooner they fix the problem, the greater the protection for the environment,� he says.
Â
"The reality is, they can't proceed with their building project till they fix the problem. They could have stopwork orders, their permits or their license revoked, so there are several incentives for the violator. We don't want to fall into a pattern where the violator thinks he'll do something with or without a permit, and if he's caught he'll fix it, and if not, he got away with it.�
Â
Von Dohlen adds, "Our goal isn't to sit in the bushes and wait to catch people. Ideally we'd like to educate people up front, to steer them away from violations. If we're not vigilant about how people treat and respect our waterways, it's a slippery slope. The line is, don't put anything where it can get in the waterway unless you have a permit.�
Â
He warns property owners and contractors not to scrape away "nature's protective layer against erosion,� adding, "A scraped, denuded environment can cause a mudslide into a waterway, and have a huge impact on wildlife, or cause flooding up- or downstream. Those are the domino effects people may not realize.�
Â
Regulators from all the agencies—Fish and Game, the Regional Water Quality Control Board, and SLO County code enforcement—agree that more education is needed, along with getting the word out about harsher penalties including site restoration.
Â
As John Kenneth Galbraith noted in The Affluent Society, "The greater the wealth, the thicker will be the dirt. This indubitably describes a tendency of our time.� Or, as rockers AC/DC sing, "Dirty deeds, and they're done dirt cheap.�
Â
Fish and Game biologist Hill concludes, "Let's keep soil from entering streams. I'd rather see our creeks and streams full of fish than full of dirty water.� ∆
Award-winning journalist Kathy Johnston may be reached at kjohnston@newtimesslo.com.