In a world seemingly awash in reggae acts, The Aggrolites remain something special—soulful, rooted in tradition, but looking nothing like a reggae act. In fact, these five light-skinned dudes look like they should be in a punk band.
Originally, they were members of two L.A. reggae and ska bands—the Vessels and the Rhythm Doctors—who teamed up in 2002 to act as the backing band for reggae icon Derrick Morgan. Even though the recording project they did with Morgan was never released, the band members realized they had something cool going on, and in 2003 they released Dirty Reggae, their debut. For the last eight years, they've been touring almost constantly while recording three more studio albums.
Most recently they came off the Vans Warped Tour, where they played all 44 dates, and they continue to tour for their new live album Unleashed Live Vol. 1, which features songs from all four studio albums recorded live at The Belly Up in Solana Beach and The Roxy Theatre in L.A. The new record also contains covers of The Beatles' "Don't Let Me Down" and "Banana" by the legendary reggae artist Roy Ellis. Another studio album, Rugged Road, came out earlier this year.
PHOTO COURTESY OF THE AGGROLITES
DON'T JUDGE A BAND BY ITS COVER : They look like a punk band, but The Aggrolites are a rootsy reggae act that isn't afraid to cover The Beatles. See them Sept. 14 at SLO Brew.
Mixing grit and the sounds of Motown-style soul, this reggae act has appeal across genres and is guaranteed to please the ears. See The Aggrolites on Wednesday, Sept. 14 (7:30 p.m.; all ages; $12 presale or $14 at the door), at SLO Brew, with theatrical Japanese punk rock group Peelander-Z opening.
There's a whole bunch more going down at SLO Brew this week, starting with pop punk heroes Unwritten Law on Thursday, Sept. 8 (8 p.m.; all ages; $15 presale or $16 at the door), with Versus the World opening.
On Friday, Sept. 9, catch New Zealand-based, all-Maori reggae act Katchafire (7 p.m.; all ages; $20 presale or $22 at the door), with openers Elan and White Elephant.
Campy, hilarious old skool punks The Dickies take the stage on Saturday, Sept. 10 (7:30 p.m.; all ages; $12 presale or $13 at the door), with Johnny Madcap and the Distractions and local act The Berzerks opening.
Come Sunday, Sept. 11, you can see Eisley (7 p.m.; all ages; $12 presale or $14 at the door), an indie pop act comprised of four siblings and a cousin. Marksmen will open.
Finally, famed singer-songwriter James McMurtry (7 p.m.; 21-and-older; $18 presale or $20 at the door) returns to the Brew on Tuesday, Sept. 13, with Jonny Burke opening. The son of novelist Larry McMurtry, James has inherited his father's penchant for creating hard-edged characters.
A songwriter's songwriter
It usually only takes one listen for Michael Fracasso's songs to get under your skin. The Austin-based performer just has a knack for creating hooky, infectious melodies and narratives songs your want to lose yourself in. He's certainly got the rough and tumble background one expects of a songsmith.
"I grew up in the steel-mill town of Mingo Junction, Ohio," he notes in his bio. "My parents were Italian immigrants. I learned about music through listening to AM radio and going to the County Music Jamboree in Wheeling, W. Va. The first concert I saw was Kitty Wells. I never knew what a 'honky-tonk angel' was, but I loved her voice."
Fracasso worked the mill in the summers, did the college thing, but music was what he wanted, so he headed for New York and started writing songs. His first published tune was "Big Sister," which hit No. 11 on the Canadian charts. He was on his way.
In 1990, he moved to Austin, where he's become a respected figure in its verdant music scene. he recently released his thoroughly engaging seventh studio album, Saint Monday.
PHOTO BY MEGAN REED
MUSICAL PICASSO : The genius of Michael Fracasso's songwriting will be on display Sept. 8 at The Porch and Sept. 9 at Steynberg Gallery.
See Michael Fracasso play a short set at The Porch as part of Steve Key's Songwriters at Play showcase on Thursday, Sept. 8 (6:30 p.m.; all ages; pass the hat). He'll also play a full show on Friday, Sept. 9, at Steynberg Gallery (8 p.m.; all ages; $10) with local duo Bob & Wendy, with whom Fracasso is good friends. Expect some interesting collaboration!
Songwriters at Play
While we're on the subject, Steve Key's weekly showcases are serving up a serious helping of good stuff this week. In addition to Michael Fracasso at The Porch on Thursday, you can also see Havilah at Sculpterra Winery on Sunday, Sept. 11 (1 p.m.; all ages; pass the hat). If you like Norah Jones, Joni Mitchell, and Nina Simone, Austin-based Havilah has been compared to all three. The show will also include performances by a duo called Boho Chapeau, and all the Songwriters at Play showcases several performers playing four-song sets.

PHOTO COURTESY OF JOHN ELLIOT

JOHN DOES HANK : John Elliot will be one of seven performers playing Sept. 12 at The Spot to celebrate what would have been Hank Williams' 88th birthday.
The Spot in Arroyo Grande will be the spot for a special installment of the showcase series on Monday, Sept. 12, as a celebration of what would be Hank Williams' 88th birthday (7 p.m.; $10 at the door). Performers include John Elliott, Glenn Horn (of the bluegrass band Better Late Than Never), Jimmy Townsend (of the California Blues Band), Ted Waterhouse (of the BlueSouls), Shannon Savage (of That Evening Sun), Randall Lamb, and Steve Key. Hear classics such as "Cold Cold Heart," "Lost Highway," and "I'm So Lonesome I Could Cry."
Finally, blue-collar troubadour Rod Picott headlines Kreuzberg on Tuesday, Sept. 13 (6:30 p.m.; all ages; pass the hat). The former construction worker from Maine moved to Nashville in the mid-'90s and earned an opening spot on Allison Krauss' tour. He co-wrote "Broke Down" (recorded by Slaid Cleaves), the most-played song on Americana radio that won "Song of the Year" at the Austin Music Awards and was featured last year in the Michael Douglas film Solitary Man. Other performers will include SLO's own Melody Klemin, local band History of Painters, and traveling storyteller Wayward Stranger.
More music …
Brooklyn-based folkie Robin Bacio plays Linnaea's Café on Thursday, Sept. 8, as part of her West Coast tour in advance of her debut LP, Rest Our Wings. "Bacior's voice speaks of a much older soul, and she crafts songs that are folk vignettes softly painted in waltz timing," said her publicist.
Vu Doo Lounge plays the Frog and Peach on Thursday, Sept. 8, from 8 to 11 p.m., delivering a unique blend of hard driving rock'n'roll, electric blues, and original songs in the vein of the Rolling Stones.
Michael Mull grew up in Los Osos but moved to L.A. in 2005 to study jazz and the saxophone. "I currently lead a trio that plays my original music," he wrote. "We have an in-store performance coming up at Boo Boo Records on Friday, Sept. 9, at 5:30 p.m." Get your dose of free jazz and see how this local cub has grown into a young jazz lion.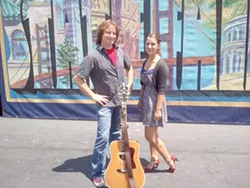 PHOTO COURTESY OF DEEP FRIED BUBBLEGUN
ALL IN THE FAMILY : Father-daughter duo Deep Fried Bubblegum brings southern country and blues roots sound to Linnaea's Café on Sept. 9.
It's a name only a mother could love … or maybe a carnival vendor. Los Angeles-based acoustic duo Deep Fried Bubblegum is bringing its southern country and blues roots sound to Linnaea's Café on Friday, Sept. 9, from 8 to 10 p.m. Calling their sound "organic soul," the father-daughter team delivers harmony vocals while traversing blues, country, bluegrass, rockabilly, rock'n'roll, and R&B.
Mark Huff combines elements of classic British rock and Route 66-inspired American pop on his new album feels like california, the follow up to his critically acclaimed Gravity. Currently based in Nashville, he'd been living in Las Vegas where he'd opened for folks such as Willie Nelson, Bob Dylan, and Chris Isaak, but the road keeps calling. "I'm most at home playing to a roomful of strangers," he said. You can be one of those strangers when he plays The Porch on Thursday, Sept. 8 (as part of Steve Key's Songwriters at Play showcase), Last Stage West on Friday, Sept. 9, and Paso's The Pony Club on Saturday, Sept. 10.
PHOTO COURTESY OF PEPE ROMERO
GUITAR MASTER : Living classical guitar legend Pepe Romero will be the featured performer at the Sept. 9 opening of La Guitarra California Festival, which runs through Sept. 11.
It's that time of year again, when SLO County becomes a classical guitar lover's paradise. This year's La Guitarra California Festival is an expansive three-day classical guitar event—Friday, Sept. 9, through Sunday, Sept. 11—that will present 20 world-renowned artists over 16 events, including 11 concerts, four master classes, a free lecture, dozens of luthier exhibits, and a display of the famous Forderer Collection of Rare and Historic Guitars. There's way too much to list here, but visit laguitarracalifornia.com for complete details.
Acclaimed pianist Anyssa Neumann plays a Hospice Partners of the Central Coast benefit concert on Saturday, Sept. 10, at 3 p.m. in Mt. Carmel Lutheran Church. This young pianist has made her mark in the concert halls of both North America and Europe, and will be performing works by Bach, Haydn, Schumann, and Scriabin. Admission is $20 ($10 for students and seniors). Call 782-8608 for tickets.
D'Anbino Vineyards and Cellars tasting room will host the Barflyz on Saturday, Sept. 10, from 7:30 to 9:30 p.m. This cabaret-style quintet has performed with Steve Miller Band, Carole King, Tower of Power, and Lucy in the Sky. Expect everything from original cool jazz, pop hits, standards, and bebop. There's a $10 admission ($5 for Record Club).
SLO County's answer to Jack Johnson, the surfin', soulful, quintessentially California David Lynch has a couple more shows before he departs on a worldwide tour. I ran into him on the street the other day, and his plan is to head to Australia and New Zealand for some already booked gigs and then "go from there." If all goes well, you may not see him around these parts for up to a year! He plays Saturday, Sept. 10, at Paso's Clayhouse Wines Tasting Room from 5 to 7 p.m. (Your $10 cover includes a glass of wine!). He also plays SLO's awesome eatery Luna Red on Sunday, Sept. 11, from 5 to 7 p.m.
Stephanie "Honey Bunch" Lallouz plays Linnaea's Café on Sunday, Sept. 11, at 7 p.m. The Canadian native was raised in Miami but spent her summers as the lead soprano in the Folk Song Festivals for Camp Pine Valley in the Laurentian Mountains, Quebec.
SIN, a duo from Georgia, plays Last Stage West on Sunday, Sept. 11. Jimi Davies is on guitar and Anthony Halley is on drums; the two have been friends so long you would think they were brothers, and they've been playing together for 13 years. Said the band, "We try to play music that will move people in the most primitive, human way possible."

Keep up with Glen Starkey via twitter at twitter.com/glenstarkey, friend him at Myspace.com/glenstarkey, or contact him at gstarkey@newtimesslo.com.