PHOTO BY BARRY GOYETTE
DREW SILVAGGIO :
There was a warrior who had a fine stallion. Everyone said how lucky he was to have such a horse. "Maybe," he said.
Don't embarrass me," Drew Silvaggio prefaces the beginning of a rehearsal for his annual spring show. There's no question that he's joking; Civic Ballet's artistic director has absolute confidence in his company of 27 dancers, who he is relying upon to carry his eclectic spring offering, not a performance so much as guerrilla warfare theater.

One day the stallion ran off. The people said the warrior was unlucky. "Maybe," he said.

In January the Civic Ballet board informed Silvaggio that they would be canceling the company's spring show, instead dedicating the budget and time to restructuring. The announcement was undeniably a blow; the choreographer has built his reputation locally on staging lavish, emotionally charged productions, including a Pink Floyd-fueled journey through Alice in Wonderland and an exploration of the imaginative world of Where the Sidewalk Ends. Besides the company's conservative holiday production of The Nutcracker, Silvaggio was at loose ends, artistically. He remains the company's artistic director, but his job is to choreograph and stage productions, and if that's not happening, what then?

So, he decided to proceed with the spring show. Not defiantly, or petulantly, but determinedly. And with the blessings of the board of directors.

Hearkening back to his first performance effort in SLO, which involved rounding up a handful of dancers and putting on a show at the SLO Little Theatre, Silvaggio is coordinating three evenings of dance at the Little Theatre, on April 5, May 24, and June 7. While living in Philadelphia, Silvaggio performed whenever and wherever he could, including in such illustrious venues as an old state penitentiary; he doesn't need the PAC in order to dance. The effort is admittedly scaled back from the six performances he had planned while the show remained under the Civic Ballet banner head. There will be no nymphs walking off the edge of the stage, no caterpillars, or snakes, or smug Cheshire cats. Instead "The Slightest Movement" is about just that—motion, storytelling, and emotion—organic, stripped of the elaborate production elements.


EVER SO SLIGHTLY: Drew Silvaggio, Artistic Director of Civic Ballet, presents "The Slightest Movement" at the SLO Little Theatre April 5, May 24, and June 7 at 6 p.m. Tickets cost $20, $15 for students, seniors, and children and can be purchased at the door or by calling 544-4363.
"It's a grassroots effort and that's really what it's going to take to perform in this economy," explained Silvaggio. "If there are no funds to create a masterpiece, I can't create a masterpiece. But there is something I can control and that's me. I wanted to make that statement to the dancers. We almost feel like little badasses. Like 'oh, we're doing something crazy.' And I think a company almost needs that every once in awhile."
The next day the stallion returned, leading a string of fine ponies. The people said it was very lucky. "Maybe," the warrior said.
The dancers agreed to perform without pay and parents and other community members have stepped forward to offer their support as well. They distribute fliers and sew costumes. Silvaggio even found himself making the tickets for his performance, using paper from Staples and an inkjet printer; he's accustomed to relying on the PAC's ticketing office to perform such services, but the act engendered a sense of pride and ownership in the show. And things began to look up when the board informed him that a donation had been given specifically toward the spring show. Suddenly, Silvaggio had a budget. It might be less than one-tenth of the sum he is accustomed to spending, but it gave him something to work with.
Costumes will be minimal. Silvaggio describes them as neutral, but polished, of course. And sets and props have been limited to a couple of chairs, as well as whatever the Little Theatre happens to have on hand for their current production.
Instead of focusing on a single theme or narrative, "The Slightest Movement" jumps from place to place and across multiple ideas. The choreography was assembled from a handful of dancers, including Silvaggio, company members Jackie Lee and Dana Lossing, Swany (who has provided choreography for Celine Dion), and Alex Ketley (director and founder of The Foundry in San Francisco). Some are as brief as eight minutes, a few stretch to 20 or 30 minutes. And each evening will be unique, featuring different pieces.
"I would say they're character-based drama dance," Silvaggio explained. "The idea of character is really important."
Later, the warrior's son was thrown from one of the ponies and broke his leg. The people said it was unlucky. "Maybe," the warrior said.
You might watch a piece choreographed to a tape teaching the Spanish language, each word accompanied with a specific gesture. The dancer/ instructor nods and smiles encouragingly, shaking her hands like maracas to indicate the term "noche." The students answer the instructor's queries with dance, alternately smug and uncertain.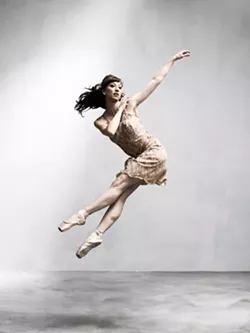 From funny and witty, the music transitions to a high-pitched tinkling, like a music box, and you expect to see Silvaggio's dancers transform into perfect porcelain ballerinas. The class thins and Silvaggio, the lone male ballerino, is left with one eager girl, whom he turns from. The dance then explores what would have happened had he not turned from her. Finally, the performance rewinds, the dancers moving backwards, hastily and comically, and he's back to that moment. He gets to make a different decision, should he so choose.
Then there's Love Equals Tetrus, a piece Silvaggio created based on a poem written by a friend. Running around 13 minutes, the performance is not centered upon the idea of a character playing Tetrus, so much as the concept of life's challenges as falling blocks, segmented, that tumble more and more quickly as time goes by. He didn't intend to make the movements resemble the game, but the dancers think that they do.

The next week, the chief led a war party against another tribe. Many young men were killed. But, because of his broken leg, the warrior's son was left behind, and so was spared.
And all the while the audience will be close enough to hear the dancers' breath, their feet pounding on the stage. The Little Theatre is aptly named; even with three performances only 300 people will have the opportunity to see "The Slightest Movement." But simply getting there was the challenge for Silvaggio, getting out of bed each morning and dedicating the day to his production without the benefit of the board looking over his shoulder. There's freedom in these new, uncharted waters, but responsibility and risk as well.
"It's not a bad first," Silvaggio concluded. "It's a 'we'll see' first. Because if everything gets taken care of, it will be back to business as usual. And we're all gonna find out something new about ourselves."
Arts Editor Ashley Schwellenbach approves of all things guerrilla. Send tales of revolution to aschwellenbach@newtimesslo.com.